Airtel
Company News
Featured
Innovation
News
Startups
Telecoms
EzyAgric Partners With Airtel to Offer Farmers Advisory to Improve Productivity
EzyAgric announced a partnership with Airtel Uganda to revolutionalize agriculture by bringing all season round, timely, and relevant advisory information to farmers across the country.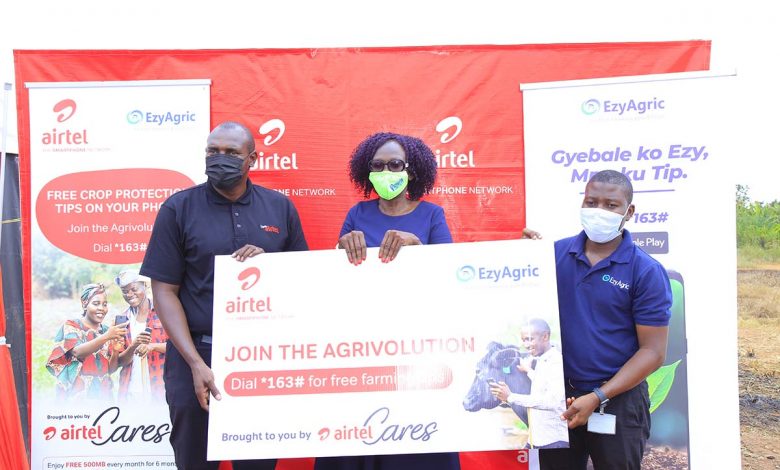 Agtech Company, EzyAgric announced a partnership with Airtel Uganda to revolutionalize agriculture by bringing all season round, timely, and relevant advisory information to farmers across the country. EzyAgric announced this partnership in Zirobwe Town Council, Kikyusa Subcounty, Kayonza village, and with Airtel, they believe that it will allow farmers to proactively and interactively access detailed and crop-specific farming advisory to improve productivity.
Farmers will be able to access this information whether or not they have a smartphone. In other words, they will be able to receive farming advisory even on feature phones.
To be able to get this information, interested farmers will have to dial *163#, follow the prompts to subscribe, and choose to receive the weekly advisory content, either through the EzyAgric mobile app or via SMS. Those that choose the app get free 500MBs per month that they can use to access will curated farm advisory content while for those that choose SMS, your crop-specific content will be sent to you via SMS every three (3) times a week.
The advisory content that will be sent to farmers includes but is not limited to; tips for a better harvest, weather information, weed management, pest & disease control, Post-harvesting, among others. This curated content will be accessible in six (6) languages; English, Runyakitara, Luganda, Luo, Lumasaba, and Lugisu.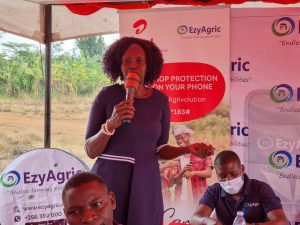 While speaking at the launch of the partnership, the Guest of Honor, Ms. Josephine Okot the Founder and CEO of Victoria Seeds said farmers have not been able to reach their optimum potential due to limited extension, access to seeds, and lack of alignment of information such as; when to plant, what to plant, where to buy inputs, and at what price. Thus, she was glad that EzyAgric has been able to capitalize on this and made it possible to share agronomical information with farmers through their digitized platform
"I am glad EzyAgric has made it possible to share agronomical information to farmers through their digitized platform, the EzyAgric App. So, the farmer no longer needs to look for the extension officer as before, they only have to access all farm advisory information via the app or SMS," Okot said. She adds "I am also grateful that Airtel Uganda came on board to make sure the coverage is broadened. We are confident that this partnership will go a long way in bridging this gap."
Mr. Njoroge Henry Kamau, the Marketing Director at Airtel Uganda said they accepted the partnership agriculture is a very big thing issue and it's the backbone of Uganda, so they wanted to ensure that farmers across the country receive the best agronomy advice. Thus, chose to work with EzyAgric to offer well-curated farm advisory information to the farmers.
Airtel is offering this service under its CSR, Airtel Cares, an integral part of Airtel business under their sustainability strategy in which they are committed to supporting the reduction of barriers to social and economic empowerment of communities in which they operate.
Kamau told the press that farmers across the country will have access to advisory topics for at least 15 crops in
horticulture for; cereals, pulses, oilseeds, and perennial crops. He recapped and said that among other information that farmers will be able to get is plant protection (tips on disease management and control), seed selection management, post-harvest handling, weather information, farm/garden mapping, Agric shop, Ezy credits, produce market, a better extension which includes; crop nutrition, diary, news, videos, and financial literacy.
In his remarks, EzyAgric CEO Mr. George William Luyinda said, they believe in creating endless farming possibilities and the only way to do that is through the digitization of agriculture. He noted that "Technology continues to be instrumental in improving agri-business in Uganda, and with almost everything being digitalized, it then becomes a worthwhile investment to venture into such partnership like what we have with Airtel Uganda."
Luyinda says the farmers will have access to advise from a range of resources that are available through their list of extension workers within several districts and the list of products that are available on the EzyAgric app from certified suppliers like Grainpulse, Victoria Seeds, Bukoola, East African Seeds, and Naseco.
Luyinda called upon all farmers to access this service so that agriculture can be commercialized as a business rather than simply subsistence.
EzyAgric will pilot with agronomic specific content for at least crops in Horticulture, Cereals, Pulses, Oilseeds, and Perennial crops.
The key topics on Agronomy advisory will entail;
Plant protection (Pest and Disease Management): Tips on Pest and Disease scouting, monitoring, IPM (Integrated Pest Management), including the use of cultural, biological, and chemical control measures against pests and diseases.
Plant Nutrition: crop-specific fertilizer application includes recommendable fertilizers, rates, and application methods needed at different crop cycle and watering requirement schedules.
Seed selection Management and planting techniques.
Post-Harvest handling.
Weather information.
General crop management Agronomy.
Direct contact with the Agronomist.
Farmers can access farm advisory curated content [mentioned above] by;
Dialing *163#.
Select Airtel Cares.
Select Agriculture.
Select Preferred Channel to receive the Agricultural Content, either via SMS or the EzyAgric app.
Select Preferred languages
ALSO READ: HOW FARMERS CAN ORDER AGRO-INPUT SUPPLIES VIA THE EZYAGRIC APP