News
South African Wins 2019 Africa Prize for Engineering Innovation, as a Ugandan Emerges Runner-up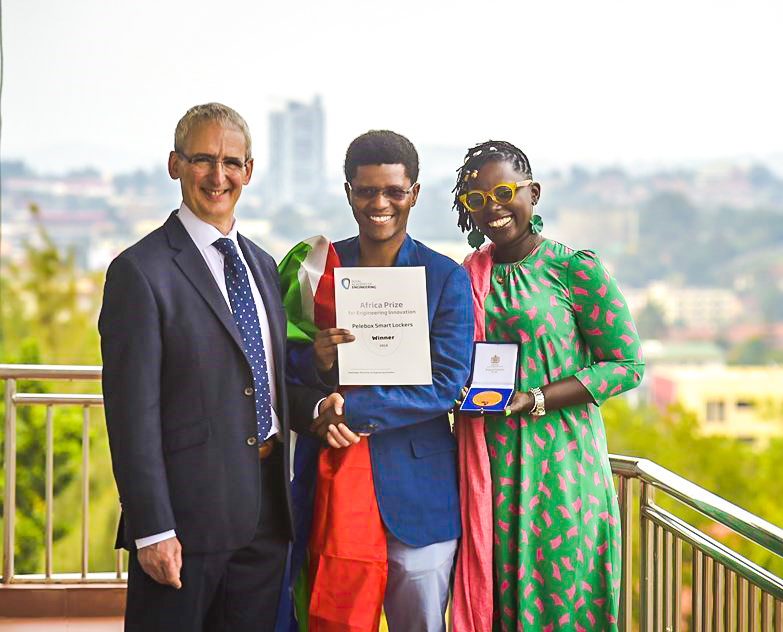 The ended 5th annual Africa Prize for Engineering Innovation organized by the Royal Academy of Engineering (RAE) sees South African, Neo Hutiri emerge overall winner out of the final four finals selected to present their presentations at an award ceremony held in Kampala, capital of Uganda on Tuesday.
Two Ugandans shortlisted for the challenge; Anne Rweyora and Paul Matovu — saw Anne, emerge as a finalist and then a runner-up receiving a cash grant of 10,000 Pounds (roughly UGX47.8 million).
Neo Hutiri, 31 an electrical engineer along with his team invented an innovation they called 'Pelebox'. It's a smart locker system used at public healthcare facilities in South Africa to dispense medicine to patients with chronic conditions. The team claims Pelebox is cutting down on long queues and easing pressure on the healthcare system.
The Pelebox received a cash grant of 25,000 Pounds (roughly UGX119.6 million).
"Hutiri is a deserving winner. Pelebox will improve healthcare for everyone using and working in a severely strained public healthcare system," said John Lazar, one of the judges for the competition.
The other two runners up were; Chukwunonso Arinze from Nigeria, and Roy Allela from Kenya.
It's worth knowing that Uganda's Brian Gitta, software engineer and Co-Founder of Matibabu is still the youngest winner of the prestigious Africa Prize.
The Africa Prize for Engineering Innovation, founded by the Royal Academy of Engineering in the UK, is Africa's biggest prize dedicated to engineering innovation.
The challenge encourages talented sub-Saharan African engineers, from all disciplines, to develop innovations that address crucial problems in their communities in a new and appropriate way.
Apply For the 6th Competition
The sixth Africa Prize for Engineering Innovation is now open. Individuals and teams in sub-Saharan Africa with an engineering innovation, are invited to send in their applications not later than July 22nd, 2019.