Apple at its on-going Worldwide Developer Conference (WWDC) happening at the McEnery Convention Center in San Jose, California — has pretty much launched some amazing products, software, announced some updates, among other things.
However, what caught most people's attention is the new Mac Pro.
Apple has updated its aged professional desktop workstation with an all-new design(s) — promising flexibility and upgradeable while delivering unprecedented performance.
The Cupertino-based tech firm claims it has built something, creatives and professionals have been demanding for years. "Something" its predecessor wasn't capable of pulling off.
The new Mac Pro starts at USD$5,999 (roughly UGX22.6 million) for the 8-core Intel Xeon 3.5GHz model, with 32GB RAM, 256GB SSD, and Radeon Pro 580X graphics card. However, there will be multiple build-to-order options and configurations available with up to 1.5TB of RAM, Radeon Pro Vega II Duo graphics and a 28-core Xeon.
Keeping this article precise, short and understandable;
The new Mac Pro being the most expensive Apple product to currently exist is built primary for performance and modularity.
Design and Specifications
The new Mac Pro is redesigned from the ground up following criticism(s) of the "trashcan" design of its predecessor. According to some online reports, this was perhaps Apple's biggest mistake than the G4 Cube was back in 2000.
All claims the new Mac Pro looks like the powerhouse. Its covered with a stainless steel frame and an aluminium housing which can be lifted off with a twist of a handle (seen in the centre top) to offer access to every component inside.
Interestingly, you can even buy wheels that can be added to the Mac Pro so you can wheel it around. It has handles on top to ease moving/carrying, and will be rack mountable, using Apple's rack deployment.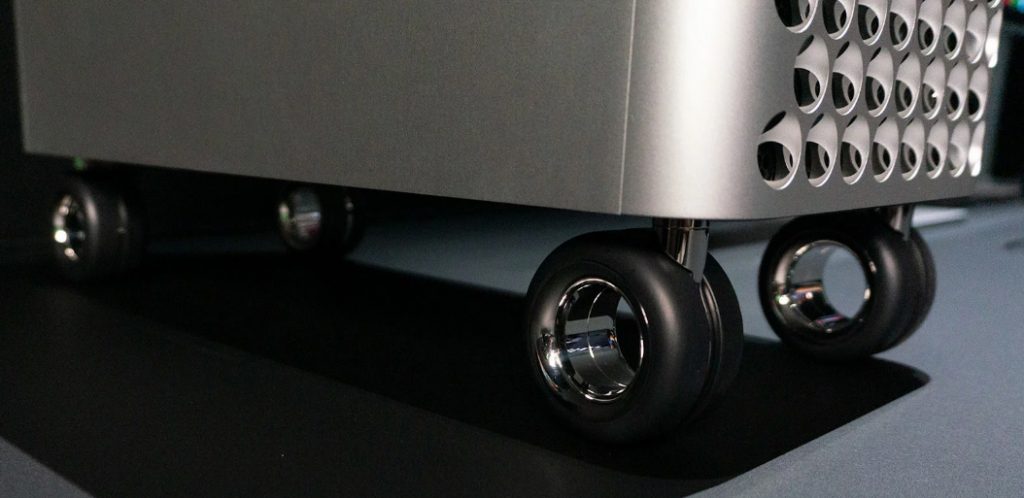 Apple has packed the new Mac Pro with a unique cooling system that maximizes airflow to keep it from distracting you from your work.
There's also the benefit of the multiple Thunderbolt ports on top of the machine, allowing easier access inside.
Looking at specification perspective, the base model of the new Mac Pro comes with a new 8-core Intel Xeon processor that are designed for professional workstations.
Note: The more cores, the better it can handle multiple tasks at once.
It also features an AMD Radeon Pro 580X, 32GB of RAM, 256GB SSD.
Apple has also equipped the device with a 1.4KW power supply. In order to keep the system cool, Apple packed three impeller fans and a separate blower coupled with a massive heat sink with pipes that direct the hot air away from the chip, dispersing it along aluminium fin stacks.
Price and Availability
The 2019 new Mac Pro is priced USD$5,999 and will be available to order in Fall 2019 — although the exact date hasn't been mentioned.