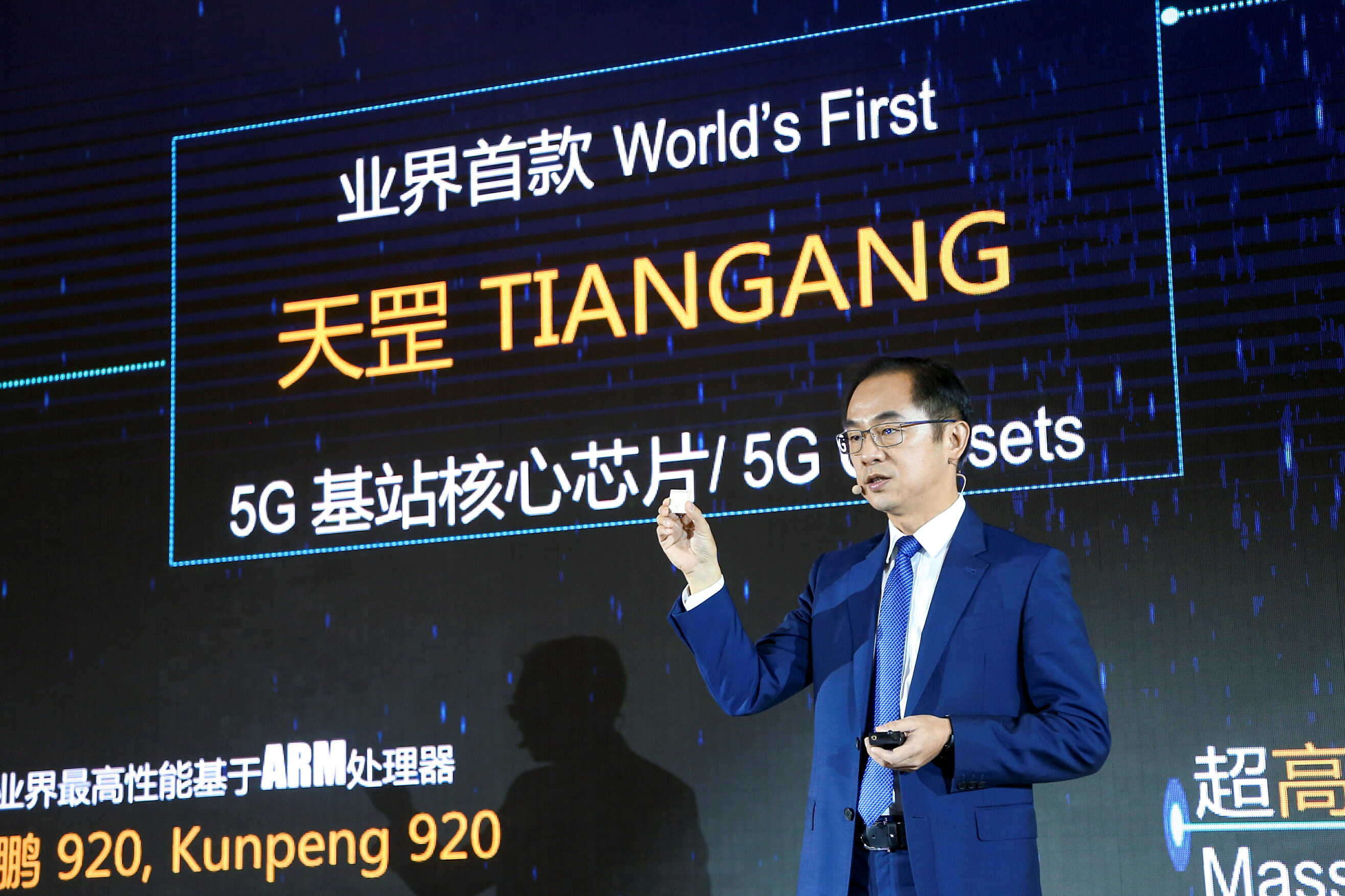 Huawei on Thursday launched world's first core chip specifically designed for 5G base stations, Huawei TIANGANG. At a 5G launch event in Beijing that doubled up as a pre-briefing for the up coming Mobile World Congress (MWC) in Barcelona 2019—scheduled for Feb. 25th to 28th.
Huawei announced the innovative chip that will support simplified 5G networks and large-scale 5G network deployment all over the world. To date, the company has won 30 commercial 5G contracts and shipped over 25,000 5G base stations globally.
Huawei claims is committed to taking complexity itself and creating simplicity for its customers. To this end, the Shenzhen-based technology firm has invested heavily and continues to innovate. Its end-to-end 5G chips support networks of all standards and all bands, helping customers access the best wireless and microwave services.
"Huawei has long been committed to investing in basic science and technology. We were the first to make breakthroughs in key technologies for large-scale 5G commercial use," Ryan Ding, Huawei Executive Director of the Board, said while delivering a keynote speech.
He further added that the company now has industry-leading capabilities to deliver end-to-end 5G, with simplified 5G networks and simplified operations & maintenance.
"We're leading the commercial roll-out of 5G, and building a mature industry ecosystem," he said.
The 5G core chip can support large-scale integration of active power amplifiers and passive antenna arrays into very small antennas. It also boasts super high computing capacity, with a 2.5-fold increase over previous chips. Using the latest algorithms and beam-forming technology, a single chip can control up-to 64 channels, which is the industry's highest standard. This chip also supports the 200 MHz high spectral bandwidth, getting ready for future network deployment.
This chip also brings revolutionary improvements in active antenna units, with 50% smaller, 23% lighter, and 21% less power consuming base stations. 5G base stations can be deployed in just half the time it took to install a 4G base station. These features will help address issues such as site acquisition and network deployment costs.[related-posts]
Simplified 5G solutions for quick, large-scale 5G deployment globally
Huawei began rolling out commercial 5G networks in 2018. It took the lead in the launch of a full range of commercial 5G products, 5G field testing and verification, and large-scale 5G commercial use. As of the end of 2018, Huawei has completed all pre-commercial testing and verification for its 5G products in China, green lighting 5G for commercial use.
Early this month, Huawei's 5G blade base station was awarded a First Class Progress in Science and Technology Prize, in recognition of its major technological breakthroughs and a unified modular design. All base station units use the blade form factor, and different modules can be combined as needed, making 5G base station installation as simple and easy as building blocks.