TEN years ago when MTN was just one of three operators of telecommunications services in the country, it was hard to imagine a time when a "Dial *156#" would be so difficult and confusing that users needed a shorter shortcut to checking their airtime balance.
As were the operators, the services were only a handful. Telecommunications services have evolved; from GSM/PDMA calls to VoIP calls that most of us know as WhatsApp and/or Viber calls; from SMS to IM; and now from airtime purchases to bank [money] transfers using Mobile Money.
The advent of all these services has prompted (or necessitated) the regulator, Uganda Communications Commission to adopt a standardization criteria, requiring operators across the sector to use exactly the same USSD code for particular services. Helplines for example. Not that all such changes make sense; but it reinforces one point: the codes to remember are now way too many. *100#, *165#, *147#, *150*1#, e.t.c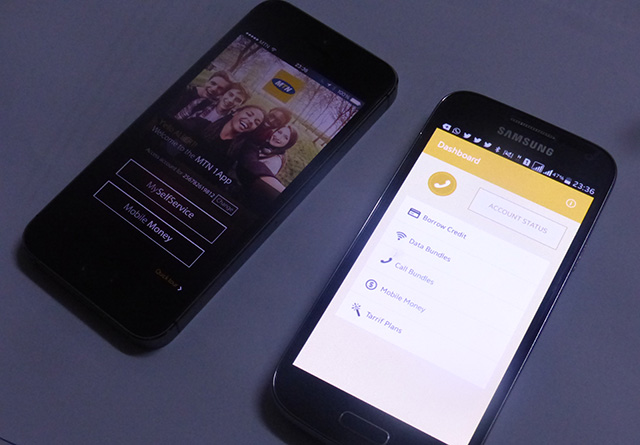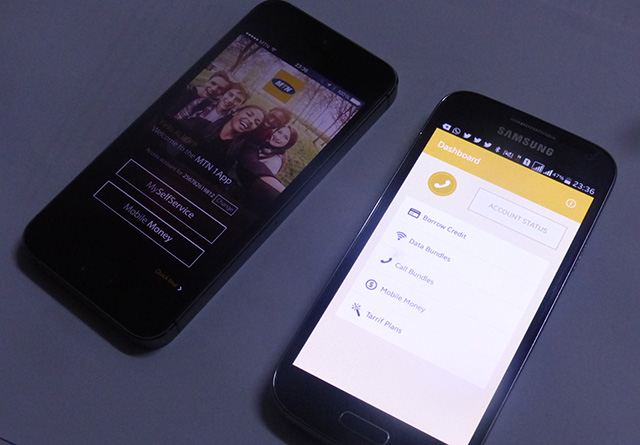 To save us the headache, operators have decided to innovate. MTN Uganda recently announced the Android-based "MTN Assistant" which centralized most of MTN's most popular services onto one dashboard.
And now MTN has introduced a more robust mobile app. MTN 1App is available on all major stores: Google Play, Blackberry, Windows Phone Store and Apple Store. It's the most robust we've seen so far.
"Welcome to the world of services to suit everyone's needs. With MTN 1App you can topup airtime, purchase bundles pay your bills and much more," reads the "Description" on the app's Google Play page.
The App is available on Google Play, Blackberry, Windows and Apple store. Visit your AppStore and search for MTN1App #MTN1App

— MTN Uganda (@mtnug) July 1, 2015
The app literally brings everything in one place. MTN1App gives subscribers greater control of their own mobile services so that they can access services and solve issues without having to contact company representatives.
Design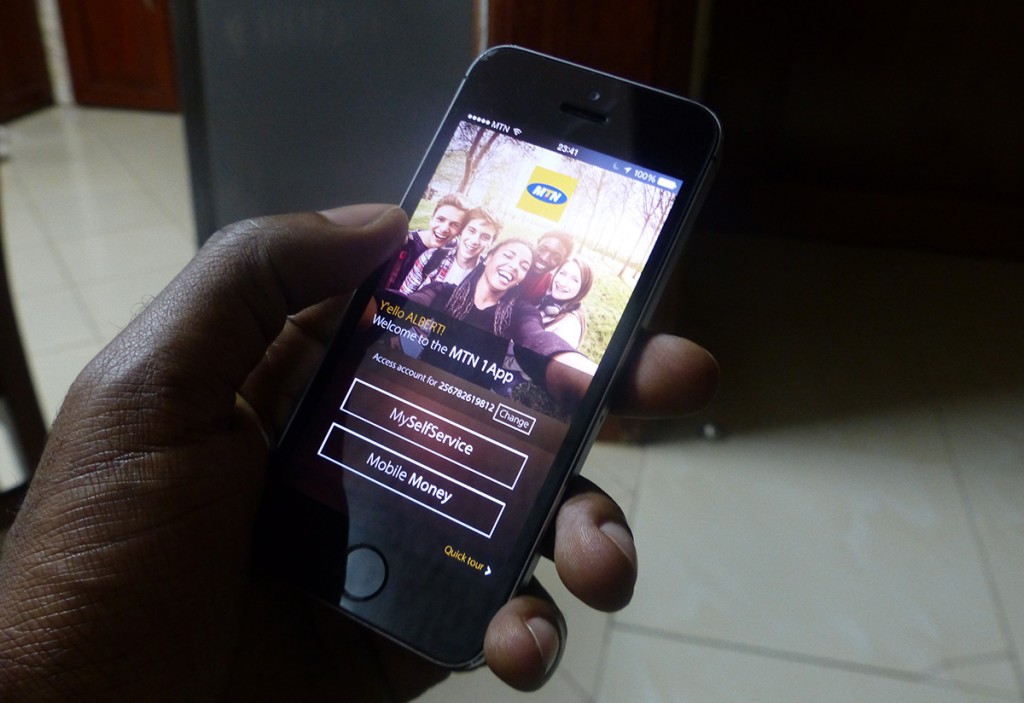 In three words; the design is fresh, sleek and modern. This review is based on tests on iPhone and Android platforms. The app features MTN's brand colors of deep yellow with a brown-ish theme. The welcome screen features a group selfie of very happy people, getting the user off to a pleasant start.
Features
Prominently displayed on the homescreen are to shortcuts; MySelfService and Mobile Money. Either selection takes you to a login page, crucially making security an integral to the app.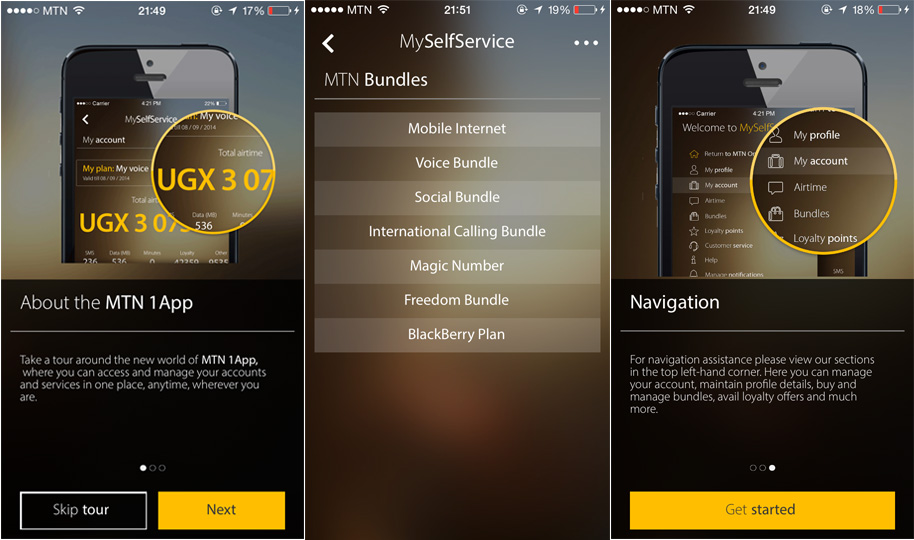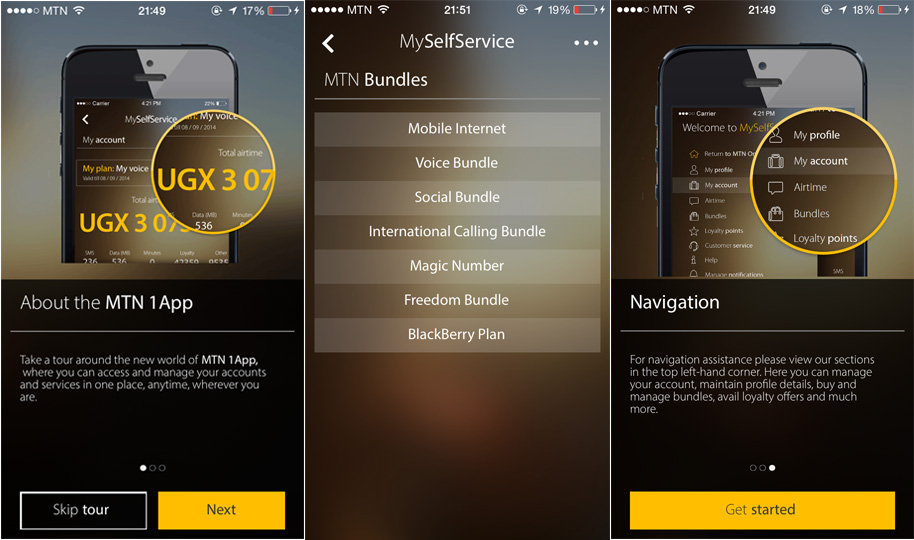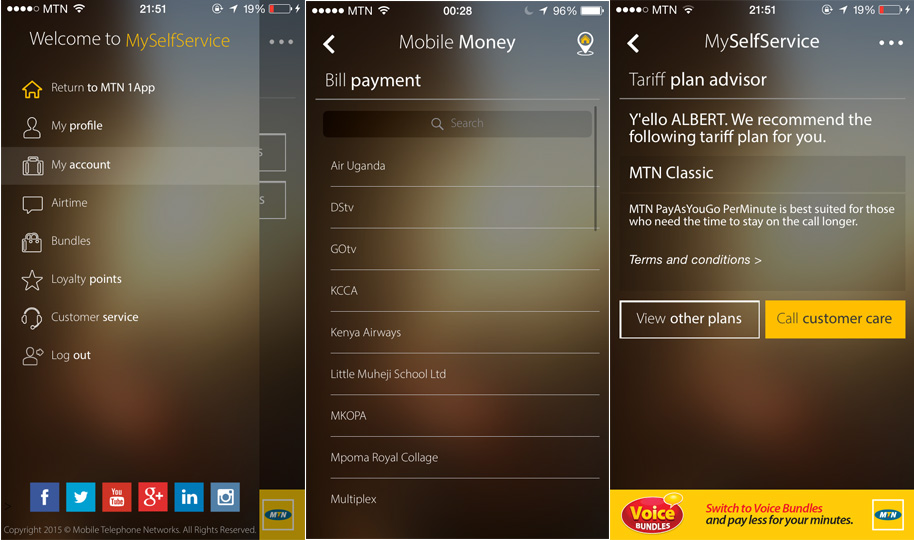 The choice of those two blocks as the major service categories says something about the future that MTN sees: in that future, Mobile Money will be as important as, if not more than, all the other services combined.
On the MySelfService screen, the Main Account [airtime] balance is queried and displayed automatically, as well as the data balance. The other shortcuts reveal MTN's services and product offerings, Loyalty points if any, Data bundles and the Tariff Plan Advisor which, I noticed, offers a recommendation of a plan and why. And an option to call customer care; crucially, without dialing any more buttons. Just a click of a button. Beat that!
Back on the App Homepage, the Mobile Money option has squeezed all MTN Mobile Money features in one place. Airtime purchases, bill payments, and money transfers.
DON'T MISS: I noticed that the app stores my most recent bill payments and gives me the option to tap and make the same payment without having to go through the trouble of re-entering the digits. This is convenient for services such as PayTV and Utility Bills.
MTN 1App also ensures customers have access to information about MTN's products and services whenever the user needs it (24 hours a day) and at their convenience.
Security
At two of the most key levels, the app requires authentication and the sessions timeout after the phone has been left idle for a few minutes, at which point it requires the owner to re-enter passwords.
Conclusion
MTN 1App is an altogether exciting application for users of MTN services. For once, one may not have to remember any stars and hashes to access services.