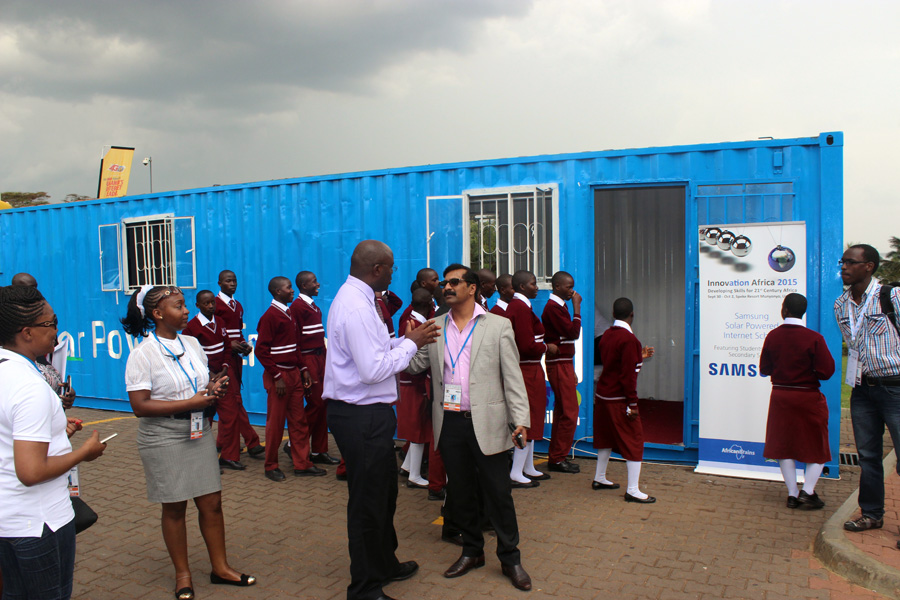 ­​Samsung Electronics has announced Nsangi Secondary School as the recipient of a Solar Powered Internet School (SPIS) that was on showcase at Innovation Africa Summit. After the Summit that ended yesterday, the SPIS will be transported to the grounds of the school to serve as a fountain of knowledge for the learners of Wakiso Abey Tau, Corporate Citizenship and Public Affairs Manager for Samsung Africa RHQ comments: "We wanted to make an impact beyond the event and leave a lasting legacy by giving the people of Uganda an educational solution that is going to serve the community long after we have left the country."
"We are excited to be the first recipients of a SPIS in Uganda. Samsung has brought technology access to our door step and opened a world of innovation, ICT and possibilities that will inspire in each and every learner at Nsangi Secondary School," says a happy Mr Lwasa Stephen, Nsangi Secondary School, Head Teacher.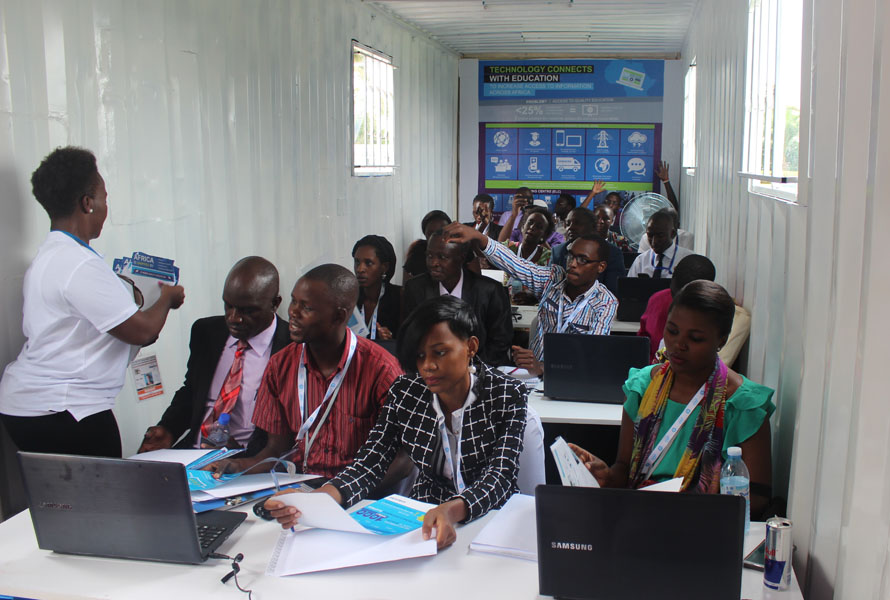 A mock up SPIS had to be built specially for Innovation Africa Summit so it can be used as a showroom, where Samsung also hosted several meetings with different Government officials and members of the media. This SPIS will now be standardised to become a fully kitted When complete, the SPIS is built in a 12­metre renovated shipping container that can accommodate up to 24 pupils, and fitted with solar panels that power the equipment.
It is also equipped with a 65 ­inch large­ format display screen, a teacher's laptop, Samsung notebooks, a printer, and fans to cool the container. The classroom's computer server is loaded with educational content that covers the entire basic education syllabus, allowing facilitators to teach any subject or grade. Energy efficient LED lighting and an IP camera, which is designed to use 3G connectivity, allows for remote classroom monitoring.
"Our solutions are built with the intention of bringing hope to the people who will be using them. Nsangi Secondary School and the greater community of Wakiso District will now have access to education using technology of the highest standard. We are committed to our vision to impact the lives of many through innovation and skills development in the communities we operate,"
The Samsung Solar ­Powered Internet School solution has been rolled out throughout the continent in countries including South Africa, Angola, Lesotho, Botswana, Namibia, Zambia, Senegal, Nigeria, Kenya, Ghana, Rwanda, Ivory Coast, Sudan, Ethiopia, DRC and Mozambique, to name a few.[related-posts]