News
Toshiba's VIPedge Wins 2015 Cloud Computing Excellence Award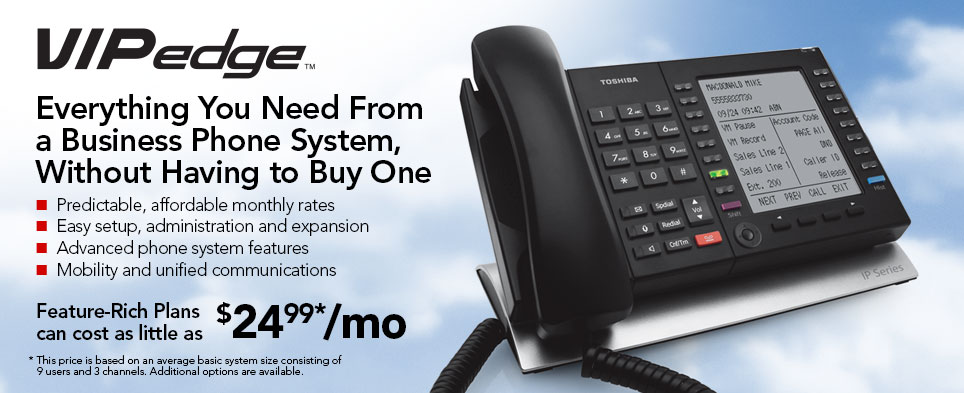 Toshiba America Information Systems, Inc., Telecommunication Systems Division has today announced that its VIPedge® cloud-based business telephone solution has won a 2015 Cloud Computing Excellence Award from TMC, a global, integrated media company.
Presented by Cloud Computing magazine, the Cloud Computing Excellence Award recognizes companies that have effectively leveraged cloud computing in bringing new, differentiated offerings to market.
"TMC is proud to announce that Toshiba's VIPedge has won a Fifth Annual Cloud Computing Excellence Award," said Rich Tehrani, CEO, TMC. "Toshiba is honored for its achievement in bringing innovation and excellence to the market while leveraging the latest technology trends."
"We are honored to receive the 2015 Cloud Computing Excellence Award for our VIPedge cloud-based business telephone solution," said Brian Metherell, vice president and general manager of Toshiba America Information Systems, Inc., Telecommunication Systems Division.  "VIPedge gives users the features, functionality, quality, service and reliability for which Toshiba's telephone systems are known, all in the cloud."
VIPedge Cloud-based Business Telephone Solution

VIPedge allows companies to pay a monthly service fee — scalable to meet system size and usage needs — as an alternative to the capital purchase of an on-premise telephone system.  VIPedge accommodates up to 500 users in single or multi-site deployments.
Toshiba's VIPedge gives users all the advantages of Toshiba's IPedge® business telephone system in the cloud, without having to actually buy it.  VIPedge is available for lease with zero upfront cost for equipment and installation with a choice of 24, 36 and 60-month lease options.
Affordable, Zero Upfront Cost Lease Options Help Reduce Telecom Costs

Financial benefits of VIPedge include:
Zero upfront cost for equipment and installation with a choice of 24, 36 and 60-month lease options;
Ability to reduce capital expenditures since telephony becomes an operating expense;
Fixed monthly costs so companies can budget for their exact costs;
Software upgrades that are included, so there are no expenses for upgrades or software fixes;
No obsolescence since VIPedge is always kept up-to-date in the cloud;
Dynamically scalable cloud resources to increase or delete users or applications as needed;
Optional international calling plans;
System administration, which is included in the monthly fee and eliminates the need for on-site system management; and
Survivability, automatically included via the cloud.
Move to Hybrid Cloud or Migrate to or From Toshiba's IPedge

Migration Benefits of VIPedge include:
Flexibility for companies to change or migrate cloud services as their businesses grow and change;
Easy migration to or from Toshiba's IPedge on-site system; and
Easy expansion to a Hybrid Cloud Solution with VIPedge networked with Toshiba's on-site solutions IPedge and Strata® CIX.
Migration also enables businesses to retain their investments in Toshiba telephones and endpoints and to continue to use the same familiar features and applications.
UC Apps Enable Users to Work From Virtually Anywhere
Unified Communications and Telephony Features include:
Work from virtually anywhere using personal or business mobile devices, including smartphones and tablets, as a business phone extension.
Enable easier connections with one-number reach, in or out of the office or out of the country.
Protect mobile number privacy by displaying only the office phone number in caller ID.
Manage office voice mails easily and quickly with a visual interface on a mobile device.
Place long-distance and international calls to contacts from a cell phone at landline rates.
Stay in touch while traveling internationally.
Get more done with instant messaging (IM) with colleagues who are busy or on the phone.
See the status of UCedge® colleagues users before calling them.
Rapidly find contacts in a list synchronized with the office phone system and user-provided avatars.
Utilize enterprise-quality telephone features, including placing a call on hold and picking it up from another phone as well as pressing a button on a phone to put the system into night mode.
Choose from various endpoints, including Toshiba's IP5000-series desk telephones, IP4100 wireless telephones, and Toshiba's Call Manager with integrated voice.
Personalize endpoints in order to meet the needs of each individual user.
Select optional international calling plans.