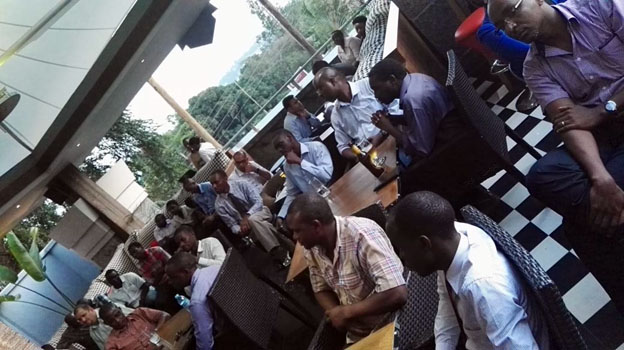 The ICT Association of Uganda (ICTAU) through its monthly networking event dubbed #ICTAUgLAN hosted yet another exciting Local Area Network Meeting. This was held on the 27th of August 2015 at the Riders Lounge, Acacia Place.
The event under the theme ICT: Empowering the BPO Sector attracted great minds in ICT, BPO, business, innovation and technology who exchanged ideas about the future of BPO and how it can be greatly empowered by ICT in Uganda.
Richard Okuti Member, ICTAU and Uganda Business Process Outsourcing Asssociation, was one of selected speakers at the event. He clearly noted how ICT can enable Ugandan business to export IT services to help our national BPO position. He also mentioned of an opportunity for Uganda in the ICT and BPO Industry, the NTF III project. The project is aimed at enhancing export competitiveness in the Information Technology (IT) and Information Technology Enabled Services (ITES) sector in Uganda leading to increased export revenues for enterprises. 30 companies are benefiting from this initiative already.
"I encourage you all members to be part of this association since there are a lot of incentives, and to register for the upcoming International ICT and BPO Conference slated that will take place from 30th September to 2nd October 2015 at the Serena Hotel, Kampala." – Rogers Karebi Secretary General and founding member of the UBPOA noted.
Also at the event was Executive Director National IT Authority (NITA), Uganda Mr. James Saaka, Chairman Uganda BPO Association, Mr. Badru Ntege, Chairman ICT Association of Uganda Mr. Simon Kaheru and Vice Chairman ICT Association of Uganda Mr. Micheal Niyitegeka.
About #ICTAUgLAN
#ICTAUgLAN is a monthly networking event organized by the ICT Association of Uganda (ICTAU) for the ICT fraternity. The aim is to bring together different people directly and indirectly involved in the ICT industry of Uganda to network, make partnerships, discuss and share ideas, challenges and opportunities in an informal ICT-focused environment. The networking event usually takes place every last week of the month.