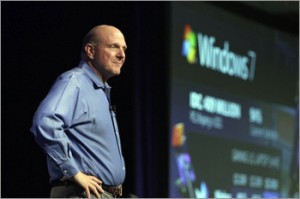 Former Microsoft CEO Steve Ballmer has won the bidding war for the Los Angeles Clippers for $2 billion, the Los Angeles Times is reporting.
Sources say that the Sterling family trust has signed an agreement that would pave the way for Ballmer's ownership.
This deal will make the $2 billion acquisition to be the second-highest ever for a North American professional sports franchise.
This is happening after the former Clippers owner Donald Sterling was banned from the NBA for life, it seems that everyone has been jumping at the chance to buy the NBA franchise.
Forbes reported earlier that Ballmer made an offer to buy the team for $1.8 billion.
Sources say that Ballmer outbid LA-based investors Tony Ressler and Bruce Karsh, as well as a group that included David Geffen and executives from the Guggenheim Group, which owns the Los Angeles Dodgers. The Geffen Group reportedly offered $1.6 billion for the team, with Ressler bidding $1.2 billion.
The last hurdle for the deal is getting at least three-quarters of the 29 other NBA team owners. They're expected to approve the deal, however, if Ballmer agrees to keep the team in Los Angeles, which he has stated publicly that he will do.
Source: BI