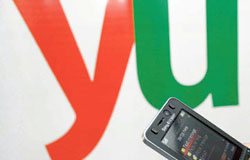 "This festive season's promotions will enable us to deliver valuable customer benefits and providing customer satisfaction is our foremost priority. As such we are committed to demonstrating our innovative range of services and technologies," said Atul Chaturvedi, Essar Telecom country manager.
This comes two weeks after Airtel unveiled a promotion that will see its subscribers get a free modem upon signing up for any of their offers that are customised to suit the different needs of various market segments.
Similar package
Airtel also made clear its intention to take on rivals on the Internet access cost front when it unveiled a similar package to that of Safaricom that allows for buying a specific bundle per day depending on a customer's needs.
Airtel has also an internet package for its post pay clients upon signing a 12-month contract of Sh2,995 per month for full day browsing.
The internet market has also seen service providers including Access Kenya, MTN, and Wananchi Group cut their data prices and position themselves to attract both home and office subscribers.
Wananchi, for instance, recently cut its prices by 33 per cent while betting on value addition through its voice (telephony) and video (cable TV) bundles, dubbed Triple Play, to drive its internet business in Kenyan homes.
Largest player
The firm, which runs cable Zuku TV, slashed its prices from Sh1,500 to Sh999 for its lowest offer, having moved its technology from satellite to fibre that allows it to offer services at a lower cost.
Safaricom – the largest player in the internet market – has shipped in more than 8,000 low priced laptops, 45,000 data modems and 400,000 data enabled handsets in the past seven months and is the only provider with 3G modems.
This year, Safaricom also bought three data operators — Instaconnect and IGO Wireless, One Communication, and Packet Stream Data Networks in an effort to maintain its lead in the internet market.
With this entry, Yu has made its intentions on gaining lost ground clear.
The firm is also hunting for partnerships in the East African region in an effort to increase its footprint and grow its customer numbers, following the footsteps of market leader Safaricom, Airtel and Orange.
Last week, the telecom firm entered into a partnership with Ugandan based Warid Telecom and confirmed having talks with other operators in Tanzania and Congo.
Source: Nation.co.ke