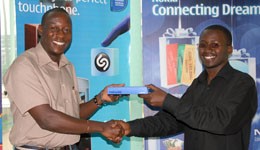 Developers and bloggers in Uganda were introduced to Ovi earlier this year, but there was no activity months after the formal launch which took place at Serena Hotel. Nokia organized another meeting with the community to announce some changes in the process of publishing to Ovi which had made it much simpler, and to find out what had hindered developers and bloggers from submitting applications.
Ms Dorothy Ooko, Nokia's Communications Manager for East and Southern Africa then offered a mobile phone to the developer who submitted the 1st application.
Joshua Twinamasiko who is the Managing Editor and co-founder of PC Tech Magazine says the process of publishing an application to Ovi Store has become a lot easier than it was at the start. One option is the Ovi App Wizard which doesn't even require any programming skills.
"All you need is a website or blog with an RSS feed, and in a few steps you will have your application up and running," Joshua said.
About Ovi
Ovi by Nokia is the brand for Nokia's Internet services. The Ovi services can be used from a mobile device, computer (through Nokia Ovi Suite) or via the web. Nokia focuses on five key service areas: Games, Maps, Media, Messaging and Music. Nokia's aim with Ovi is to include third party developers, such as operators and third-party services like Yahoo's Flickr photo site. With the announcement of Ovi Maps Player API, Nokia has started to evolve their services into a platform, enabling third-parties to make use of Nokia's Ovi services. It has some significance in that Nokia is moving deeper into the world of Internet services, where head-on competition with Microsoft, Google and Apple is inevitable. Ovi is the Finnish word for "door". As of 18 November 2010 there were exactly 3.0 million downloads every day, also 92 developers reached over 1 million downloads for their Applications.