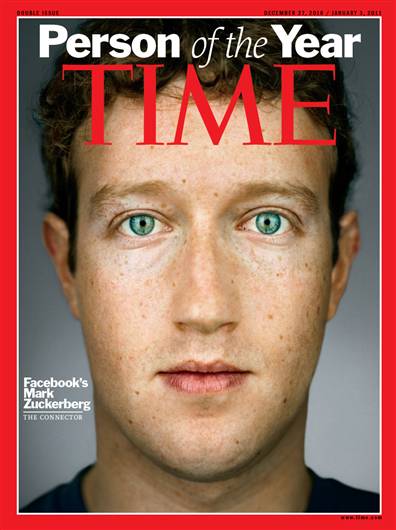 And maybe you've seen the acclaimed movie "The Social Network," which portrays Zuckerberg as socially stunted, calculating and arrogant.
But is there more to this story? Yes, TIME editors discovered — and that's what prompted the magazine to choose the multibillionaire CEO for the Person of the Year distinction.
TIME Managing Editor Richard Stengel said Zuckerberg stands out for accomplishing something that's never been done before: "Connecting more than half a billion people and mapping the social relations among them."
"The social networking platform he invented … is the connective tissue for nearly a tenth of the planet," Stengel said. "Facebook is now the third-largest country on earth, and probably holds more information than any government about its citizens. Zuckerberg, a Harvard dropout, is its T-shirt-wearing head-of-state."
In his in-depth profile of Facebook's co-founder, TIME's Lev Grossman writes that "Zuckerberg is a warm presence, not a cold one. He has a quick smile and doesn't shy away from eye contact. He thinks fast and talks fast, but he wants you to keep up. He exudes not anger or social anxiety but a weird calm. When you talk to his co-workers, they're so adamant in their avowals of affection for him and their insistence that you not misconstrue his oddness that you get the impression it's not just because they want to keep their jobs. People really like him."
What about Chilean miners? Tea Party?
The decision to name Zuckerberg Person of the Year followed weeks of debate and discussion among TIME editors and staff members. Here are others TIME considered: The magazine's No. 2 runner-up after Zuckerberg was the Tea Party, a loose affiliation of American citizens united by their dislike of big government.
No. 3: Julian Assange, whose WikiLeaks organization has shared reams of sensitive diplomatic cables with the world.
No. 4: Hamid Karzai, the elected leader of the volatile nation of Afghanistan.
No. 5: The Chilean miners who were trapped half a mile underground for more than two months. (All 33 of the miners posed for portrait photographs for TIME's Person of the Year edition.)
Another contender was Steve Jobs, the Apple Inc. co-founder and chief executive who in 2010 launched the iPad, which quickly became the gadget of the year. Apple also surpassed Microsoft as the most highly valued technology company this year.
Thousands of TODAY viewers voted on their picks for Person of the Year and made decidedly different decisions.
Viewers' top choice was the Chilean miners, who garnered 44 percent of the vote; the second pick was the Tea Party, which got 20 percent. Of viewers who participated, 19 percent voted for Zuckerberg.
In the end, TIME's decision rested on Zuckerberg's — and Facebook's — incredible reach over human beings "on a species-wide scale."
The numbers are staggering: nearly 1 out of every 10 people on the planet uses Facebook, and the site handles 1.7 billion interactions a minute. Almost 1 million new people sign up for Facebook every single day.
Stengel said Zuckerberg is "creating a new system of exchanging information that has become both indispensable and sometimes a little frightening" — and it's changing our lives "in ways that are innovative and even optimistic."
The youngest individual ever to be named TIME's Person of the Year was Charles Lindbergh, the magazine's very first Person of the Year in 1927. Lindbergh was 25 at the time.
Zuckerberg is the magazine's second-youngest choice, and the third-youngest was Queen Elizabeth back in 1952.
Age-wise, Zuckerberg beat out Britain's queen by two weeks; she also was 26 when the magazine profiled her. Interestingly, Queen Elizabeth just joined Facebook last month.
SOURCE: MSNBC