Gadgets
Mobile
Reviews
Smartphones
Infinix HOT 10 Review: A Minimalist and Spiced Phone For An Affordable Price
Genuinely speaking, the Infinix HOT 10 is a decent pick at its RRP UGX557,000 if all you want is a basic Android smartphone.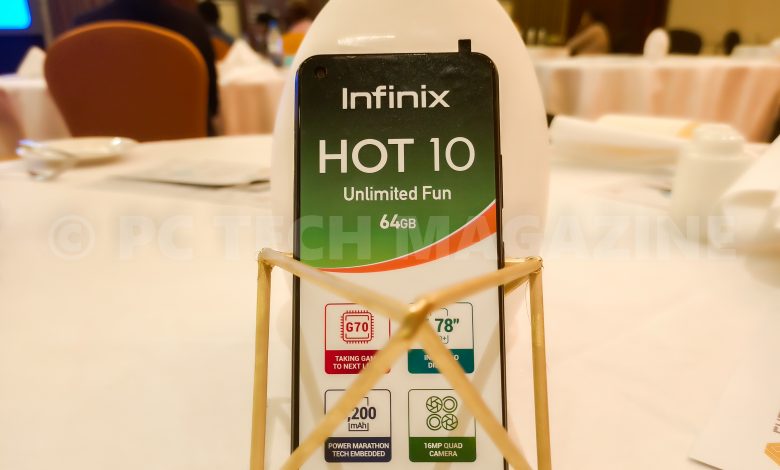 Infinix HOT 10 Review Score
Design and Display - 60%
Performance - 70%
Software - 60%
Cameras - 60%
Battery - 85%
A minimalist phone for an affordable price.
After two-weeks of using the Infinix HOT 10, we can say it is pretty handy phone for one to own. The phone is the successor of the HOT 9 that was released in April this year, —barely six months, the company releases the HOT 10. The company's HOT Series smartphones comes at an affordable budget that mostly appeals to the youth given their ability to deliver spectacular entertainment experiences with impressive specifications.
The Infinix HOT 10 is priced at a starting RRP of UGX557,000, available in obisdian black, amber red, ocean wave, and moonlight jade color options. We got the moonlight jade color variant to have hands-on. The company kept the phone minimalist, adopting to the latest trends in the smartphone industry including; having a huge screen —since the series is known to deliver spectacular entertainment experiences, an increase in its battery capacity, a change of chipset to improve the phone's performance —while using the phone we found it was fast and experienced very minor lags.
Design and Display
The HOT 10 is a pretty large phone at 6.78-Inches. It measures roughly 9mm in thickness and is also fairly heavy at 195g. Those with small hands will struggle to use it comfortably with one hand. However, the build quality is decent. The back and side frame are made of plastic and you get rounded edges on all sides. We got the moonlight jade color which honestly looks good. It's also available in obsidian black, amber red, ocean wave colors.
The volume and power buttons have good feel located at the right side of the phone and there's a headphone jack as well as a Micro-USB port and a single speaker grill at the bottom. I'm not too thrilled about the lack of a USB Type-C port, but this is what you can expect in this segment. The SIM tray can hold two 4G LTE nano-SIMs and a microSD card to expand storage when needed. The fingerprint sensor on the phone. You do get face recognition, which works perfectly in good light condition.
On display, the phone offers a large display, but naturally, only with a HD+ resolution (1640×720). It's a 6.78-inches IPS LCD —which comes with scratch protection. The display vibrant and the brightness is just about adequate indoors. However, the screen makes it hard to use under sunlight. The display also has thick borders all around, especially the bottom. There's a water-drop notch for the selfie camera.
Overall, the HOT 10 is a well-built phone for its price.
Performance and Battery
The Infinix HOT 10 uses the MediaTek Helio G70 chipset which is pretty fast on this phone. We found a few lags while using the phone however for minimal users won't notice it. It comes with 3GB of RAM and 64GB of internal storage.
We have the 3GB version, which gives relatively a smooth smartphone experience. Like we mentioned before, there's an inherent lag in pretty from the UI animations to multitasking.
Some games ran decently well, but you need to temper your expectations. For instance, games such as Call of Duty Mobile scaled well and gameplay was relatively smooth. However, titles such as CarX Drift Racing 2 struggled to run at consistent frame rates.
The single speaker gets decently loud. Videos do look good though we think the company can do best than just 720p at which we can only view videos.
The one area the HOT 10 really excelled is battery life. The phone has a non-removable Li-Po 5,200mAh battery which easily lasted for around two full days, with medium to light usage. Even with a lot of gaming, social networking and web-browsing. We were able to get around a day and half, which is very good. My only gripe is the long time needed to charge the battery. It took nearly 3 hours and 30 minutes to have it fully charged and worst of all the phone doesn't support fast charging. But once juiced up, you get the use the phone with no much worries of running low on battery that quick.
Software
The phone runs on Android 10 coupled with XOS 6.0 which comes with default apps that can't be uninstalled and also shows ads and other promotional content that are pretty annoying.
Cameras
The phone comes with rear quad camera with 16 MP, (wide) + 2 MP, (macro) + 2 MP, (depth) + QVGA (Low light sensor) sensors. While for the selfies, there's a 8MPfront camera. The camera app has the usual basic shooting modes, Auto HDR, Beauty, Panarona, and AI scene recognition.
Shots taken in the daytime were decent, with fairly good details and colors. Close-ups had good details as long as there was ample light, but once again the highlights tended to get blown out when shooting under much light. Portrait mode does a decent job too.
Photos shot in low light had weak details and exposure was generally poor unless there was enough light around. Light is an essential subject for this. The phone can shoot video at up to 1080p 30fps, but without stabilisation. Video shot during the day were strictly average.
Verdict
Genuinely speaking, the Infinix HOT 10 is a decent pick at its RRP UGX557,000 if all you want is a basic Android smartphone with strong battery life, good for gaming, and video experience. The performance is average, and the cameras are just about serviceable.