Gadgets
Mobile
News
Smartphones
Infinix Note 8 Launched in Uganda, Targets Mid-to-high End Market Segment
The exquisite craftmanship of the Infinix Note 8 is filled with uniqueness and technological originality, with its Gem Cut back design for transparency and durability.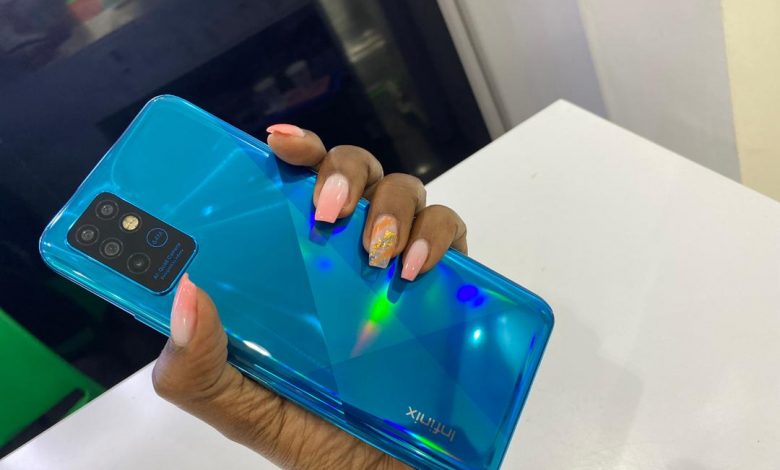 Since its announcement in Oct. 15th, 2020, Infinix Uganda on Thursday this week finally unveiled their next smartphone in the Note-series, the Infinix Note 8. Infinix has once again outdone themselves with an excellent all-round smartphone model that is targeted at the mid-to-high end market segment.
At first glance of the phones, they have a physical allure. The exquisite craftmanship of the phone is filled with uniqueness and technological originality, with its Gem Cut back design for transparency and durability. Comfort is certainly not compromised in place of looks, as the Note 8 gives you a more comfortable grip than you ever expected.
"Our latest flagship Note smartphone is designed and developed with current and future everyday challenges. The latest in our Note series combines Infinix's technological innovation strength with our deep insights into our target consumers' real needs to deliver an overall enhanced experience in terms of looks, power and endurance. The Note 8 is ideal for elite users who are used to the elite lifestyle and all that it offers," said Alex Chique, Infinix Mobility Brand Manager at the launch.
The phones are reported to be fast because of its MediaTek Helio G80 chipset —which is one of the key highlights of the phone along with the biggest dual front camera screen. Considered as major upgrades are the 64M Ultra HD 6 cameras, fast charging support, and 5,200mAh battery.
The Note comes with a 6.9-Inches IPS LCD display with a screen resolution of 720 x 1640 pixels. Under the hood, it comes with the Mediatek Helio G8 chipset, Octa-core processor, 6GB RA, 128GB internal storage —running on Android 10 OS coupled with Infinix's XOS 7.1, and the phone is backed on a non-removable 5,200mAh Li-Po battery support an 18-watt fast charging capability.
The phone brings a quad-rear camera with 64MP (primary) + 2MP (wide) + 2MP (marco) + 2MP (depth) sensors. The front facing dual camera come with 16MP (primary) + 2MP (depth) sensors. The rear cameras shoot videos at 1440p at 30fps while the front cameras shoot in 1080p at 30fps.
Excellent Performance
The MediaTek Helio G80 chipset with MediaTek HyperEngine Game Technology powering the new Note 8 makes it incredibly fast and ensures that the phone provides a comprehensive strong and smooth performance. This high-performance chipset is a good upgrade on the phone as it is an ideal choice for game lovers who want an ultra-smooth gaming experience.
MediaTek HyperEngine Game Technology ensures your smartphone always keeps up with you. It features an intelligent resource management engine that ensures sustained performance and longer gameplay Intelligent, dynamic management of CPU, GPU and memory according to active measurements of power, thermal and gameplay factors. Smoother performance in heavy-loading game engines, demanding scenes and intense gameplay. Enhanced power efficiency and connectivity enhancements for even longer and uninterrupted gameplay.
Visual Experience
One of the key highlights of the Note 8 is that features the biggest dual front camera screen and to broaden ones horizons even more is the phone's 6.95-Inches Dual Infinity-O Display. Its precise cutting ensures that the camera remains clear of any blockages and does not suffer from a degradation of the picture quality.
To complete the users' audio visual experience, the Note 8 comes with dual speakers surround sound including with DTS and 4 modes that deliver immersive musical experiences for your ears and soul. Allowing users to level up the sound effect to better enjoy the audio experiences while watching their favorite movies or listening to music or gaming.
Massive Battery
Ensuring that users enjoy an uninterrupted performance, the Note 8's supports fast charging for its massive 5200mAh battery with super long endurance. The battery is coupled with power marathon tech embedded in the device will keep the phone going for hours on end.
For avid gamers, this will ensure users have hours of game play or binge watching. For business persons or entrepreneurs, the Note 8 provides crucial connectivity while on the go, ensuring easy access to essential functions like email, office-related apps, video conferencing apps and more.
To address heat issues while charging your phones, the new Note has dual engines technology. This keeps the Note 8 cool, reducing the heat by 8 degrees while charging.
The Infinix NOTE 8 is priced at UGX782,000 can comes available in grey, blue and green color variants.