The government is gradually phasing out manual passport application to go digital. The government believes going digital is to fight corruption and unscrupulous middlemen/brokers.
The launch of this digital processing comes after the government in 2018 launched the digital passport, in compliance with international standards. Therefore, phasing out the manual applications is to eliminate corruption, ease crowds, and long queues.
Obiga Kania; the State Minister for Internal Affairs says "the online passport applications process is expected to improve the turnover of passports from seven days to 2 days on average."
Initially, the application process for getting a passport has been filling forms, making endless trips to the long queues at the Ministry of Internal Affairs Head office, and queuing up as early as 6am EAT to get work done early as possible as it can. With the e-application portal launched, all this is to change as it will reduce congestion and turnover time.
It is worth knowing that the processing time depends on the information provided. If all the required information is provided, and then checked by competent authorities, the process will then take the 48 hours stated.
To begin off the process, the applicants logs in to the e-portal https://www.passports.go.ug/ and highly recommend to use a PC instead of a phone or tablet.
The applicants then selects to; Apply for a passport, Continue application (resuming the application if you didn't complete before), Schedule an appointment, and Checking the status of your application.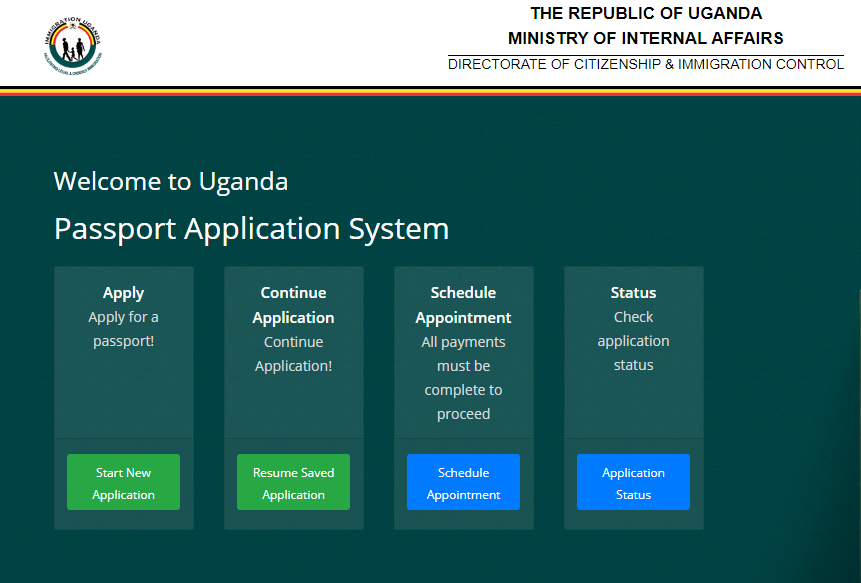 Applying for the passport, the applicant will need to first accept the 'terms and conditions'.
The Privacy Policy on the website states that, "applicants personal information is kept only for a limited period of time to fulfill the purpose for which it is collected or as may be required by law."
After applying, the applicant receives a reference number, which they can then use to track/check the status of their application.
They later receive an e-passport which comes with an embedded electronic microprocessor chip that contains biometric information used to authenticate the identity of the passport holder.
This service is part of NITA-Uganda's goal of integrating all MDAs/LG ICT systems to ease service delivery.
NITA for quite a time, has been integrating government systems to enhance service delivery to citizens, non-citizens, businesses and to MDAs.
The integration promises access to all government services via the e-citizen web portal, www.ecitizen.go.ug, hence promoting eServices.