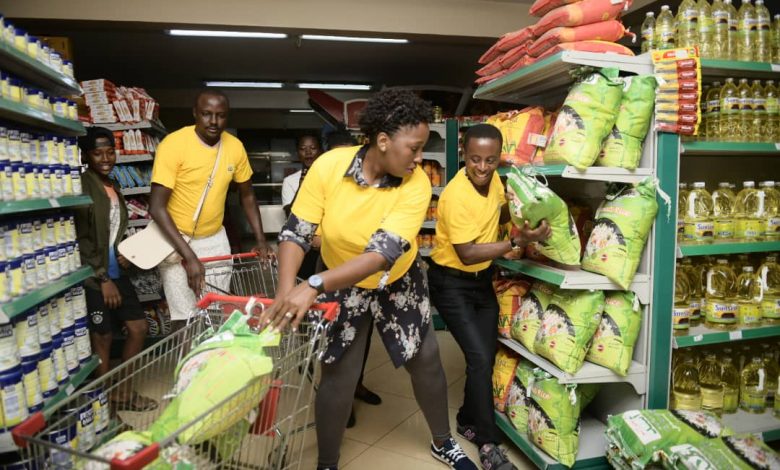 MTN Uganda today rewarded the first winners of the MoMoPay trolley dash at Fraine supermarket. The telco last week announced it will reward 20 customers who are paying for their goods/services using MTN MoMoPay.
In a statement, MTN said 5 winners will be selected every week to participate in a trolley dash of UGX1 million.
Yesterday they announced the first five winners; Wycliff Bamulanzeki, John Masembe, Ayiko Rogers, Sharon Tumusime, and Florence Amoit. However, out of the 5, only Masembe, Tumusime, and Amoit came present.
The trio participated in a UGX1 million trolley dash at Fraine Supermarket. Each took turn to shop their interest in a time period of 1 minute with conditions not to break anything or exceed UGX1 million.
On their thoughts of cashless payment, the trio commended MTN for introducing that ease payments. Quote, "this easy, fast and convenient." For Mr. John Masembe he further stated that nearly 90% of his payments are through MoMoPay.
MoMoPay is a year old since its introduction in Uganda. And so far have over 80,000+ merchants from supermarkets, pharmacies, restaurants, hardware shops, fuel stations, among others registered.
MomoPay is to combat the pain experience by customers while making transactions – especially when it comes to customer's change. Therefore, the telco through MomoPay is simplifying financial transactions by enabling people transact comfortably and conveniently using their mobile phones.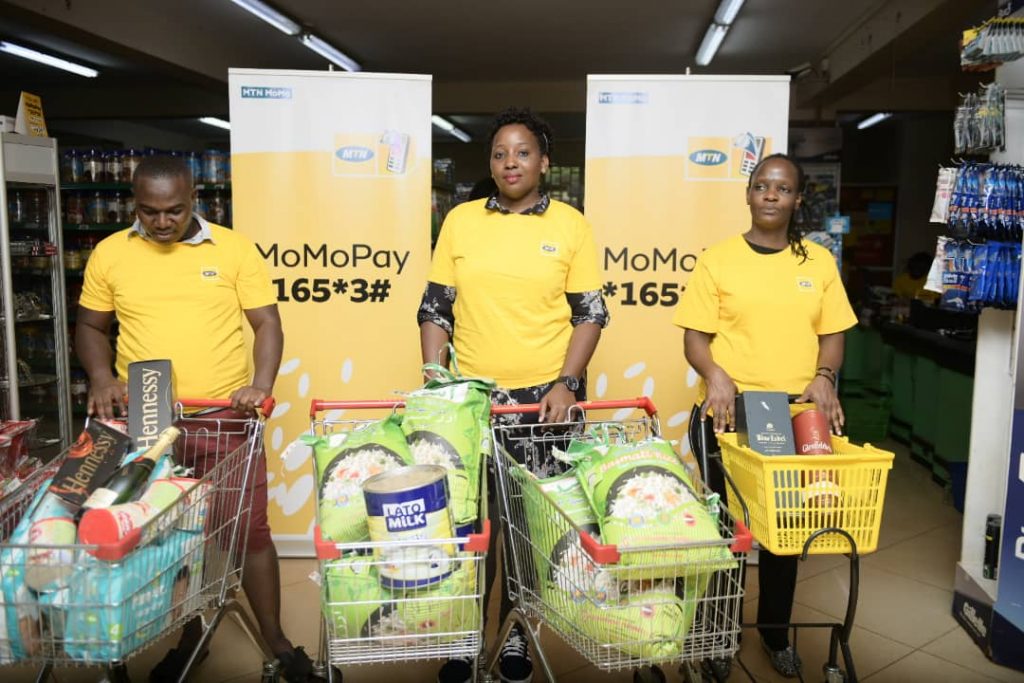 The Transaction
To be in position to use the MomoPay system, one has to be registered to MTN mobile money. Because you will have to pay for the product/service using mobile money at no extra cost. The customers sends money straight to the merchant's code and all is done instantly.
Using Point of Sale (POS) systems
In supermarket for instance, you can use MoMoPay on POS. Using the scenario of Shoprite, from the POS machine. One selects option to pay using MomoPay. Inserts their mobile phone number, and confirm payment from the phone using mobile money pin.
It's with no doubt that the Uganda's economy is closer to going cashless. Companies such as; Stanbic Bank, MTN, Safeboda, to mention a few — are embracing this new technology. They're highly encouraging customers to go cashless instead of cash.