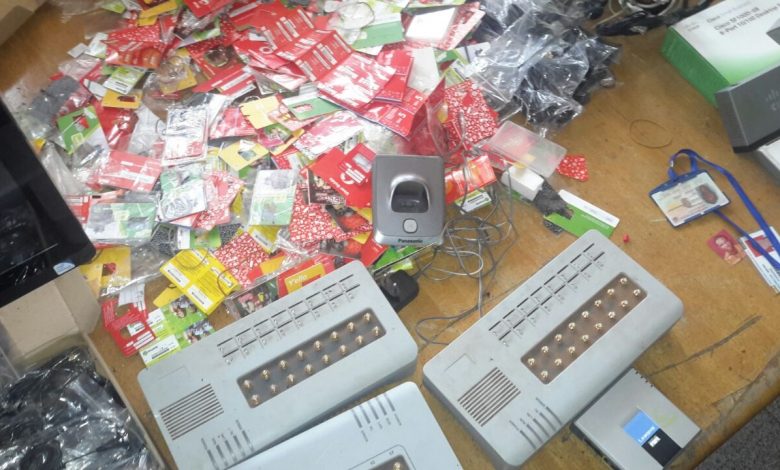 Government regulatory body of communications; the Uganda Communication Commission (UCC) over the weekend arrested eight people for SIM boxing fraud. In an operation carried out by Chieftaincy of Military Intelligence (CMI), and Internal Security Organization (ISO).
Three suspects were arrested from Masanafu in Rubaga Division connected to one SIM box with 545 sim cards. Two from Clement Hill in Central Division and one person from Nakawa with two SIM boxes — one with 32 sim cards, and the other with 1,024 sim cards.
In Kasubi no suspect was apprehended, but one SIM box found up and running was confiscated.
The regulator went on to note that two suspects were arrested for supplying stolen sim cards to these operators.
SIM boxing violates the Computer Misuse Act 2011. The Act make provision for the safety and security of electronic transactions and information systems; to prevent unlawful access, abuse or misuse of information systems including computers.
SIM boxing is a practice in telecommunications where a person or group of people set-up a device that can take up several SIM cards — making a SIM box. It is then used to complete international calls it receives from the internet as voice over IP (VoIP). And in turn serve them to the in-country mobile network subscribers as local traffic. The SIM boxer thus bypasses the international rates and often undercuts the prices charged by local mobile operators.
The government and telecommunication companies are losing a lot in revenues especially from international calls because of such scams.
These SIM boxers can break-even in less than 1 month and continue to rake in profits for years. There's no deliberate under declaration of telecom revenue because of the investment made in order to be compliant with the tax authorities.
The efforts to reduce this vice has led to some arrests. In 2017, six people were arrested in a SIM box fraud against Airtel Uganda. Geoffrey Kasule who masterminded the fraud was remanded to Luzira by the Buganda Road Court.
This is a threat that the government and telcos are jointly fighting.