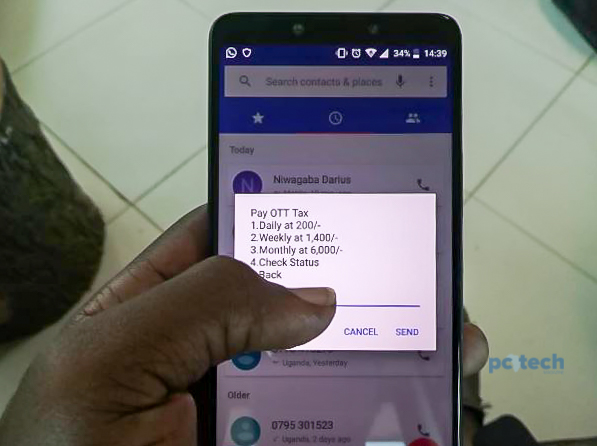 The Parliment of Uganda last year passed the passed the Excise Duty (Amendment) Bill, 2018 with amendments that imposes a social media tax (OTT Tax) of UGX200 daily levied on every mobile phone subscriber.
After the passing of the bill, which caused a lot of public outcry, President Museveni who proposed the bill said the OTT Tax was here to stay. The President stated that the proposal of the tax was to reduce gossip among Ugandans.
However, many Ugandans resorted to using Virtual Private Networks (VPNs) connections. In lay-man's term, a user downloads a VPN mobile app which s/he use to access OTT service since it registers the use to a different country.
With the massive use of VPN mobile apps, the government since the bill's inauguration have registered less to what they had expected. A report released by UCC showed that the amount of revenue collected from OTT equally reduced UGX5.6 billion in July to UGX3.9 billion at the end of September 2018.
However, this isn't all about numbers, and public outcries. In this article we share how one can pay the levy on OTT services. Note, paying the levy is done through mobile money. Consumers ought to have money on their mobile money accounts to pay the tax.
MTN Users
Dial *150*3# or *165*2*8*6#
Choose whether you want to pay for yourself or for a different.
Select the OTT plan you want, daily, weekly, month, quarterly or annually.
Once selected, you will be asked to enter you mobile money number to confirm payment.
Once done, you're a free to access all OTT services.
Airtel Users
Dial *185*2*5#.
Select whether to pay for self or another number.
Once done, choose the plan you want, daily, weekly, month, quarterly or annually.
Then confirm payment with your 4-digit mobile money number.
You receive a notification of payment, and now you're free to access all OTT service platforms.
Africell Users
Dial *144*2*5#.
Much like the previous steps, select to pay for self or another number.
Select you OTT plan of choice, and accept payment by inserting your mobile money pin.
Once payment is confirmed, you can access all OTT service platforms.