Two Cents
The Importance of Branding Your Business – Renderforest Reveals
Branding is definitely creating a name, a design, a symbol or logo which a company is easily known for. It helps a product to recognize or classify from other services or products itself. Branding is efficient and essential because it is not only for a remarkable expression but also it helps the consumers to know the expectation when they see your brand. Also, branding is one of the ways on how consumers distinguish each competitor and which brand makes it better.
Why Branding is Important in a Business?
Branding takes a huge role in your business – whether it's a small or big one. It affects everything in your business – most especially the consumers and customers. Branding has a huge impact on one's company to the extent of driving new business, increasing or decreasing the brand awareness, and the perception of people. So, you need to be very careful when establishing a brand and you have to think of it carefully.
Here are some of the reasons why branding is important in a certain business:
1. Branding Acquires Recognition.
2. Branding Increases the Value of Business.
3. Branding Gathers New Additional Customers.
4. Boost the Pride & Satisfaction of the Employees.
5. Builds Trust in the Marketplace.
6. Branding Upholds Advertising Strategies.

Why You Need A Brand Strategy
There are a lot of different successful brands out there that already made a name and noise to the point that they are already part of someone's life. One main reason why they've come this far is that because they have worked on a powerful branding strategy. Branding strategy will really help you to:
• Have clear objectives for the company.
• Attract more attention compared to other competitors.
• Develop the identity & values of your brand accordingly.
• Have an effective communication with your consumers and clients.
• Attract new possible clients and talent.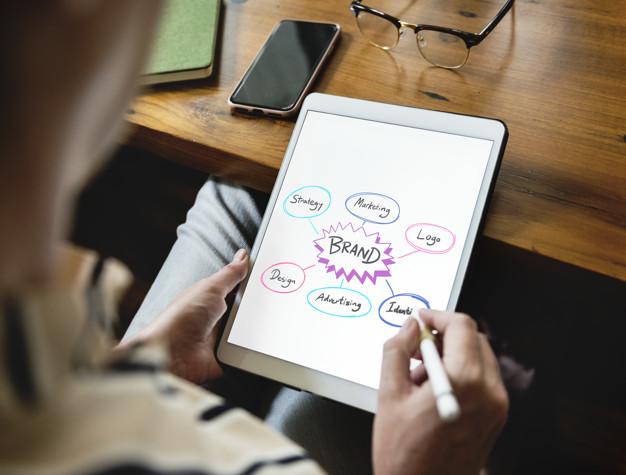 Creating a Powerful Brand Identity
If you are starting a business or even wanting to rebrand but still unsure how to do it or when and how you will start, this step-by-step guide will help you on how to make one.

STEP 1: Finish a Complete Brand Strategy
Before you dig deeper about the brand identity, make sure that you have completed the strategies you will use to increase the awareness of your brand. Brand identity, by definition, is a certain tool that can help you implement your completed brand strategy. Your brand strategy refers to the detailed plan you have come up which contains what you want to attain and how you can do it. You can use the best video editors to promote your business and implement your brand strategy.

STEP 2: Understand What's Brand Identity
Brand identity is not just a logo filled with different colors. When creating your identity, make sure that you are designing it with an extensive visual language which can be used to everything – from website up to the packaging. As you are going through the design of your brand, you need to ensure that the brand identity you'll come up is:
• Distinct.
• Memorable.
• Flexible & Scalable.
• Cohesive.
• Can Be Applied Easily.

STEP 3: Conduct a Research
When you start out to brand a particular project, it is always important to know more each phase. Once you hit the core of your brand, you will have that accurate knowledge which can be used to translate into visual languages. The main goal here is that you need and you should collect datum and information as many as you can – this information is all about who are the people you are trying to reach out, who are the competitors, and what is the current standing of your brand. To achieve successful research, first, create a persona then second, you need to know and classify your competition. The third one would be looking at the current status of the identity of the brand you own and how it can be tweaked or crafted to fit in your goals.

STEP 4: Create Your Identity
Now that you already have a lot of information about everything, you may now gather with your team and start the idea of brainstorming. Make a logo, video, photos and create your brand identity. that you can use in everything. One of the best tools that you can use in creating a logo, videos, etc. is the Renderforest as it can create exceptional and outstanding logos and videos which are the most important part of your blog or something. It is user-friendly, fast, and of course, affordable.
[related-posts]
About the Author
Roman Daneghyan is Chief Marketing Officer at Renderforest, specializing in social media marketing, content marketing, and SEO.