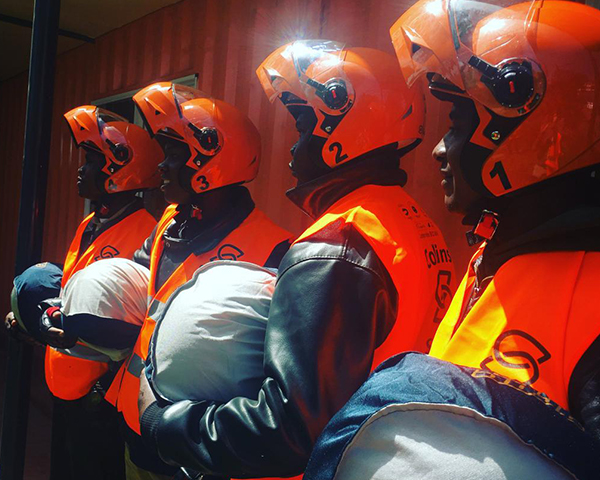 Safeboda operations in Kenya is growing at a faster speed than expected. The company reports that they have clocked 600 riders, just six months after launch— July of 2018. The launch came after an update was seen in the company's app — integrating M-Pesa as a payment option. This would then be away for its customers to purchase safeboda credits and ride cashless.
The company's co-founder, Rapa Thomson Ricky revealed the news to this website during their bi-annual party in Kampala, Sunday evening. Notably, riders and official representatives from SafeBoda Kenya were invited to attend the party as the company celebrated 5 years of existence in Uganda.
Ricky told this reporter, that the company was so overwhelmed by the number [600] compared to its performance after the Uganda launch in 2014.
SafeBoda Kenya operates in areas of Westlands, Parklands, Mbagathi Way, Madaraka, Lavington, Upper Hill, Kilimani, Kileleshwa and Riverside. Customers are charged a minimum fare of KES30 (roughly UGX1,100) per trip.
Moto-Taxis are now innovative solutions in frontier markets and are becoming the most common method of getting around in most/many areas around our towns. They're fast and efficient as well as very deadly. Their existence has birthed motorcycle-hailing services which are strongly regulated — riders and passengers wear helmets, reflective vests, follow the traffic laws, and carry one passenger at a time.[related-posts]
The high penetration of motorcycle usage in most city/town areas are favoring companies like, safeboda, uberboda, taxifyboda, among others
—to carry out their operations. However, this also means high competitions, not only with the ride-hailing firms but with the usual local transportation system.
Kenya is among the top countries in world with a high penetration of motorcycle usage. Safeboda expanded its service to the country because of the high demand. Nairobi became the first city safeboda has its operations expanded to.
Ricky Thompson Rapa told Reuters in an interview, that the company plans to grow and cover at least 20 African cities. The rumored cities that the Uganda-based motorcycle-hailing firms plans to expand to first include; Kigali (Rwanda), Dar es Salaam (Tanzania), and Lagos (Nigeria).
We haven't received comment from Safeboda about the expansion.