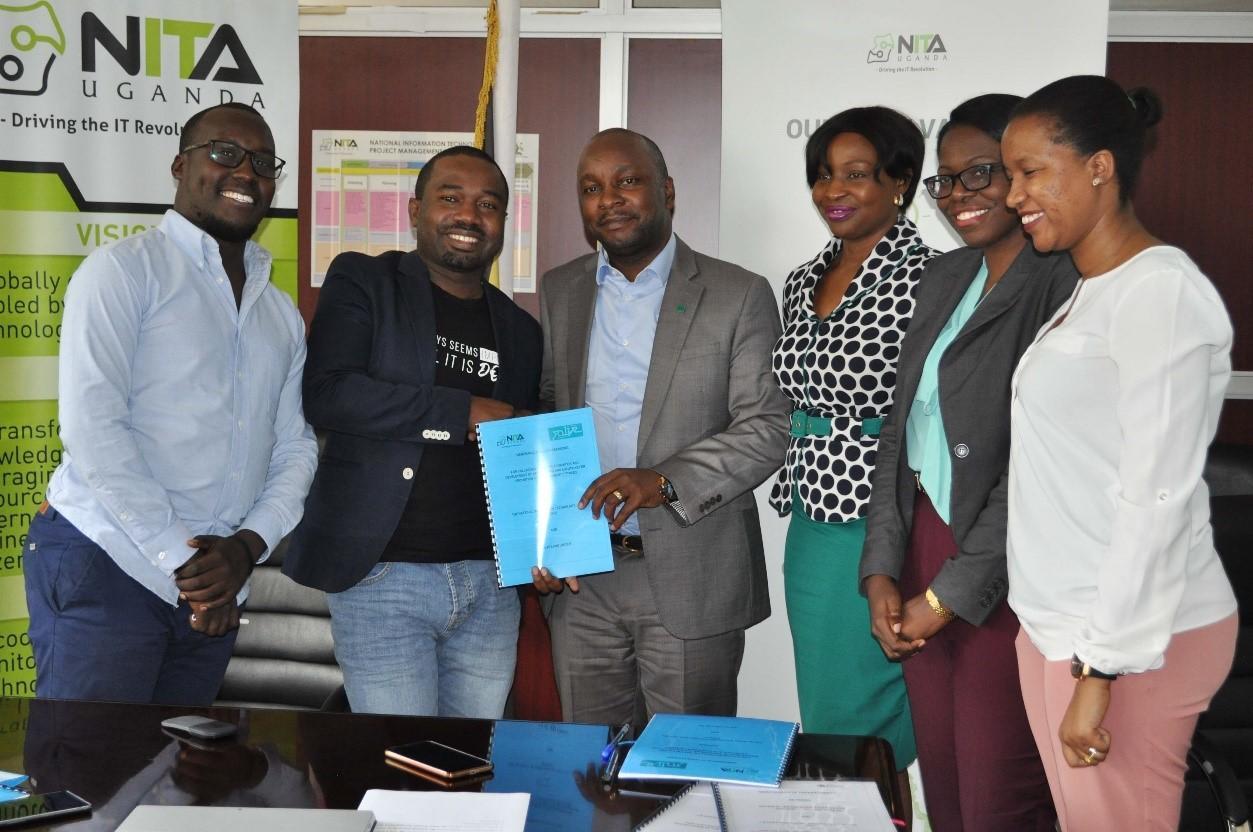 The National Information Technology Authority (NITA-U) this morning signed partnerships with SOLVE Incubation and Kafeero Foundation to facilitate collaboration in the development of Government services aimed at transforming social and economic development in Uganda.
SOLVE is a software incubation hub that pools a diverse group of individuals to build solutions to everyday community, public and industry challenges. It is the brainchild of The Innovation Village incubation space.
The thinking around SOLVE grew out of the existence of creative talent of software developers and innovators whose single focus was to win the next innovation competition. On the other side, there was a market gap for locally built solutions amidst continued net importation of software solutions The objective of SOLVE is to connect private entities, Government agencies, and NGOs with talented freelancers for collaboration on major projects. As this happens such solutions will be spun off into independent sustainable startups that will be helped to grow by The Innovation Village.
Through this partnership with NITA-U, SOLVE will go on to play a leading role in accelerating Uganda's progress in building a high-performing digital economy by driving e-Government solutions that ease public service delivery. This will be achieved by leveraging already existing local solutions, creative talent of developers who will not only be upskilled but also supported to formalize.
Kafeero Foundation, on the other hand, is a social enterprise that inspires and empowers individuals, communities, and economies to grow through innovation. Kafeero.TV is the first online studio in Uganda availing a platform for startups to showcase their businesses and concepts to the world as well as industry leaders, visionaries, founders, CEO and influencers to share their knowledge and experience and expertise, creating an opportunity for startups and businesses and venture capitalists to network, connect and collaborate.
Presiding over the signing ceremony, Acting ED NITA-U Peter Kahiigi challenged the parties to develop home-grown e-services to avert the challenges associated with public service delivery.  "Let us commit to our children that they won't line up and fill forms to access government services."
Japheth Kawanguzi the Lead Innovation Village noted that with Uganda`s surging population the biggest percentage being youth, a partnership with NITA-U provides great opportunity to build a force within the ecosystem that will champion development, commercialization, and scaling of solutions.
"We plan to explore ways to pass on literacy about the NITA-U programs and other digitization efforts within Government through campaigns, social media, and the Kafeero.TV platform'' said Aziz Kafeero, Founder of Kafeero Foundation.
The Objectives for entering into these partnerships include:
Digital Skilling: Using the Information Access Centre (IAC) to provide digital skills trainings, create a digital/online platform for E-learning. NITA-U wants to track the improvement of digital literacy across the country and create opportunities for employment.
ICT Awareness and marketing: increase access to online content, cross-platform marketing through their digital platforms, leveraging of Government communication platforms, etc. aimed at increasing ICT literacy and uptake of E-Services.
Job Creation: develop a talent pool of software developers that government will tap into to facilitate the development of solutions and hence creating jobs for majority youth that will be absorbed from the Academia
Development of E-services: mentorship and support of developer communities, technical support to be extended to facilitate the development of e-services targeting challenges associated with public service provision.
[related-posts]