Transsion Holdings brand Infinix, as promised, globally unveiled its newest flagship in the Zero series; the Infinix Zero 5 smartphone becoming the successor to the Infinix Zero 4 in Dubai – 14th of November this year. And as promised, the all-new Infinix Zero 5 sports dual rear cameras with support for optical zoom and portrait mode becoming the first smartphone in the infinix production to come lined with the now trending feature. The dual camera is one of the selling points of the flagship.
The Infinix Zero 5 comes in a black and red well sealed packaging (or you might say box). On opening/unwrapping, the 5.98-Inch flagship is seen appearing on top with a red sealing screen touch cover, underneath are the accessories that come alongside the phone – i.e. the data/charging cable, the power adapter, earphones/headsets, and a user manual.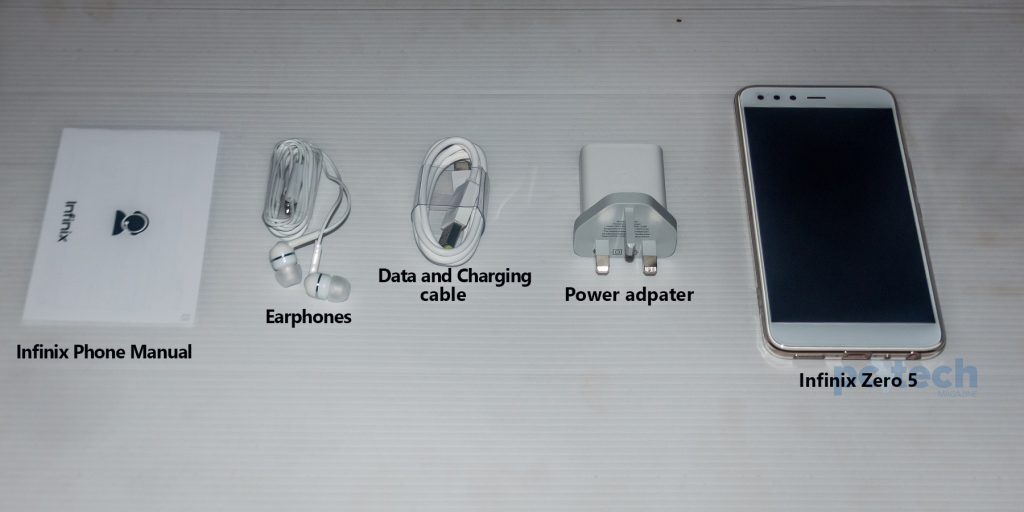 We strongly advise buyers not to accept this package with a broken seal. It might be a counterfeit or you might Indeed get something else other than the Infinix Zero 5. Take caution when buying one. The phablet is already available at all Infinix stores, and other related stores, and you can also find it online.
First Impressions
The dual camera system with a primary 12MP f/2.0 camera and a secondary 13MP f/2.6 2x telephoto camera with 2x optical zoom over the primary lens. On the front is a 16MP f/2.0 camera with flash. The rear camera gives you the ability to shoot in a manual mode – the one thing I really found interesting for a photographer like me.
The USB-C charging connector. USB-C is definitely a major step in the right direction, and more companies are starting to adopt it. This brings more flexibility, better data transfer speeds, and even better sound.
In my opinion, I loved the fact that the rear cameras were set in horizontal setting, compared to its predecessor where the setting was vertical.
The ability to multi-task.
Editor's Note: This publication got the champagne gold color variant of the Infinix zero 5. And after 3 weeks of use, we shall have a full review.