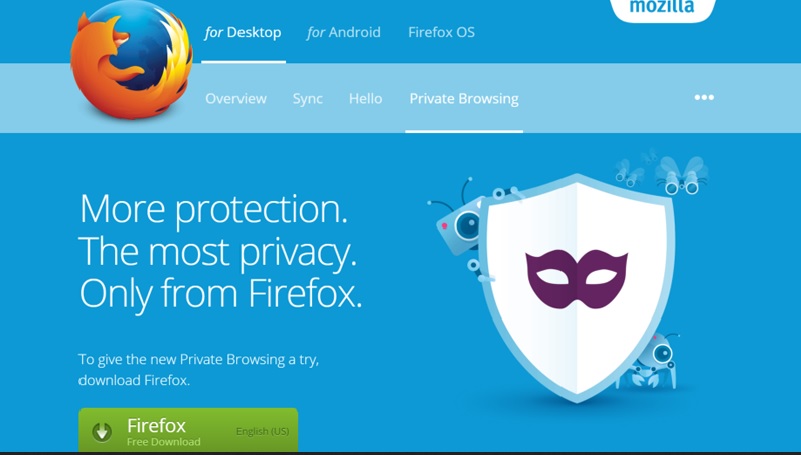 Mozilla has announced that it has brought its Tracking Protection feature by default to Firefox's private browsing mode. The feature has been working its way through Firefox's development and beta channels since August.
Tracking Protection blocks web content from a list of domains provided by Disconnect that are known to track users.
"Private Browsing with Tracking Protection in Firefox for Windows, Mac, Android, and Linux actively blocks content like ads, analytics trackers, and social share buttons that may record your behavior without your knowledge across sites," Nick Nguyen, VP of Firefox Product, said in a blog post.
As enabling Tracking Protection can hinder the rendering of some web pages, users are able to turn off the feature on a per-site basis, but only for the current browsing session.
"Since Private Browsing mode doesn't keep any information about your browsing session, when you disable Tracking Protection for a site, it only lasts for the session. When you start a new Private Browsing session, Tracking Protection will be turned on for all sites," Mozilla said on a support page.
Firefox users are able to manually turn on Tracking Protection by going to about:config and toggling the privacy.trackingprotection.enabled flag.
Firefox 42 will also begin to open the HTML source of web pages in a new tab rather than in a new window.
"This was a hugely popular request, and we would have shipped it earlier, but what started out as a seemingly simple change was actually quite involved," Jeff Griffiths, Firefox Developer Tools product manager, said in a blog post in July.
The browser will now provide an indicator to show which tabs are playing audio, and are able to be muted by clicking on the icon.
Other features introduced in this release include IPv6 support for WebRTC, remote website debugging over Wi-Fi, and Login Manager improvements.
In recent months, Mozilla has added Suggested Tiles, released Firefox Hello integration, and begun discussions to move away from Mozilla's own XUL language.
[
ZDNet
]