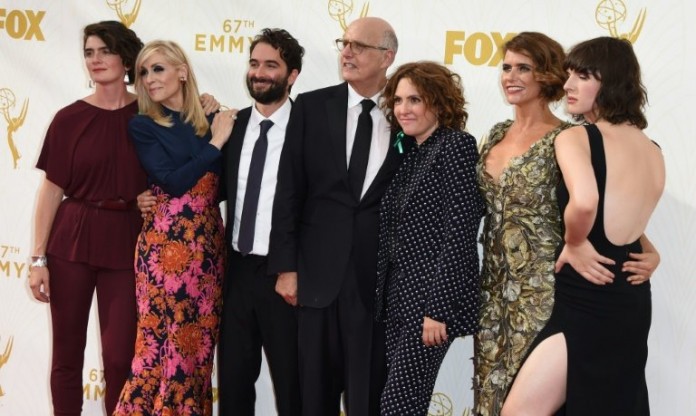 Jeffrey Tambor and Jill Soloway delivered Amazon.com Inc. its first major Emmy awards for the show "Transparent," as the online retailer went toe-to-toe with Time Warner Inc.'s HBO.
HBO's "Veep" vied for top comedy prizes with "Transparent," in which Tambor plays the patriarch of a Los Angeles family who reveals to his children that he has long felt he's a woman and is going to dress like one. The face-off between the companies highlighted the growing competition between newer players like Amazon Studios and longtime leaders like HBO, which demonstrated its dominance again Sunday.
Soloway created "Transparent" and won an award for directing, one of 11 nominations the show received. Both Tambor and Soloway called out Amazon and advocated for transgender rights in their speeches.
Allison Janney won the only comedy Emmy that didn't go to "Transparent" or "Veep," taking home an award for her supporting role in the CBS series "Mom." The Emmy was the seventh for Janney, who has garnered awards for "The West Wing," 'Masters of Sex" and now her second for "Mom." That ties her with Ed Asner and Mary Tyler Moore for the most awards of any actor or actress in Emmy history.
The annual Emmy awards show coincides with the debut of new and returning shows for major broadcast and cable companies and is a platform to promote their best hits and stars. Last year's telecast on NBC drew 15.6 million viewers.