News
Starter Plus
The Making of the 'World's First Mobile Money Ready' Accounting System
REFERRED to as the "world's first mobile money ready accounting system", MYAccounts is an award-winning web-based accounting platform that's seeking to revolutionize financial record-keeping for African SMEs.
It's web-based nature facilitates access via a wide range of devices, including smartphones and tablets.
Earlier this year, the startup emerged as a winner in this year's Bill and Melinda Gates Foundation's "Grand Challenges Explorations Round 14" and received $100,000 for "enabling universal acceptance of mobile money".
Just months before that in 2014, MYAccounts had been one of seven African startups to win the "Microsoft Corporation Innovation Award Grant Round 2" which includes financial endowment, access to Microsoft platforms, one-on-one mentorship and networking support to help winners connect with relevant partners and find commercialization opportunities for their solutions.
But what does this actually entail; how did the idea come alive, why is it being received with such praise and what does the future hold? PC Tech spoke to one of the masterminds behind MYAccounts, CEO Francis Otim, to get some answers.
"Our goal was to use our skills as chartered accountants to help local businesses grow."
Having co-run a business advisory firm where he and a friend supported small and
medium-sized enterprises (SMEs) in accounting, tax, controls and general consulting, Otim says he observed a general unhealthy lack of qualified accounting professionals because they were either working for the government, big multinational companies, or NGOs. He had observed that "for bank loan applications, for example, most SMEs pay bank loan officers to prepare a set of accounts to help them secure the funds they want."
Yet no service on the market addressed the needs of SMEs – which "employ more than 2.5m people, constitute up to 90 percent of the private sector and contribute over 70 per cent to total GDP" according to an analysis conducted by AllAfrica.
As one can imagine, unavailable professional support can starkly infringe on the quality of services and consequently the stability and durability of the business altogether. "Basically I observed a huge opportunity within a perfect storm," noted Otim.
He had worked as a business advisor which, in addition to his experience in financial reporting and controls at Barclays Uganda prior to that, helped Otim gain the understanding of accounting requirements that would later come in handy in the development of MYAccounts.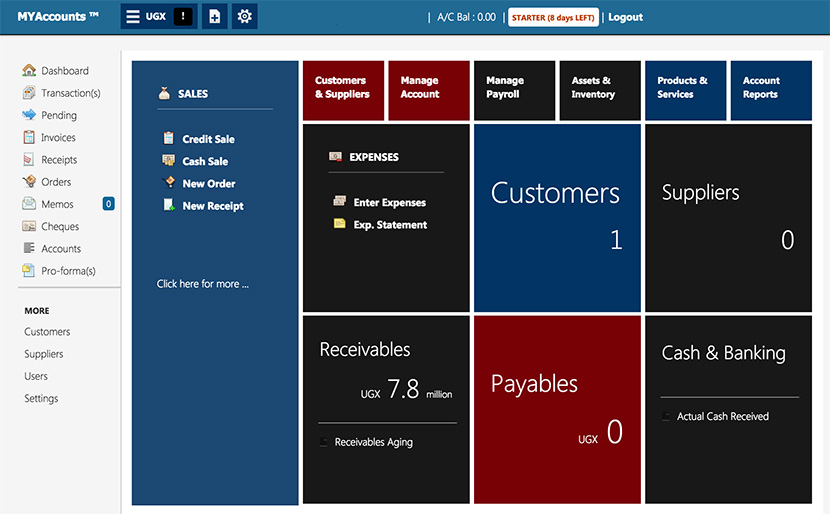 Firstly, as a response to Uganda's rich entrepreneurial climate, Otim identified a gap in accounting: the majority of businesses did not use any accounting systems and handled their finances manually and those that did employ any sort of programmes could not afford the costly original versions and were thus forced to resort to unreliable low-quality versions that were prone to crashes, sometimes displacing all data. Not only was there demand for the product but also existing accounting systems did not sufficiently satisfy merchants' needs because "the features of these systems did not adequately address the unique business challenges faced by the African SME," Otim reflects.
"[…] All the literature on mobile money was about the poor and the unbanked, but I saw it as a perfect solution for the SME as well. I decided to build the first mobile money-ready accounting system in the world," he reminisces.
So the first and obvious function was an accounting system which due to the mobile component, would allow clients to manage and keep track of business transactions from anywhere in the world. Through an automated mechanism, mobile money payments and collections from registered clients are reconciled to account books while they happen, and subscribers additionally receive in-depth custom reports as well as auto-generated sales balancing reports, saving the time many owners of SMEs would spend documenting this information by hand at the end of every day.
[related-posts]
Secondly, "the separation between business cash and personal cash was non-existent" at most SMEs he encountered, and those businesses that did distinguish between the two, showed unhealthy operational cash flows because they lacked the necessary tools and skills to monitor their financial health.
Taking advantage of the popularity and success of mobile money in Africa, Otim saw an opportunity in adding a mobile money component to MYAccounts, thus creating a payment function that facilitates field transactions and updates the accounts in real time. "At that time, the mobile money explosion was shaping up here, which gave me the idea of mobile money for the SMEs," he recalls. This not only makes transactions cashless but on the long run would also address and enhance cash and inventory control – an exercise that poses challenges for many SMEs.
Lastly, one happy coincidence led to an extension of the mobile payment function to include an option for automated e-tax submissions. The Uganda Revenue Authority (URA) had rolled out an e-tax system, demanding that SMEs file tax returns electronically – an adjustment that apparently "caused utter chaos" according to Otim's assessment. SMEs had neither competences, nor capacities and tools to perform the actions required of them or lacked reasonable support from qualified accountants.
Furthermore, MYAccounts was designed to also incorporate ordering and customer relation management services that would enable SME operators to receive, record, manage and dispatch orders from customers via SMS. An additional bonus feature is an integrated MYAccounts marketplace where customers can enlist their products and browse through products listed on the platform.
Now, although the app is still in its early pilot phase and a final version is still work-in-progress, Otim says more than 2,000 SMEs in Rwanda are registered and 64 merchants in Uganda are active users of the MYAccounts solution; over 20 million shillings (equivalent to around U.S. $6k) in daily transactions are being recorded and enterprise clients have generated approximately 438 million shillings (about $120k) in organic revenue over the past year.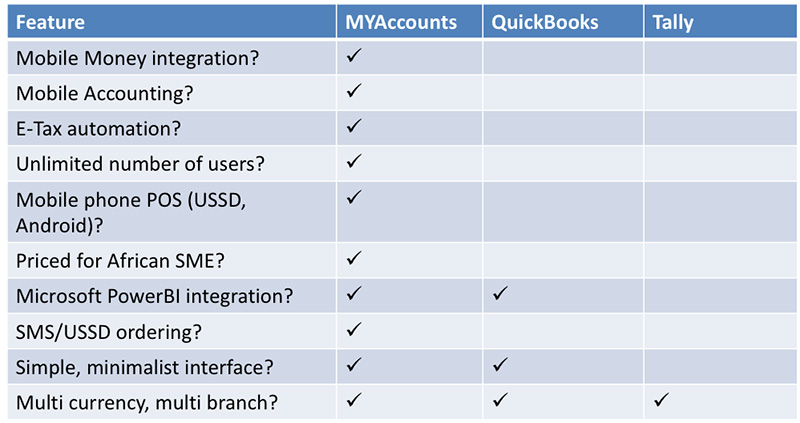 What is also striking is that compared to existing accounting systems like Quickbooks and Tally as seen in the table, MYAccounts is not only the sole mobile accounting system but also incorporates far more functions and covers a significantly wider range of services relevant for SMEs while at the same time offering an easily accessible software as long as one owns a smartphone or mobile gadget connected to the internet.
This puts MYAccounts in a favorable position since mobile connectivity has become the norm today, specifically in Uganda and Sub-Saharan African altogether where mobile penetration is growing rapidly and small businesses are strongly gravitating towards mobile rather than desktop operations. Nevertheless, all of MYAccounts features are also available on a web-based desktop version with identical functions.
As such, MYAccounts harbors immense potential to revolutionize the way finances in businesses are run. In a MENON Business Economics publication, a team of researchers who mapped growth patterns in Sub-Saharan Africa over the last 20 years, observed that SMEs "played a pivotal role in industrial development as they contribute to the restructuring and satisfying of rising local service demands, thus allowing for increased specialization and supporting larger firms with inputs and services".
"This way, SMEs become engines that sustain growth for long term development," they noted.
One could then argue that by optimizing the quality, efficiency and effectiveness of accounting services and operations,  MYAccounts can contribute to the advancement and sustainability of the SME sector and ultimately serve as an implicit stimulant for economic growth in Uganda and Sub-Saharan Africa.
As of now, MYAccounts is mobilizing its award funds toward further system developments in order to improve the early stage pilot and launch a completed version of the product.
Irene Najjemba is a media development enthusiast who advocates for youth engagement in social entrepreneurship ventures in the African Diaspora and beyond. She is a Media and Communication graduate based in Bonn, Germany. You can follow her on Twitter @EyeRainVerses