News
Skype for Android updates make it easier to sign back in and preview Web links in chat
The new Skype update for Android is getting adding some new features.
The app now makes it easier to sign back in after you've logged out by remembering your login details, including your password.
This means you just tap on an arrow button and you're ready to go.
But in case you hate it, you can go back to the old login process in the Privacy section of the Settings menu.
Skype is also be rolling out Web link previews on Android over the next few weeks.  These show you a visual summary of links sent right in your chat interface.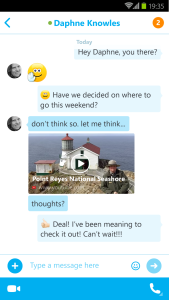 Get the update the Play Store.
Via TNW