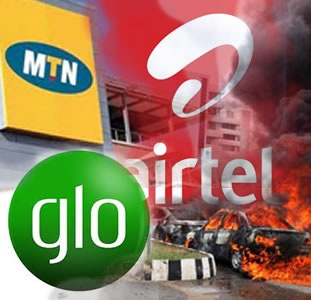 The threat comes in the wake of recent attacks in Northern states on telecommunications infrastructure and base stations belonging to that of MTN and Airtel, amongst others. It has been reported that attackers damaged telecommunication masts belonging to MTN at Bolori, Ngaranam, Dala Alamdiri, Adam Kolo, Limanti, Gwange, Bayan Quarters and West End areas.
As many as 25 base stations have reportedly been damaged in the attacks, disrupting mobile phone coverage.
MTN's Corporate Services Executive, Mr. Akinwale Goodluck, in a statement in Lagos, said the attacks by unknown persons had caused service challenges in parts of the North as sensitive hub sites had also been affected.
"We confirm that like all the other major telecommunication operators, some of MTN's installations in Northern Nigeria have been damaged by unknown persons.  As far as we are aware, there were no fatalities as a result of these attacks and we are receiving full co operation from the relevant government security agencies" he said.
"The attacks are unfortunate as the facilities built by MTN Nigeria and indeed other telecommunication companies are key to the ICT revolution in Nigeria and the accelerated socio-economic development of our nation"
Mr. Gbenga Adebayo, Chairman of ALTON, is quoted as saying that a base station costs in the region of N500 million and N1 billion.
According to Adebayo the Federal Government "should be decisive in its intervention in the onslaught against the telecoms firms.
"It is an attack on subscribers; these are the people that are at the receiving end of the services. These are Nigerians, whose lives depend on telecoms services," he told This Day.
Source: ITNewsAfrica