News Archive
Higher growth for Nigerian businesses, ICT experts predict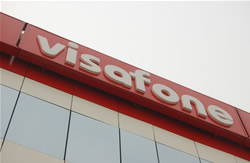 He told the Nigeria compass that the investment in sub-marine cables, which would land in the next 12 months in the country, the competition in the IT market to provide solutions for more businesses, uses of social media to drive businesses and market opportunities of bandwidth cost are indicators of new opportunities that would grow the economy.
According to him with the growth in bandwidth, he foresees more companies getting better system applications, more bandwidth saying that internet uses in businesses in the country is growing.
Mr. Rajan Swaroop said that since 2001, mobile devices have contributed to the social-economic development of the country saying that over $50 billion foreign direct investment has been made in the country in the last decade while the country has experienced over a 4 per cent increase in the GDP, which could be attributed to the sector.
On job creation, he said that over three million unemployed has been removed from the job market directly or indirectly through the contribution of the IT sector adding that it has also helped to remove the barrier to learning and knowledge transfer.
And in terms of the cost of doing business in Nigeria, Mr. Rajan Swaroop observed that it has made payment easier using the ATM while also providing connectivity to the rural area.
Mr. Rajan Swaroop disclosed that mobile technology has been an economic enabler in Nigeria by making business transaction more efficient and stable with more investment in education, health, agriculture and e-governance.
He noted that the increase of various mobile devices in the country would drive data consumption by subscribers saying that that means that more of Airtel's customer would be using more broadband.
While seeking for government assistance for a comfortable regulatory environment that would be beneficial to both the operators and the consumers in the industry stressing that there was the need for a new communications policy since the last one was in 2000.
Mr. Rajan Swaroop also told the Nigerian Compass that a 13 years enabling framework for Internet penetration that the government wants to achieve saying that IT infrastructure which is very critical needs to be addressed.
While highlighting the challenges of multiple taxations, he said that government should consider its impact on the business and the social-economic implication adding that government needs to readdress the issue of convergence by bringing the relevant agencies together.
Mr. Rajan Swaroop  called for the involved of the private sector of that Universal Service provision Fund in order to fast track the penetration of broadband in the country saying that would help the local government to develop fast once there broadband penetration.