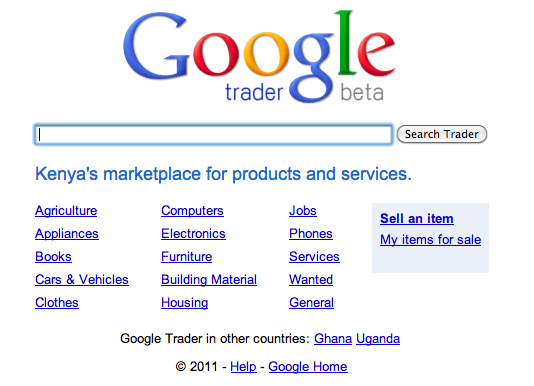 The launch of Google Trader Kenya will ramp up competition in the online auction/classified website business in a market that is occupied by small operators who deal in specialized items and a few big players from South Africa.
"During the last few weeks, thousands of businesses have posted tens of thousands of listings across different categories. There is a rich and growing collection of jobs, cars for sale, phones, electronics, books and a lot more. Anyone, individual or small business, can post for free and reach millions of Kenyans who search online for products, services or jobs," wrote Elijah Kitaka on the Google Africa Blog.
The Kenyan launch follows earlier launches of the same Web-based service by Google in Ghana and Uganda. The Uganda service is run in partnership with MTN Uganda but is Web-based, mobile and SMS-centric.
Trader is a free online classifieds service that allows users to buy and sell products and services, as well as search for jobs or just about anything else.
The online auction market in East Africa has been largely dominated by South Africa-based companies like Bid or Buy, Kalahari and DealFish, which has recently come onto the scene covering the Ugandan, Kenya and Tanzania markets.
Dealfish is a Pan-African network of online marketplaces owned by MIH Internet Africa, the digital business arm of Naspers, currently the world's fifth largest media concern.
"Whether you're looking for houses to rent in your neighborhood, a second hand car, a book for your personal library, or even a few meters of cloth, Trader has thousands of products and services available in your local area," said Dorothy Ooko, Google's communications manager for East and Central Africa.
Reacting to Trader's entrance onto the Kenya scene, Jaco Jonker, the chief executive officer Bid or Buy, said Trader offers more of a classifieds platform than a pure commerce platform. "I would think that they pose more of a threat to the likes of pure classified sites," he said via email.
Bidorbuy.co.ke, he said, offers a true marketplace experience with fixed price, classifieds and auction sales formats.
"We also offer a much more controlled environment where we have a dedicated security department that screen sellers before allowing them to trade on the platform," Jonker said. "We take online fraud very seriously have a dedicated customer service team behind it that can assist buyers and sellers."
"We knew this would happen months ago. I also expect that they will soon be launching in Nigeria where Dealfish is also present," said Moses Kemibaro, who heads Dealfish's operations in East Africa Kemibaro. "We welcome the competition, it validates the market opportunities we are pursuing as Dealfish when Google joins the fray".