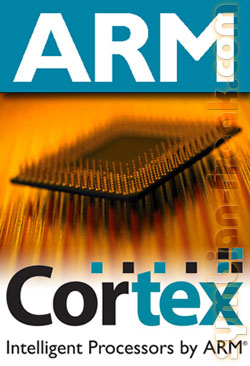 Consumers in developed countries should also see a benefit.
The ultra-efficient chip can be paired with more powerful processors in a "hybrid" model to reduce power usage.
ARM's designs are used in approximately 95% of the world's smartphones.
A range of big name manufacturers have already signed-up to use the A7 processor along with the company's "big.LITTLE" architecture.
Samsung, LG, NVidia and Texas Instruments were among those to throw their weight behind the technology.
Apple is also known to make use of ARM-designed chips in its mobile devices, although it has historically been reluctant to say so publicly.
Smaller and cheaper
Used as the sole processor in a smartphone, the A7 is said to offer comparable power to current chips at a fraction of the price, while consuming much less battery power.
Its silicon core is only one-fifth of the size of existing technologies, allowing a reduced production price, according to ARM chief executive Warren East.
"You typically make chips on a silicon wafer and it costs roughly the same amount of money for each wafer. If you can get 2,000 devices on a wafer or 1,000 devices on a wafer it makes a huge difference to the cost per device," he told BBC News.
"As we look forward these smartphones are going to be totally ubiquitous and in the much less developed areas, such as Africa, you will see smartphones becoming tools that people use to make their lives easier."
Mr East said that the trend would happen regardless of intervention, but cheaper devices would greatly accelerate that, enabling smartphones to be produced for under $100 (£60) by 2013 or 2014.
Little and large
In countries where price is less of an issue, the Cortex A7 may be combined with high end mobile processors to offer a powerful, yet energy-efficient package, ARM said.
For less demanding tasks such as checking in the background for email and social networking updates, the A7 processor would handle the work.
Using a technology known as big.LITTLE, the phone would instantly switch over to chips such as the Cortex-A15 when more horsepower was needed.
"It's not just trying to solve the issue of doing yet another CPU with higher performance," said Avner Goren, general manager of Omap strategy at Texas Instruments, one of ARM's clients.
"I don't need massive processing all the time, I need it only some of the time, and for the rest I can use A7. This allows me now to continue the path to more and more powerful devices but without sacrificing battery life."
Although ARM currently enjoys a dominant position in the smartphone and tablet markets, the Cambridge-based firm is facing the prospect of stiff competition from Intel, which has recently entered the mobile processor business.
Its Sandy Bridge and forthcoming Ivy Bridge processors are also aimed at the smartphone and tablet markets.
Source: BBC