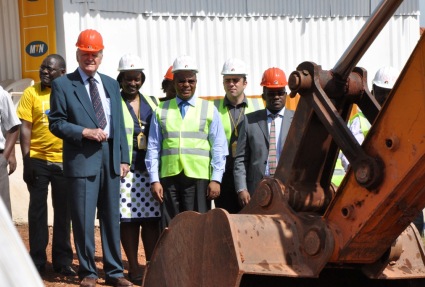 Officiating at the ground-breaking ceremony, MTN Chief Executive Officer Themba M. Khumalo and Roko Chairman Rainer Kohler said the project would cost close to US$ 110million in civil works construction, and telecommunications equipment.
"The civil and switch fitting works alone on the new Switch will cost us an estimated US$6million, which is more evidence of our commitment in ensuring that we give our subscribers in Uganda the best quality telecommunications services possible. The actual equipment to be installed in the Switch Room and the entire complex shall be in excess of US$104million," Khumalo said today.
MTN Uganda currently operates five Switching centres, three of which are in Kampala at Mbuya and on Plot 44/45 Kampala road, and three Regional Switches in Mbarara, Masindi and Tororo.
"The Mutundwe Switch will serve for about three to five years before it is at full capacity – especially at our rate of growth. We currently have 7 million subscribers on the MTN Network, 500,000 of whom have joined in the last three months. With our continued roll-out of highly innovative products and services, we expect subscriber numbers and usage to increase significantly, but the number and nature of any future switching centres shall be dictated by the needs of the business," Khumalo added.
Khumalo said the new Switching Centre would allow for the network capacity to easily accommodate more than 10million active subscribers.
"This Switch will be the largest Switching Centre in the MTN Uganda Network. Construction will take nine months and we trust that it will be of the highest quality – which is why we have contracted M/S Roko Construction," Khumalo added.
Roko Chairman Rainer Kohler said his company would carry out the contracted works with the highest degree of professionalism.
"We are confident that we will do a good job on this project, as usual. We are happy to be working with MTN on this project because we always try to be in the group of the best," Kohler said.
Last week, MTN Uganda officially opened an ultra-modern Customer Service Centre at the Forest Mall, bringing its investments in Uganda closer to the US$1billion mark since the company launched operations in 1998.