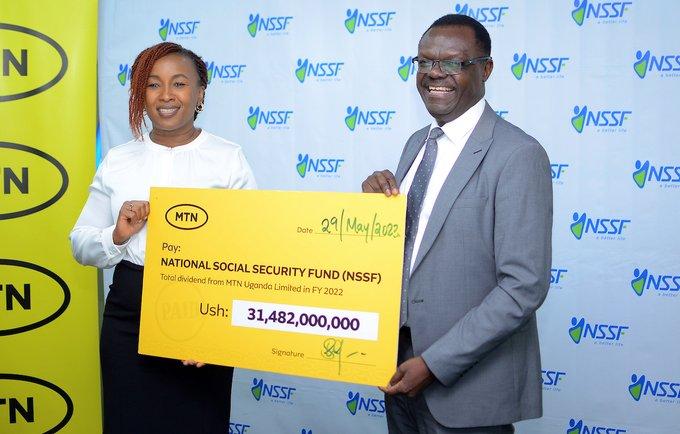 The National Social Security Fund (NSSF) has earned a total of UGX31.482 billion as dividends for the year ended December 31, 2022, from its investment in MTN Uganda. This comes after the Savings Fund invested UGX360 billion in December 2021 to acquire 1.98 billion shares in MTN Uganda following its Initial  Public Offer (IPO) in December 2021.
The payment is the single largest earned by the Fund to date, in addition to UGX9.32 billion earned last year from the telco.
It follows the approval of payment of a final dividend of UGX5.5 per ordinary share for the year ended 31 December 2022 was approved by the shareholders at the MTN Uganda Annual General Meeting on May 19, 2023.
NSSF Uganda is the second-largest shareholder in MTN Uganda, with 8.84% shareholding.
NSSF Ag. Managing Director Patrick Ayota said that the record earnings affirm the Fund's decision to invest in MTN Uganda given its performance track record and market leadership.
"As a market leader in the telecom and fintech sector, MTN Uganda plays a key role in the development eco-system in the country and will continue to do so for the foreseeable future. The company has high margins which have contributed to attractive returns on invested capital, and a solid management team that has delivered consistent and sustainable growth over the years," he said.
As long-term investors, NSSF Uganda is excited by the opportunities presented by the telecom business and is confident its investment in MTN Uganda will continue to create value for its members, Ayota adds.
MTN Uganda is the Fund's largest equity investment at 14.6% of its total equities portfolio. Ayota also said that the investment fits well with the Fund's diversification strategy, a key component of the Corporate Strategy to grow the Fund to UGX20 trillion by 2025.
It also fits well within the Fund's plan to deploy capital in areas integral to the economy such the telecommunications as well as emerging sectors like fintech.
Speaking at a ceremony to hand over a dummy cheque to NSSF at Workers House in Kampala, MTN Uganda CEO, Sylvia Mulinge said NSSF Uganda is a significant shareholder representing many Ugandans who have a stake in the fund, and the telco is glad to return value to the fund members in line with our Ambition 2025 key priorities of creating shared value for all our stakeholders.
"We are cognizant of the significant contribution of the NSSF to social security and we reiterate our commitment to ensuring that the investment in MTN fulfills the investment objectives and goals for the fund," Mulinge said.
Mulinge also noted that MTN Uganda currently has 20,870 shareholders with over 200 smaller pension funds and SACCOs representing millions of Ugandans and reaffirmed MTN's commitment to delivering value to each one of them.
MTN will pay out the final dividend for the Financial Year 2022 of UGX5.5 per share totaling UGX123.1 billion by June 22, 2023, to all registered shareholders on their mobile money wallets and nominated bank accounts. This is in addition to the two interim dividends paid out last year in September of UGX5.0 per share and UGX5.4 per share in December totaling UGX232.8 billion.
ALSO READ: MTN UGANDA Q1 PROFIT AFTER TAX SURGES 20% TO UGX120.6BN