Gadgets
Mobile
Reviews
Smartphones
Tecno Spark 10 Pro Review: A Decent Midranger That Looks Modern
If you're looking for a midranger smartphone that looks modern with decent performance and cameras, well the Tecno Spark 10 Pro could be one of them.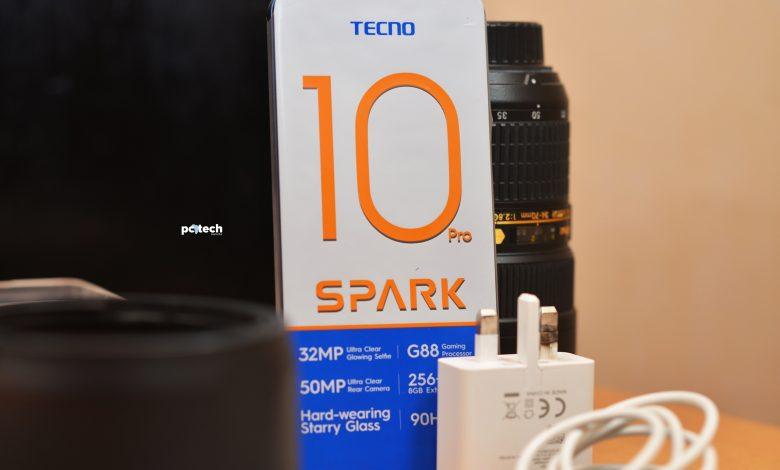 Tecno's latest offering in the Spark series, the Tecno Spark 10 is no exception from most of the mid-range smartphones offering a range of features that make it stand out in the market. It is being promoted as a high-performance selfie phone targeting mostly Gen Zs and first-time smartphone owners.
As the newest member in the Spark series succeeding the Spark 9 —if you ask, can I upgrade or not, well, you probably can —and through the company's Swamp My Tecno program, you can swamp in your old phone for any of the new Spark 10. We have the Tecno Spark 10 Pro sent to us by the company and outside the box, the phone is impressive at first glance — it has an iPhone look, at least from the back — which is made out of glass and has a matte finish which gives the phone a more premium feel for a mid-range smartphone.
It comes in two color options; Starry Black and Pearl White, and we got the black option.
Build, Design, and Display
The Tecno Spark 10 Pro has a sleek and stylish design with a thick solid body (sturdy frame) built with a glass front, plastic frames, and a glass back (starry glass). You get a standard 3.5mm jack next to the USB-C port on the bottom, and at the sides, on the right, you have the volume & power (which is also a fingerprint reader) buttons. The card tray on the left has room for two nano-SIMs and a microSD in case you need to expand your storage.
The back panel is reminiscent of some iPhones as it is made out of glass with a matte finish which gives the phone a premium feel and does also a good job of hiding smudges, however, you can opt to use a phone case to avoid any at all.
Still at the back, you have a glossy finish squircle camera island with a more pronounced opalescent look on the top left. The island houses three big circular modules; dual cameras (primary AI camera with a 50MP sensor and undisclosed sensor) and a dual LED flash —and a depth sensor just above the flash.
At the front, the thin bezel on the sides gives more room for display but a thicker bezel at the bottom bezel is quite noticeable but not a big deal. The display has a centered punch-hole that houses the front camera an upgrade from the Spark 9 Pro. Typical to Tecno smartphones is the LED flash tucked into the top bezel. With three illumination levels and a 32MP sensor, this promises some impressive nighttime selfies.
The display of the Tecno Spark 10 Pro is actually not bad. It comes with a fairly large 6.8-Inch IPS LCD display with a 1080p resolution, 90Hz refresh rate (making scrolling through the apps smoother and more responsive), and a peak brightness of 580 nits. While using the phone outdoors with too much light you will struggle to use the phone unless you fully increase the brightness. The display gives you enough room for entertainment, browsing, or reading —the colors produced are decent but aren't so vibrant and so colorful but what you have is good enough.
Overall, the design, and display are good enough and I could say I don't have complaints about it.
Performance, Software, and Battery
The Spark 10 Pro comes with a MediaTek Helio G88 processor with a 12nm chipset which gives you fast uploads of time and sustained performance while multitasking or playing games. Its antutu score and geekbench score of a single core and a multi-core score are good enough for the phone. Games like PUBG Mobile and Asphalt 9 played on HD graphics and high framerates but you can't say the same for a high-performance & demanding game like Genshin Impact which was played on the lowest graphics and framerates. But overall, it does a fantastic job when it comes to gaming
The 8GB of RAM (which can be expanded up to 16GB) is one of the main highlights of the phone. With that amount of RAM, multitasking is fluid. Honestly speaking, we wouldn't recommend increasing the RAM (virtually), we believe 8GB is just enough to use.
For the operating system, the Tecno Spark 10 Pro is running on the latest Android OS, Android 13 which isn't surprising since we were expecting that. On top of the OS sits Tecno's custom skin HiOS v12.6.0 which has some unique features including being able to hide a portion of your screen, auto-record phone calls, and custom gestures, to mention a few. Tecno is still pumping us with bloatware, however, this time around there are a few but they can be disabled and some can be uninstalled.
Looking at the storage, depending on the handset you buy, you either get 128GB or 256GB. In our review, we got the 256GB handset, and the storage is enough for your apps, storing your files and photos, and other reasons you might want to use your storage. There's no need for expanding your storage with a microSD card but if you need to, you can.
The battery is 5,000mAh and can last you a full day on a single if it is fairly or moderately used. To fully recharge your battery could take less than two hours thanks to its 18-watt fast charger.
Cameras
Starting at the front, the Tecno Spark 10 Pro comes with a 32MP camera and overall, in perfect light conditions, the photos will appear somehow natural, show details (not really sharp though) and facial features. However, the selfies also tend to look grainy and washed out in low-light conditions and could be adjusted with the LED flash tucked into the top bezel. While shooting videos, you will still get good results if the lighting is good on top of that you can shoot videos up to 2K at 30fps. The selfie camera also supports face unlock, which works fast and accurately.
The rear camera, and although there are two other cameras (which apparently don't work and we don't know why they are there in the first place), the 50MP primary camera is the one to focus on. The camera does take good photos; the details are good, the colors are good so is the dynamic range but in some instances, the photos will appear over-saturated. On the other hand, when taking photos in low-light conditions, the photos tend to lose quality and have noise and blur. Just like the front camera, the rear camera also does shoot videos up to 2K at 30 fps, so you will get good and decent videos for your birthday, traveling, or recording TikTok videos (LoL).
Overall, both cameras do produce decent photos and videos —the outputs are averagely well-balanced, appear quite sharp, and show details.
Our theory of the company adding two unnecessary cameras that aren't in use could be that Tecno's next Spark series (probably Spark 11) might have a trio camera. Maybe!
Audio
The audio quality of the Tecno Spark 10 Pro is average. The phone has a single bottom-firing speaker that can produce loud and clear sound, but it lacks bass and depth. This is where you can opt for the phone's 3.5mm headphones that can deliver better sound quality. Overall, without the earphones, the audio is decent for calls, entertainment, and while recording videos.
Verdict
The Tecno Spark 10 Pro even with a few drawbacks is without a doubt a very good smartphone. For its price, you get this eye-catching designed phone with a large display, a long-lasting battery, and decent performance. It is pretty evident that the company has exerted some effort in making the Spark 10 Pro to be a little bit more premium. The device as it kind of resembles the current generation iPhones — it isn't really something negative for us but it is something worth mentioning.
The phone comes in two color options; Starry Black and Pearl White — but for a simple look go, for the Starry Black option.