Gadgets
Mobile
Reviews
Smartphones
itel A60 Review: A Decent Budget Smartphone Suitable For Users Who Need a Basic Device
The itel A60 is a budget-friendly smartphone suitable for users who need a basic device and don't care much about performance or camera quality.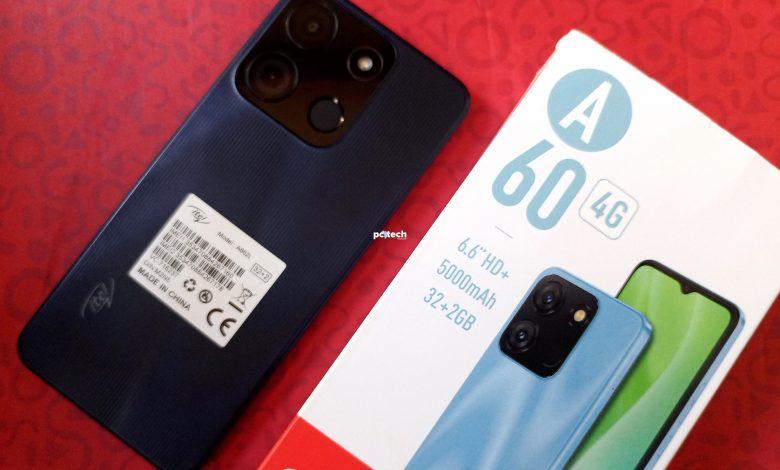 itel A60 handset is itel Mobile's latest smartphone this year falling under its A-series devices. According to the company, it is positioned to be a 4G high-speed network smartphone, which allows consumers to enjoy a faster and smoother browsing experience. In addition, they noted that the smartphone is a powerful combination of technology, aspirational features, and aesthetics that is going to be a game changer for first-time smartphone customers.
The itel A60 is a decent budget-friendly smartphone that offers decent features for its price range. It is suitable for users who don't care much about performance or camera quality. So, if you are looking for a smartphone that won't break the bank, you might want to consider the itel A60. As for us at PC Tech Magazine, well we didn't have to buy or break the bank —our good friends from itel Mobile Uganda sent us one.
Priced at UGX300,000 (RRP) it comes in three color options Dawn Blue, Daylight Green, and Sapphire Black and it is available in itel stores, MTN Uganda service centers, Jumia, and prominent/authorized retail outlets. While buying one, ensure that the device doesn't have a broken seal and — also it is best to check the device before leaving the store.
So what does the itel A60 offer:
Build, Design, and Display
itel Mobile is keeping up with smartphone trends and we applaud them for this. The itel A60 features a sleek and modern design with a thick-solid plastic build, and the back panel has a gradient finish giving the phone an eye-catching design.
At the back, you have a huge island with a glossy finish that houses a dual camera setup, an LED flashlight, and a fingerprint scanner. You don't have to worry about getting a phone case to avoid getting smudges on the back since it's not glassy. However, you can still use the phone case if might be.
Just like the behind, there's not much going on the front, you have a watch drop-notch that houses your front camera. To give it a large display, you get thin bezels on the side but a thicker bezel at the bottom bezel is quite noticeable though it isn't a big deal. Around the phone, at the top you have a standard earphone jack, at the bottom is a microUSB charging port and a single speaker grill, power & volume buttons at the right, and a dual-sim card & microSD card try on the left. The only downside to this we didn't like is having the earphone jack at the top. Otherwise, the overall build quality of the phone is excellent, and it feels sturdy and well-built in the hand.
Coming to the display, a stunning 6.6-Inch IPS LCD display thanks to the thin bezels that gave it more room. The phone comes with a 720 x 1,612px screen resolution (20:9) which provides clear and vivid visuals. The screen runs at 60Hz and has a 120Hz refresh rate which makes scrolling and navigating through apps smooth and swift. The display is pleasant to the eye, the colors are vivid, vibrant, and accurate. The brightness level on the hand is adequate for use in most lighting conditions —unlike indoors, you have to fully adjust it while outdoors, making it easy to use the phone in bright sunlight.
Performance and Battery
The itel A60 comes with a 28nm chipset with four Cortex-A53 cores clocked at 1.3GHz, coupled with 2GB of RAM and 32GB of internal storage that can be expanded up to 128GB via a microSD card. The phone runs on Android 12 Go Edition, which is a lighter version of Android that is optimized for low-end devices. While this is not a high-end configuration, it's enough to handle basic tasks like browsing the web, messaging, using social media, casual gaming, and streaming videos without much stutter. However, don't expect to run multiple apps or play graphics-intensive games, as it may struggle with multitasking and loading times.
The phone is powered by a 5,000mAh battery that can last for a day of moderate usage on a single charge. The phone does not come with a fast charger, so you will have to buy one separately if you want to enjoy this feature. With its normal charge, it might take a while to fully recharge.
Camera and Audio
The itel A60 has a dual-camera setup on the back, comprising an 8MP primary sensor and a QVGA AI lens sensor. The front-facing camera has a 5MP sensor. Both cameras take decent photos in daylight (or in settings with good lighting), producing average details and colors. However, the camera struggles in low-light conditions, as the photos tend to be grainy, noisy, and blurry (the colors can appear washed out). But all in all, for a phone in its category, this is fine, the photos are good enough.
The video quality on the other hand is average, as the camera can only record up to 720p at 30fps.
The audio quality meanwhile is decent, not very rich or clear but decent enough for your entertainment or voice calls. For better audio, you might want to use headphones for a better experience.
Pros and Cons we picked out:
| | |
| --- | --- |
| Pros | Cons |
| Affordable price | Low-end performance |
| Decent display | Mediocre cameras |
| Good build | No fast charger included |
| Good battery life | |
| Software (Android 12 GO Edition) | |
| UI is appealing | |
Overall, the itel A60 is a decent smartphone suitable for users who need a basic device and don't care much about performance or camera quality. For its price (UGX300,000) that does require you to break the bank, you get an excellent build & design, a huge display, an appealing UI, good battery life, and average performance to handle basic tasks.