Entrepreneurs
Featured
Innovation
Interviews
Startups
Think of Ridelink as an Uber For Trucks But on Steroids — Interview with Daniel Mukisa
For any business that is product based, mobility is it's backbone. If you innovate around mobility, any business should be able to succeed.
Starting up a startup isn't as easy as most people might think. There are a lot of challenges/hardships that you as the innovator(s) go through and those that can't handle hardships end up giving up that easily. However, with hope and perseverance, you can make it —because just like starting a business, you don't expect to get rich there, and then, it takes some time for you to make it.
And that's why we picked interest in Ridelink and its founder, Mr. Daniel Mukisa. Having had some misunderstanding with his Co-Founder for his first startup Transporter Corporation which led him to exit the startup team, Mukisa decided to found Ridelink and as we speak, Mukisa is proud of the startup's performance.
Our interview with Mukisa comes after Ridelink recently announced raising USD$150,000 (roughly UGX529.9 million) in pre-seed funding from Ortus Africa Capital, Omidyar Network, and African Leadership Academy's Young Entrepreneurs Fund (Anzisha) having attracted some private investments from Seedstars in 2020.
In our interview with him, this is what he had to share with PC Tech Magazine.
1. Who is Daniel Mukisa and what's your journey?
Daniel Mukisa is a 27-year-old hailing from a family of four. As a child, I used to work with my mom at her grocery store where I got to learn a couple of things about business and being a typical African parent, we never had discussions on business. But that did not stop me from seeing certain realities like how you see people making money.
Fast forward to when I joined Makerere University, I pursued a Bachelor's degree in Commerce, I studied business, and it was the first time I got to interact with the terms business versus community. I got to learn about communities and their problems. I drew back inspiration to my story of my mum back when I was a kid and what I had seen that actually reflected my mum as a farmer and a seller of Agro-produce in Kampala. She used to borrow a truck to transport her produce but borrowing trucks consumed almost 40% of her income from the business.
The trucks were so unreliable causing her losses since her goods were perishable. That affected the growth of the business and how she utilized the money she had. All this got me thinking about how logistics affects business and how business affects the community, today bringing the story of Ridelink.
2. As per our knowledge, your first venture was a logistics startup called Transporter Corporation but it happens that you "dropped out" and founded Ridelink. What was the reason for your leaving?
I have always been that kid that wanted to create an impact. So the question for me was how would I do it? The easiest way I could think of was business —because business to me is a form of expression of what I feel.
During my time at Makerere University, my friend (name withheld) and I founded Transporter Corporation. This was an inspiration for us the fact that e-Commerce platforms existed. With the existence of these platforms, we got the idea to work with them to deliver ordered products using bodabodas. We delivered on time, helped increase revenues for these platforms, and when they grew we also grew and we would end up employing more young people, creating an impact at the end of the day.
That is how Transporter started and honestly speaking it made some money. But all this ran to the ground because of our failure in management —handling the income we made and how to further grow the business. Because of failure in management, I decided to leave and it took me about eight months to start thinking about rising back in business and it is at that time that I founded Ridelink, which was in 2017. I knew for sure any business that is product-based, mobility is its backbone. If you innovate around mobility, any business should be able to succeed. If you don't, it's going to eat in your pockets and affect the way you do things.
3. How does Ridelink operate and how is it different from other players in the market including Transporter?
Ridelink is generally an e-logistics platform that connects small and medium enterprises (SMEs) to truck drivers and truck owners to help move cargo for businesses from point of production to the markets. So basically think of it as an Uber for trucks but on steroids —that is what Ridelink really is.
Before 2015, there were very few e-logistics platforms such as DHL, FedEx RMX, UPS, and other big players. After that other companies started to come up including Ridelink, Safebodas, and all these companies trying to innovate around movement. Most of them because they were heavily invested in, went for the "big fish" such as Unilever, Coca-cola, Medical stores and all those big entities. But for Ridelink, after our research, we found out that in Uganda and most of Africa, 90% of what makes up businesses are the SMEs or call it the Colli-organics, small players some of who are our customers, and what we offer them is what you may call 'groupage' or if you may say aggregated demand.
So with Ridelink, we connect a customer from their point of production to the final destination of sale. We always have our truck drivers on schedule daily and all this information is routed in our system to a schedule that is always available. The system routes about five different small businesses moving to a particular destination and then a truck is dispatched to go pick the cargo, and move it to their different destinations. Customers are given traceability in that they receive an SMS notification whenever their cargo loads on a truck, at which point it has reached the dispatch point.
Our system can be plugged in any CRM, e-Commerce, or any inventory system of a business. This helps one to plug our system in their business for automated dispatch to avoid any mismatches, misinformation and in the long run, avoid losses.
Our drivers receive adequate training —to us, it is more than the truck it's a lot about the person transporting the cargo, the person needs to actually meet certain standards. So we train them in customer care, first aid, basic car maintenance and a little bit of technology among others, this helps to deal with people's fear such as hygiene, privacy, sanitation, we deal with those small things and that has made us stand out from the rest.
4. Initially Ridelink ran as a B2C model but you changed to B2B. What was the reason for the shift?
When we started it was B2C, we were moving both people and goods. I personally used to drive for about a year, thanks to having an education, we have a method of being customer obsesses in terms of product development, so we love to develop anything based on what the customer tells us. We love to think that if we serve the customer so well, and get so obsessed with our customer, in the long run, we will be happy, the investors will also be happy and the company will grow.
During my driving time, I got feedback from our clients whose inquisitiveness promoted our work to companies. Those companies started asking us to deliver parcels and that is how the B2B journey was sparked. We wanted to step in that place where Ridelink is the go-to solution for any cargo business especially for SMEs so that is what really drove us.
5. Ridelink operates mainly with SMEs, do you have any plans on going beyond just SMEs?
No, I think the market for SMEs is so big in Uganda, East Africa, Africa, and other emerging markets. These SMEs businesses are bringing up 90% of all businesses in Uganda and Africa at large. So ours is going to be an extra market rather than an extension. SMEs are the basis as to why we started until we have achieved that, we don't see ourselves going out of it. But I can have a trusted solution provider for their logistics. When we achieve that then we can look out of the horizon but about the expansion, yes we plan on expanding our market within the SMEs.
6. The outbreak of Covid-19 has impacted a lot of businesses, how has this affected Ridelink if it has?
I will tell you that Covid-19 has indeed affected so many businesses. Many have closed. In terms of quality of customers, the number of startups has dropped, but in terms of uptake of e-logistics, it actually went so high for us. We have seen an upsurge in how many customers we are onboarding even though the numbers that they move are few. But as we move out of the Covid step, they now know that, rather than opening so many departmental stores, we need to actually produce from one place and just distribute across because customers demand goods to be delivered to them. You find that businesses are now opting for an e-logistics platform like Ridelink. So to b fair, the global pandemic of Covid-19 has done us more good than bad.
ALSO READ: SUSTAINABILITY OF ON-DEMAND DELIVERY STARTUPS BEYOND COVID-19
7. Ridelink just recently secured USD$150,000 in pre-seed funding. What do you plan to use the fund for?
For us it's about four things;
One, more customer acquisitions, we want to acquire many more customers. The goal is to serve more than a million SMEs over the next five years. So we want to accelerate ourselves into that goal.
Secondly, we want to spend on our technology to make it scalable, and robust, we need to employ certain professionals who are better than our normal developers so that is going to be another part we shall invest in.
Thirdly, we are working on new hires because at the moment we have been running as the founders of the business and a few people we have been employing but now we need certain people to just be able to accelerate and help us achieve our goals faster.
And finally, it's research and development. As a business, in technology you don't Innovate, you become obsolete. Innovation helps you create as much value for your customers as you possibly can. The goal is really to do research to make sure that we are ahead of the curve even as we deliver our service so really those are the areas that we are putting the money in.
ALSO READ: RIDELINKN RAISES usd$150,000 IN PRE-SEED FUNDING
8. You are among the 20 finalists of the Africa Business Heroes prize competition, do you think you stand a chance of emerging in the top 10 finalists to share the prize money?
We are really really excited about being part of Africa's Business Heroes Prize competition. Even just being in the top 50 was really so exciting, I mean over 12,000+ entrepreneurs submitted their applications and we are talking 50, that was huge for us. So being part of the top 20 is another step in the right direction.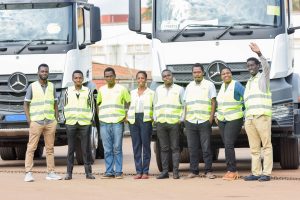 Being in the top 10 is yet to be seen. What I know is that we have a solid business that is solving a very unique and pertinent challenge for Africa, for the community we leave in, we have a very robust team that is able to deliver and has done that, and so I think as a team, we will work, and do what we do best, we will do what is required of us in as far as Africa's Business Heroes Prize competition is concerned and we will hope for the best.
We hope for the best and we want to be in the top 10 and we actually want to take the full run and we are working towards all of that.
ALSO READ: UGANDA ENTREPRENEURS SELECTED AS FINALIST OF THE 2021 AFRICA BUSINESS HEROES PRIZE COMPETITION
9. What could you say is the biggest achievement for Ridelink?
For six months we did not have any paying customers since we founded the startup, but now we are glad to say that we have over 2,000 drivers, served more than 275 SMEs, and moved more than 1.3 million tones of cargo —for a platform that started as nothing.
I think for us the biggest achievement has been in terms of growth as a company with or without money. For us, it's been quite an exciting journey to move from a one-man company now with 15 direct employees that work with the company and we are still creating employment for others. I think for us that is what we call achievement in terms of the impact that we want to create and still growing, I look back and I say oh wow this is amazing.
10. Does the policy environment today favor you?
To be fair yes, for small businesses. One our government is very lax on small businesses and the Ministry of ICT came up with an interesting proposal to do the innovation hubs across the country and I think those will play a big role in trying to unlock the potential of entrepreneurship. Maybe the only thing the government needs to do is communicate better their services for SMEs but to be fair they have scored above average when it comes to helping small businesses but now the issue is how do they communicate the message because not so many people know about these opportunities the government has to offer, not so many understand the partnerships between different banks so I think government being able to communicate that will amplifying its voice and showing its commitment to SMEs but be fair, the government has really scored above average as far where I am seated.
11. What is your opinion about startups in Uganda?
This is a statistic by the World Bank, Uganda is the most entrepreneur country in the world, of course, there is a sad statistic that 70% of all businesses that start don't get to celebrate their 3rd or 5th anniversary which is sad but I think that comes with so many things, one, I think as entrepreneurs that we are, in as much as we love to innovate and create solutions to problems, there's been a mismatch between knowledge and execution. So to get to where we are as Ridelink we have been a part of about three different accelerators that have helped shape what Ridelink is and I don't think we would be in this place if we had not gone through them. So I think it's important for any entrepreneur to learn as much as we can and learning happens in so many spaces.
The other thing is funding. To be fair there's very limited funding in Africa at large compared to what is on the rest of the world, even more so in Uganda. So that limitedness of the funding affects how businesses operate. But also that is driven again by knowledge. I will tell you that all these startups that are funded either being to an accelerator or they have a way that knows so much about the ecosystem that any opportunity can not pass by then at least they will try and apply for it. And then you have the pulp of entrepreneurs in many parts of this country that don't know this information, or a website they can go to, or an email publication they can subscribe to where they tell them that every week these are the opportunities available in terms of funding or every month, I think we need to unlock that. And also, Kampala is the most concentrated area but then we have entrepreneurship springing up in so many parts of the country and you want to tap into that.
Really talent can be born anywhere. I think the opportunity is the only thing that is not widespread but talent is widespread. So we need to move opportunities from the places where they are overly concentrated to a place where there's talent but little opportunity and make it available so that we can grow as a country and also as a continent.
12. Finals words to your fellow entrepreneurs, startup founders, and innovators?
First of all, I thank all those that have helped built Ridelink into what it is.
It is always important to work in teams because it is very unlikely especially in the 21st century to run a business as a sole proprietor, it's highly unlikely that your business/startup will achieve certain bits especially as you keep growing.
Startup founders, innovators, entrepreneurs should also be resilient. They should also have mentors —because it challenging if you are an entrepreneur without a mentor. It is important to have someone at whose feet you can sit, learn, and grow.
Finally, learn as much as you can. Read a book for at least a month, it helps you to go places you've never been to, helps you learn mistakes that you would easily make, and also learn from other people. Some of these things won't be taught in school. So you will have to learn.
That's it.