Company News
Featured
Microsoft
News
Software
Windows 11 Will Start to Become Available on October 5, 2021
Microsoft has announced Windows 11 will become available starting October 5 and a free upgrade will begin rolling out to only eligible Windows 10 PCs.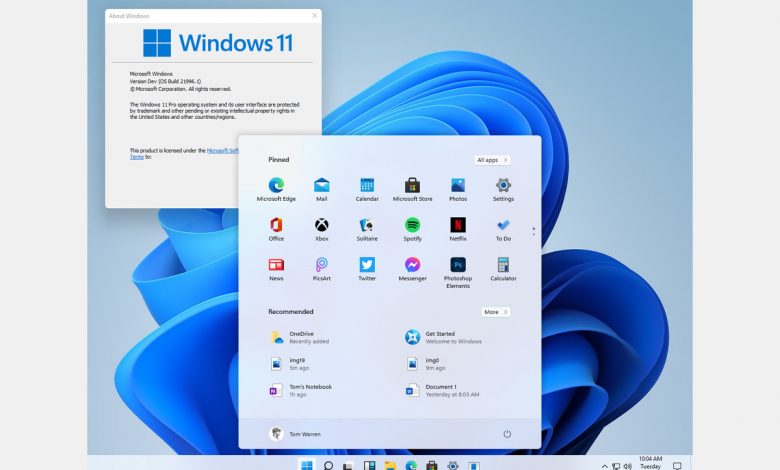 Microsoft has just announced its new operating system, Windows 11 will become available starting October 5th, 2021 —and a free upgrade will begin rolling out to only eligible Windows 10 PCs. It is on the same day that PCs pre-loaded with Windows 11 will become available for purchase.
In a press statement, Aaron Woodman said; "Windows 11 is ready to empower your productivity and inspire your creativity."
The free upgrade to Windows 11 will be phased and measured with a focus on quality —that means new eligible devices will be offered the upgrade first. The upgrade will then roll out over time to in-market devices based on intelligence models that consider hardware eligibility, reliability metrics, age of the device, and other factors that impact the upgrade experience.
All eligible devices are expected to be offered the free upgrade by mid-2022.
If you have a Windows 10 PC that's eligible for the upgrade, Windows Update will let you know when it's available —or not you can also check manually to see if Windows 11 is ready for your device by going to Settings > Windows Update and select Check for updates and if it is available for you, then you can proceed with the upgrade.
ALSO READ: WINDOWS 11 COMPATIBILITY CHECK: HOW TO KNOW IF YOUR PC IS ELIGIBLE FOR UPGRADE
As part of the new minimum system requirements, Windows 11 will be supported only on 64-bit (x64) processors and only in specific chips from Intel, AMD, and Qualcomm. From Intel, the new version will support only the 8th Gen and newer processors and some of the Celeron, Atom, Pentium, and Xeon chips. And from AMD, Windows 11 will support third-generation Ryzen and newer processors, including some second-generation Ryzen 7 CPUs and some Athlon and EPYC processors.
To check whether your processor is supported for the upgrade, there are several quick ways to confirm if it's on the list of supported hardware using the Settings app, Command Prompt, or the PC Health Check app.
The table below shows the requirements your PC needs to meet for upgrade;
Hardware requirements for Windows 11
Component
Minimum
Processor
A compatible 64-bit processor (x86-64 or ARM64) with at least 1

 

GHz clock rate and at least 2 cores
Memory (RAM)
At least 4 GB
Storage space
At least 64 GB
System firmware
UEFI
Security
Secure Boot, enabled by default
Trusted Platform Module (TPM) version 2.0
Graphics card
Compatible with DirectX 12 or later with WDDM 2.0 driver
Display
High definition (720p) display that is greater than 9" diagonally, 8 bits per color channel
Internet connection and Microsoft accounts
Internet connection and Microsoft account required to complete the first-time setup on Windows 11 Home.
Additional requirements for optional functionality

| Feature | Requirements |
| --- | --- |
| 5G support | 5G capable modem |
| Auto HDR | HDR-capable monitor |
| Biometric authentication and Windows Hello | Illuminated infrared camera or fingerprint reader |
| BitLocker to Go | USB flash drive (available in Windows 11 Pro and higher editions) |
| Hyper-V | Second Level Address Translation (SLAT) |
| DirectStorage | NVMe Solid-state drive and a DirectX 12 graphics card with Shader Model 6.0 |
| DirectX 12 Ultimate | Available with supported games and graphics cards |
| Spatial sound | Supporting hardware and software |
| Two-factor authentication | Use of PIN, biometric authentication, or a phone with Wi-Fi or Bluetooth capabilities |
| Speech recognition | Microphone |
| Wi-Fi 6E support | New WLAN IHV hardware and driver, Wi-Fi 6E capable AP/router |
| Windows Projection | Wi-Fi adapter that supports Wi-Fi Direct, WDDM 2.0 |
PCs that will be among the first to get the upgrade to Windows 11 are; Acer Swift 5, Acer Swift X, Asus Zenbook Flip 13 OLED, Asus Zenbook 14, Dell XPS 13, HP Spectre, Lenovo Yoga 7 convertible series, Lenovo Yoga Slim 7i Pro series, Samsung Galaxy Book Pro, Galaxy Book Pro 360, Surface Pro 7, and Surface Laptop 4.
PCs that won't be eligible for the upgrade will still use Windows 10. Microsoft said Windows 10 will be supported through October 14th, 2025 with the next feature update to Windows 10 coming later this year.
Highlights of the Windows 11 release:
The new design and sounds are modern, fresh, clean, and beautiful.
The new Start menu drops right in the middle with a completely redesigned UI and has live tiles that were originally introduced with Windows 8.
The new Start menu utilizes the power of the cloud and Microsoft 365 to show you your recent files no matter what device you were viewing them on.
Windows 11 UI has transparency and a soft frosted glass look. Themes have been overhauled and can now have a more significant impact on the appearance of the UI.
Snap Layouts, Snap Groups, and Desktops provide a more powerful way to multitask.
Chat from Microsoft Teams is integrated into the taskbar to provide a faster way to connect to your contacts.
Microsoft Store has been rebuilt with an all-new design making it easier to search and discover your favorite apps, games, shows, and movies.
Has new accessibility improvements built for and by people with disabilities.
Windows 11 unlocks new opportunities for developers and creators.
Windows 11 is optimized for speed, efficiency, and improved experiences with touch, digital pen, and voice input.
Windows 11 includes rounded corners which are much more pronounced compared to the older version of Windows.