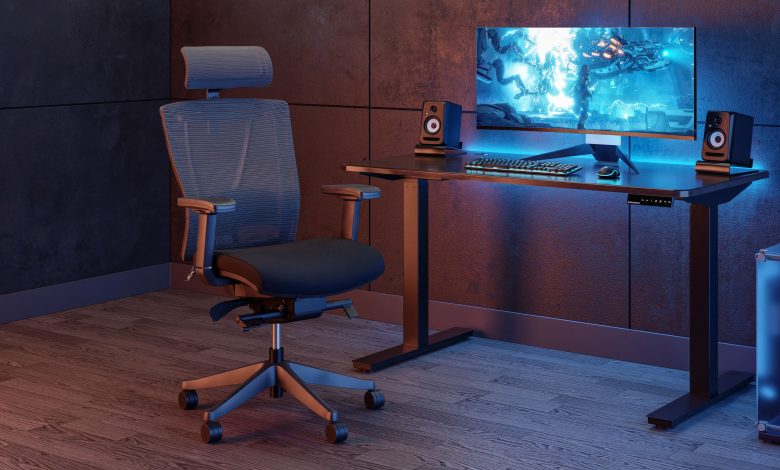 Reward your love for gaming with an exclusive chair that delivers maximum comfort.
For gaming, you deserve an ergonomic chair that supports your entire body. This Ergochair Pro review provides an effective solution to your working and gaming needs. The Autonomous brand prioritizes practicality and lumbar support while designing such multi-functional offerings.
Limiting the ErgoChair Pro to an office chair alone is not a fair categorization. Whether you choose to work or game while seated in the ErgoChair, it supports your posture adequately. The chair's handy features give you ample scope to vary your sitting position and reduce fatigue.
What Makes An Ergonomic Chair A Welcome Invention?
Each day you spend many hours sitting, whether for work or a relaxing gaming session. Your head, neck, spine, arms, and legs deserve support throughout the time. The Autonomous Ergochair Pro review covers all the requisite elements that classify a seat as ergonomic. These attributes include:
Adjusts to seating positions healthy for your posture.
It prevents your muscles and joints from developing nagging aches and pains.
Positions your legs and feet properly by providing adequate seat depth.
Supports your lumbar region in its entirety.
Simple and Healthy Gaming Partner
A seating solution that allows you to game in comfort without looking the part is how the Ergochair review describes this Autonomous offering. The chair seamlessly combines modern aesthetics with functionality. Read through the many impressive characteristics of the ErgoChair Pro, which is fittingly the best gaming chair around:
Thoughtfully Engineered
While crafting this unique masterpiece, Autonomous thoughtfully pays attention to your wellbeing. The ErgoChair is designed to increase your mobility and eliminate all forms of pain.
Its adjustable recline gently corrects your posture while keeping your spine stable and supporting your lumbar region. In-built controls allow you to lock your chair across five key positions. The backrest is made from ultra-breathable woven mesh, which optimizes airflow while you intently game over long durations.
Considering ErgoChair Pro encourages you to recline without putting undue pressure on your lower back, thighs, and legs, it helps you fight fatigue. In addition, the Autonomous chair review makes a valid point when stating that this seat keeps your energy levels high throughout your gaming session.
Highly Flexible
Your body has a unique shape which the chair's flexible lumbar cushioning effectively supports. When you sit on the ErgoChair to begin gaming, the cushioning adapts to your spine's natural curvature and offers enormous support.
In the process, the chair eases any stiffness or pain you may be experiencing. In the Ergochair Pro review, you will find constant mention of this gaming cum office chair's 45-degree flexibility. Thanks to the height and angle adjustments possible, you no longer have to strain your neck or hunch over your gaming console.
Evenly Distributes Pressure
A maximum of 300 pounds of weight is what this gaming chair is designed to endure. Its round-edged contours comfortably distribute pressure, so no region is subjected to stress. Every Autonomous Ergochair Pro review speaks of improved blood circulation while you get caught up gaming.
Even the muscles across your back, side, and core will develop and strengthen. Your pelvis maintains a neutral position throughout the time you are seated while engrossed in your game. It is no surprise that an Ergochair review is incomplete without the Autonomous pro model making its presence felt.
Certified for Safety and Durability
After rigorously testing the structural integrity of such product offerings, independent and recognized global bodies duly certify them. The ErgoChair Pro has also gone through this exercise and successfully earned a BIFMA certification.
Knowing that your preferred best gaming chair ticks the durability and safety checkboxes are a reassuring factor. You can confidently proceed with your purchase, knowing that the chair will deliver as your compatible gaming partner.
Incorporates World-Class Mechanisms and Premium Materials
The inclusion of acclaimed and versatile mechanisms results in dependable construction, which the Autonomous chair review corroborates. Furthermore, autonomous has decisively stuck to recyclable, premium, and softer material while designing the ErgoChair Pro to ensure a supportive and durable gaming companion.
Key Considerations for Gaming
A chair equipped with a deep seat and tilting mechanisms provides support and comfort. The choice of reclining angles allows you to freeze on one that best suits your height and build. Gaming compatibility is an integral part of the Ergochair Pro review which aids your decision-making.
Complete your gaming set-up by settling for an ergo chair that guarantees a rewarding experience. The Autonomous ErgoChair Pro pampers you while you indulge in some healthy fun.