Featured
Mobile
Reviews
Smartphones
Infinix HOT 10 Play Review: A Decent and Minimalist Smartphone With an Impressive Power
Infinix HOT 10 Play no much changes compared to its predecessor but it does produces better results than the predecessor.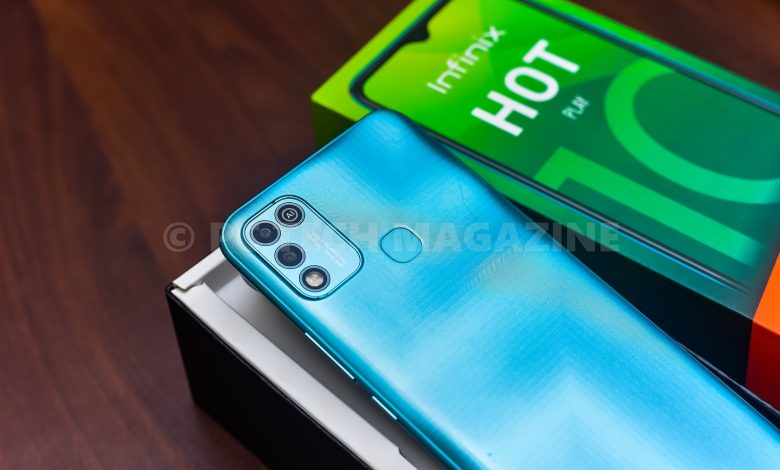 After a week and half of using the Infinix HOT 10 Play, here's our final thoughts of the phone.
To recall, the Infinix HOT 10 Play was launched in Uganda early of March this year, as we see it succeed the HOT 9 Play that was in April of 2020.
The HOT 10 Play is the latest model in the company's HOT Play series —and according to the company's PR and Communication Manager; Ms. Isabel Ainembabazi, the phone is tailored for 'young people who demand high quality video and gameplay on a cinematic display, without sacrificing battery performance'.
Having acquired the phone for review, from our unboxing, we noticed that it has slight improvements and upgrades compared to its predecessor, the HOT 9 Play. For instance, the battery, chipset, processor, operating system, and the GPU —thus improving the phone's performance. Having mentioned the battery, it is the phone's key selling point as it features a Power Marathon Technology that is able to give the user more power when the battery is at a lowest percentage.
Design, Build and Display
Infinix smartphone design is literally the same. Usually there are no much changes when it comes to design comparing to its predecessors as well as other Infinix smartphones.
The design has the power and volume buttons appear at side-right and 2-in-1 card slot that houses two 4G Nano-SIMs and a microSD card simultaneously on the side-left. An earphone jack, a USB Type-C port and a mouth piece appear on the bottom.
And finally on the design, the fingerprint sensor appears at the back (rear-mounted) next to a dual-rear cameras. At the front is a water-drop notch which houses the front camera. The notch is not hardware, as it can be removed in the settings if the user does not want it to appear, thus it is a software feature on the phone.
The phone has an IPS LCD display in a 6.82-Inch size with a resolution of 720 x 1640 pixels. The display does produces accurate colors, fair contrast, dip blacks & whit. The colors are saturated giving the user a better viewing experience especially when it is entertainment. Under direct sunlight, the brightness is sufficient to comfortably read text.
The body build is a glass front, plastic back and plastic frame —has thin bezels giving more space for the display. It comes in Aegean Blue, Morandi Green, Obsidian Black, and Purple color options. The back end has a glossy finish that make it appear shinny, thus making the color pop out very well, and appear reflective.
Finally the phone is light weight and comfortable in a grip.
Software, Performance and Battery
This is where the most fun is, as well the key selling points of the phone.
The Infinix HOT 10 Play provides a comprehensive strong and smooth performance. It has a MediaTek Helio G25 chipset and an Octa-core processor to improve performance, and an upgrade on the GPU to improve the phone's graphics —providing or displaying better visuals.
We did notice a few lags mostly when the phone was running out of battery. However, the phone handled multitasking an heavy gaming fairly. To run smoothly and better is when the phone had enough power and multitasking around apps that aren't so much heavy to be processed simultaneously by the processor.
On its power to offer good and stable performance, it comes with 6GB of RAM which plays a role of giving a relatively smooth smartphone experience. Like we mentioned before, there's an inherent lag in pretty from the UI animations to multitasking.
The phone is setup on Android 10 (Go edition) and an upgrade of the XOS UI, version 7. The XOS 7 interface is inspired by the green aurora of Iceland —a revolutionary visual interface with smarter interaction, according to Infinix. Meanwhile, the setup is coupled with a 3GB RAM and an internal storage of 32GB which is expandable with a microSD card of up to 128GB. Notably, there's another HOT 10 Play variant that comes with 4GB RAM and 64GB internal storage.
XOS v7 gives swift performance, a fast & fluid experience and the apps & design appear much cleaner. The XOS UI comes with default apps that can't be uninstalled and ads & other promotional content that can not be removed —which is a downer considering that they are really not that essential and also take up some space on your storage.
The key selling point is the battery. A non-removable 6,000mAh Li-Po battery that comes with an impressive Power Marathon Technology which is able to give user more usage at even a low battery. Activating the Ultra-power mode at 15%, you do get enough battery that can take you a day if it is minimally used.
On charging, since the phone does not support fast charge, charging is a bit slow thus, we recommend letting the phone charging through the night as you go to bed. From 0% to 50% takes nearly and hour and a half, to fully juice up to 100% takes about 3 hours and 48 minutes. When used minimal, it can last up to 2 and half days on a single charge and for heavy usage, can take a day and a half on a single charge.
Cameras
The Infinix HOT 10 Play comes with dual-rear camera and single front facing camera supported by LED-flash for low light setting. Both cameras are able to shoot videos in full HD, 1080p at 30 frames per second. Thus, you able to get some good cinematic shoots.
The cameras produce average and decent photos but a worth posting on social media and with a few edits, they can appear much better. Shots taken are decent, with fairly good details, sharpness and colors. Close-ups had good details as long as there was ample light, but we noticed that the highlights get blown out when shooting under much light. Portrait mode does a decent job thanks for its blur capability.
Photos shot in low light had weak details and exposure was generally poor unless there was enough light around. Light is an essential subject for this.
Fingerprint and FaceID
This is a feature on almost every smartphone today. Setting up both features takes about a minute if done well. FaceID needs where there's ample light to setup as well as when trying to unlock it. Unlike the FaceID, the fingerprint can be used to unlock apps as well. The fingerprint sensor is rear-mounted and is fast so you can unlock your phone in a matter of micro-seconds.
Verdict
The Infinix HOT 10 Play genuinely speaking is a decent and minimalist smartphone. No much changes compared to its predecessor but produces better results. With its average performance, a clean user interface thanks to its XOS upgrade, Power Marathon Technology for the battery, and its affordability, the phone can appear of a recommended list.