In July last year, MTN Uganda partnered with SIMFY Africa and launched Ayoba, an instant messaging (IM) mobile application that is enabling users to access more affordable communication, subscribe to news channels as well as entertain themselves through gaming.
The mobile application was first made available for download for Android users and now the iOS is available for download as well. Users can also send messages to non Ayoba users (those without the app) or users with very basic phones (feature phones). The message is delivered as an SMS that they can reply to and the message will land on the app for those with the app. Meanwhile, MTN customers using the app do not need data as the telco offers them 1GB of data every month to use the app.
To download the app, you can use respective app stores for Android or iOS or you can download it from the MyMTN app. Launch/Open the app, sign up to start chatting for free.
We downloaded the iOS version because it is now available and for any application, simplicity is key —and that is what Ayoba is giving as per our first impression.
Design and Interface
As we mentioned before, simplicity is the key for any app. The app has to be easy to navigated through and self explanatory —Ayoba is offering this. The app is designed in blue and yellow colors and is not congested with the main tabs being Chat and Status.
Like most IM platforms such WhatsApp, Telegram, Ayoba is designed with a peer-to-peer private messaging feature which is an end-to-end encrypted feature where only the communicating users can read the messages. In principle, it prevents potential eavesdroppers – including telecom providers, ISPs, and even Ayoba – from being able to access the cryptographic keys needed to decrypt the conversation.
To begin a chat, firstly you need to have Ayoba access your contact list and will filter out users who are using the app. To start the chat, on the right-top corner of the app is a Plus (+) sign to click to display users with Ayoba. Select the user of your choosing to begin chatting. To send a message to a user without the app, while in the chat list, click on the three-dotted icon on your top right and select show SMS contacts. Select the contact and send them the message which will be sent in form of an SMS. When replied, you will receive the message in the app and not SMS —one of the beauty of the app.
While chatting, you can send images, videos, files, voice notes & audio files, and even your location.
Sending message to user with Ayoba app
Sending message to user without app
The app has been designed to support supports 22 languages including; English, isiXhosa, isiZulu, French, Arabic, Dari, Pashtu, Hausa, Afrikaans, Igbo, Jula, Kinyarwanda, Luganda, Pidin, Pidgin, Portuguese, Sesotho, Setswana, Swahili, Twi, and Yoruba. Content channels are predominantly English and French, but the app offers content across all the languages as well, in Dari, Pashto, isiZulu, isiXhosa and more.
By default, the app comes in English. To change the language, Go to phone's Settings > System > Languages & input > Languages. Tap and select a language of your choice. You can also change Ayoba's language from within the app. To do so simply tap the menu (icon in the top left corner) and select settings and tap on maintenance and select a language of your choice.
Performance
The app's performance is swift and steady and we did not notice any lags. The advantage is because it weighs light and even when the user is multitasking with other apps on the phone, Ayoba still stands out. It also has less features that gives it a first head to perform better.
Security
To keep your data safe and ensure your privacy, Ayoba incorporates sophisticated end-to-end encryption. The feature ensures that only you and the person (or people) you're communicating with can read what is sent. It prevents potential eavesdroppers from telecom providers, ISPs or Ayoba – from being able to access the cryptographic keys needed to decrypt the conversation.
It goes without saying that Ayoba will never share your details with third-parties without your permission. You can also manage your privacy settings within the app by selecting messaging from the settings menu (icon in the top left corner), and then tapping on privacy.
Like most IM apps, Ayoba also has the chat backup feature. This allows you to backup your chats even if your phone is stolen, you can still retrieve your previous messages (only messages you backed up). Backups are made automatically every 24 hours with internet connectivity available.
To enable chat backup;
Click  on menu (icon in the top left corner) > Settings > Maintenance > Chat Backup.
Each account has one backup, when you create a new Chat Backup, your previous backup will be replaced.
Backups are only restored after the sign in/ up process! Just after the OTP validation.
News Feeds and Gaming
The app allows you to subscribe to real-time news feeds of your preference, sports, technology, life style & entertainments, politics among others —available through channels. The feeds are more like broadcasts seen on Telegram and WhatsApp. News is read within the app, therefore need of worrying whether you have a browser or not.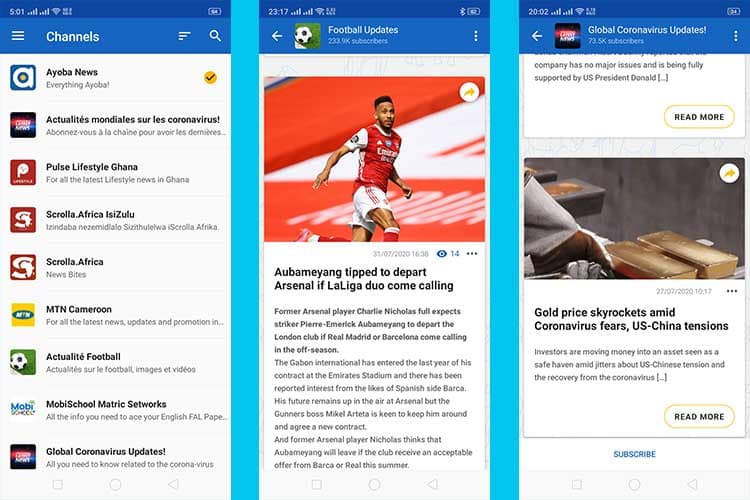 Uniquely, the app also offers In-App games unlike most IM apps. Though the built-in games are more like starter games, its expected of a growing platform like Ayoba, but unique for an IM Platform to have gaming functionality. The games that come within the app are most non-adult related, in other words —they are tailored for mostly the kids but does not mean adults can't play them. Probably, the Ayoba team will add more of arcade games.
In-app MTN Mobile Money Transactions
With MTN on board, the Ayoba team updated that app to allow MTN subscribes using the app to make in-app mobile money person to person transactions — a feature that MTN believes will enable customers to send and receive money within the app while either chatting, reading news or playing games — all done within the app without the need of exiting.
In conclusion
We believe Ayoba is an excellent IM app and it can be a strong competitor to giants like WhatsApp and Telegram because of its unique build. Why? it requires no use of data, can chat with feature phones (users without the app), it is built for the African niche and it offers essential in-app functionality such as in-app mobile money transactions.