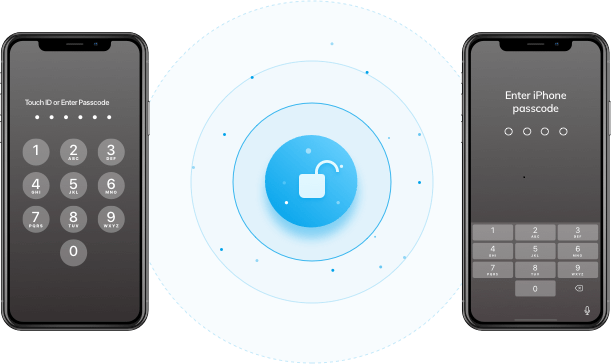 Adding security code to your iPhone enhances your privacy. But stress comes in when you forget the passcodes, and you do not know how to unlock the iPhone without a password. The stressful situation worsens even more when you see the "iPhone Disabled" message after entering a wrong password in an attempt to unlock your phone. Imagine having your cell phone at hand, but you cannot access it because you forgot iPhone passcode and are locked out. But you do not have to worry because, here, I will show you how to unlock iPhone without passcode, in a few simple steps. 
There is various iPhone password reset method that you can use to bypass your iPhone passcode. In this guide, we will discuss two of the most straightforward approaches to unlock iPhone without passcodes.
Unlock Using iTunes
The "iPhone is disabled connect to iTunes" text appears on your phone's screen when you enter an incorrect password more than ten times. The message instructs you to connect your iPhone to iTunes to unlock it. The method works best if you had synced your device with a mac or windows pc. If your iPhone is synced with your computer, you can backup all your data without bypassing the passcode. Here is how to reset the iPhone password using a synced personal Computer, how to unlock the disabled iPhone using iTunes.
Step 1: Connect Your iPhone to your Computer
The first thing you need to do is to connect your iPhone with your computer using a USB cable or a 30-pin cable. On your Computer, open iTunes and select your iPhone, the iPhone you want to reset, and then disconnect your iPhone from the Computer. The connection will help backup all data that was not backed earlier. 
Step 2: Put your iPhone into Recovery Mode
Different models of iPhones have different put-to-recovery mode procedures. This guide will look at how to put iPhones 8, 8plus, X, XS, 11, and 11pro to recovery mode
To put into recovery mode, connect your iPhone to your computer using a USB cable and open iTunes. Press and release the Volume Up button. Press and release the Volume Down button. Press and hold the power button until the iPhone display the recovery mode screen. Here a popup message, "iTunes has detected an iPhone in recovery mode" will appear on your Computer screen.
If the recovery mode does not work for you, try to put your iPhone into DFU mode. To set to DFU mode, connect your iPhone to your computer and open iTunes. Press and hold the Volume Down and Power button for at least ten minutes, then release the power button only, do not release the Volume Down button. A popup message notifying you that the iTunes has detected an iPhone on DFU mode will appear. Release the Volume down button. Here your iPhone's screen should turn black.
Step 3: Restore Your iPhone
On putting your iPhone to restore mode, iTunes, on your Computer, will display a restore and update notification. Choose the backup you want to restore, your iPhone's backup, and click on the restore button.
That is all you need to do to unlock your iPhone without losing your data using iTunes.
Unlock Using iCloud
iCloud is another recommendable method to reset your iPhones password. It is a remote, most accessible method, recommended by Apple.  You can also use iCloud if you forgot iPad password to reset the passcode. Here is how to reset iPhone password remotely using iCloud
Step 1: Log In to Your iCloud Account
Using any web browser from your computer, log in to your iCloud account by entering your account's details, Apple Id and the password.
Step 2: Locate Your iPhone
After logging in, go to Find My iPhone, then click on Devices and choose your iPhone. Here, you can lock, locate, or reset your device. Click on the Erase iPhone button for the iPhone's password reset. That's all you need to do iPhone password reset using iCloud.
Conclusion
It is advisable to select an easy-to-remember password to avoid loss of personal information. However, if you forget your passcode under unavoidable circumstances, you will only need to follow any of the discussed methods. Or, you can use an alternative screen unlock tool, Dr.Fone – Screen Unlock tool.Dr.Fone is reliable hassle-free iPhone screens unlock software available for both the mac and windows computers.
The software works for all iPhone models. It is useful with all types of screen locks, passcode, face locks, to touch lock. Dr.Fone – iOS Unlock is also helpful in removing both the Apple ID lock and iCloud Activation passcode. Beside, Dr.Fone iOS can prove useful if you forgot the iPad password. Using Dr.Fone – Screen Unlock tool, you do not need any tech background knowledge for the iPhone password reset. All you need to do is to download, connect, and follow instructions from Dr.Fone.