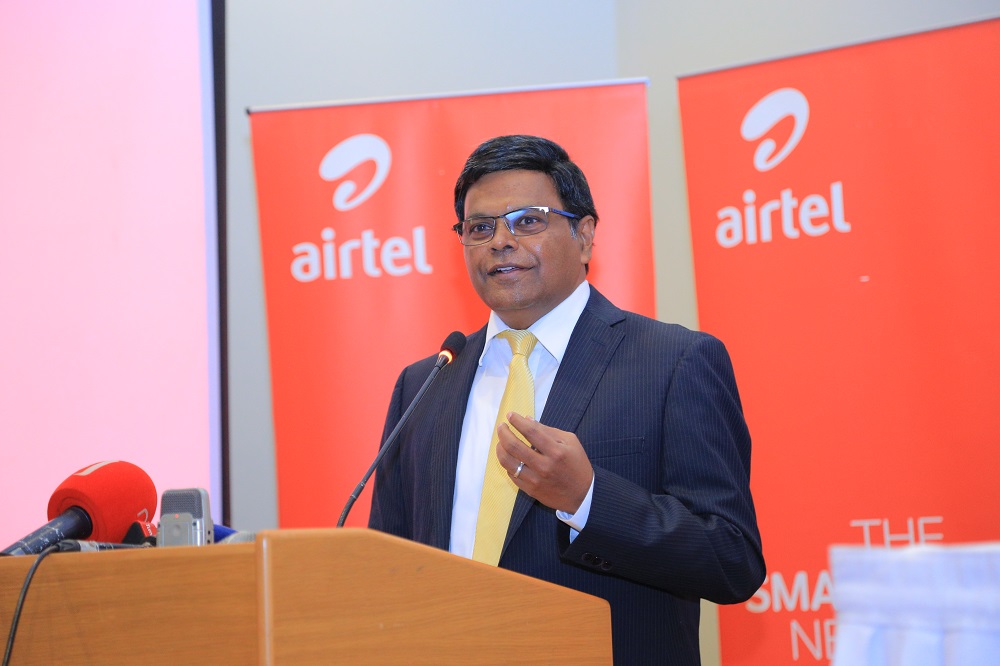 On June 8th, 2020 telecommunication firm; Airtel made and celebrated a decade (10 years) operations in Uganda. The telco celebrated by introducing special bundles for its customers; Thank you Monday Bundles which are valid every Monday for this entire month — coming in 3GB & 100 minutes for UGX5,000 valid for 3 days and 1.5GB & 30 minutes at UGX2,500 valid for 24 hours.
To purchase the bundle;
Dial *149*10# for the bundles using Airtime or Airtel Money.
How to gift a Thank you Monday bundle?
Dial *149*10# >> select option 3 – Gift and follow prompts or *100*2*7# select option 3 – Gift and follow prompts.
Airtel Uganda a subsidiary of Airtel Africa Limited launched its operations in the country on June 8th, 2010 to transform hundreds and millions of Ugandan lives.
"We look at ourselves as a proudly Ugandan company here to uphold our promise to connect and enable millions of Ugandans. Our journey began with a commitment to provide the people of Uganda access to quality and affordable mobile telecommunications services. With the countrywide modernized network, today we are providing the fastest, most reliable and affordable telecommunications services across Uganda," said Mr. V.G Somasekhar, the Airtel Uganda Managing Director, during the telco's celebration.
The Journey of the telco has seen it change/re-brand from Celtel (1995) to Zain (2007) to now Airtel (2010). In May of 2013, the telco bought off Warid telcom for a reported USD$120 million, and in July of 2018 signed a brand endorsement agreement that sees K2 subscribers use all its services. Thereby growing its customer base.
Airtel Uganda Supply Chain Director; Mr. Michael Opwonya while speaking to NTV News this morning revealed that by end of 2019 the telco recorded 10 million+ customers. The numbers makes them come second to MTN Uganda reported to have 12.6 million customers by Dec. 31st of 2019.
With the country's modernized network, today, the telco is providing the fastest, most reliable and affordable telecommunications services countrywide. UCC ending Jan. this year released a report showing findings that Airtel indeed has the fastest mobile speeds in Uganda surprising as a number of mobile subscribers who give the lead to MTN.
Its 10 year existence has seen the telco attaining 4G-enabled 2,000 masts (covering 96% of the country's population as revealed Opwonya) across the country this year with 6,600KM of fiber cable.
In April, the Uganda Communications Commission Ag. Executive Director Ms. Irene Kaggwa Sewankambo congratulated the telco upon attaining 2,000 masts noting that telco's connectivity has evolved from merely being a communications service to an engine of development.
Mr. Opwonya says the results are because the telco continues to invest and improve its network inclusive of speed and quality, to better serve its customers. Emphasizing more on where customers complain more is put as priority.
Airtel over 10 years has also integrated itself into the lives of Ugandans through its Corporate Social Responsibility (CSR). They have a health camp, and they recently donated UGX1.25 billion to the Ministry of Health to help in the fight and combat the pandemic; covid-19. The telco also participates in events such as; the Kabaka Run where the funds collected go to help different causes across the country.
Looking at its airtel money service, Mr. Opwonya revealed that it has grown steadily and has over 35 million customers. He also noted that the service has created job opportunities which has helped the communities. He concluded saying the service is in their future plans looking to see how to improve it to boost the country's economy.
Other future plans he highlighted included the continuous push of their "My Hustle" series where the telco support SMEs owners using the company's services such as; internet, airtel money in their businesses.
To conclude; the company in its 10 year was recognized as Uganda's Top Tax Payer by the Uganda Revenue Authority (URA) having paid UGX136 billion in taxes in the financial year 2018/19. They were awarded with the Excel Award for the year from the Minister of Finance Hon. Matia Kasaijja.
"It is an honor for Airtel to be recognized as the largest tax payer in Uganda. We are thankful to our customers and partners who have made Airtel their network of choice," said Somasekhar.
"We believe leadership is a responsibility that we've happily taken on and this recognition is yet another milestone and an affirmation that Uganda has noticed. We remain committed to the leadership of the telecommunications sector and compliance is an integral aspect of that commitment," he concluded.