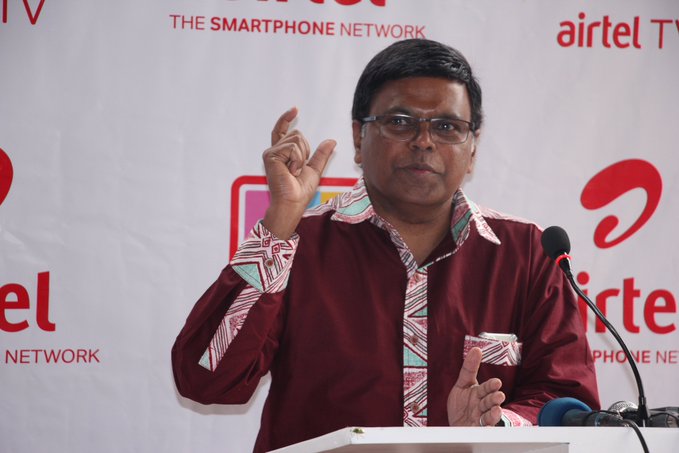 Telecommunication firm; Airtel Uganda has on Thursday afternoon formally launched their own live TV and Video on Demand (VOD) service; 'Airtel TV' to offer premium local and international content sourced from some of the studios around the world.
The telco says the new innovation is designed with aim of promoting local content and talent. Available for only the telco's subscribers, requires no subscription only for the user to have an active data bundle.
V.G Somasekhar; Airtel Uganda Managing Director noted that innovation is the embodiment of convenient and affordable entertainment.
"The platform will deliver the very best of entertainment experience directly to all Airtel customers across the country. With our 4G network, subscribers will enjoy a seamless viewing experience without interruptions. We are confident that the platform will delight, entertain and inspire Airtel customers as it offers first-class entertainment," Somasekhar said.
Airtel TV is believed to be another initiative in the telco's digitization journey. Through the initiative, they have been in position to roll-out 3G and 4G technologies across the country. In additional, launched affordable 4G smartphones, affordable bundles and introduce a broadband solution for homes and SMEs. The Uganda Communication Commission (UCC) has recently credited the telco for having the fastest internet in the country.
Mr Somasekhar emphasized that the App is Airtel's contribution to the development and promotion of local content in Uganda.
"In addition to streaming of sports, VOD and many other offerings, the app will have different local news, music, Ugandan comedy and movies. We encourage Uganda's local content producers to utilize this platform for revenue," he said.
Adding to his remarks, Ms Remmie Kisakye; the Head Brand and Communications at Airtel Uganda, said, "launching Airtel TV app is our commitment of making the lives of our customers better as well as giving filmmakers and actors a platform to showcase their content."
Considering that this is a mobile platform, Ms Kisakye appealed to their customers NOT to use Airtel TV while driving.
Airtel hosted some of Uganda's best entertainers including; Roger Mugisha, Matthew Nabwiso, Nana Kagga to witness the launch.
Getting Started
Download the Airtel TV app from Google Play or App store. After downloading the app, users enter their Airtel number and then the OTP SMS sent. After, users will be able to stream and watch the available.
The launch of the app comes two days after MTN Uganda announced their partnership with YoTV Channels to support the initiative of promoting local content, as well giving MTN subscribers convenience of watching TV and listening to radio on their phones.
MTN introduced internet bundles specifically tailored for MTN subscribers to use for the platform. The bundles are; One hour for UGX500, One day for UGX1,000, One Week for UGX2,500, and a month for UGX10,000. However, MTN Uganda Ag. Chief Marketing Officer, Sen Somdev noted that normal bundles can as well be used to stream.
It is with no doubts that the two telcos are playing a big role in promoting local content — in all making their customers experience better and easier.