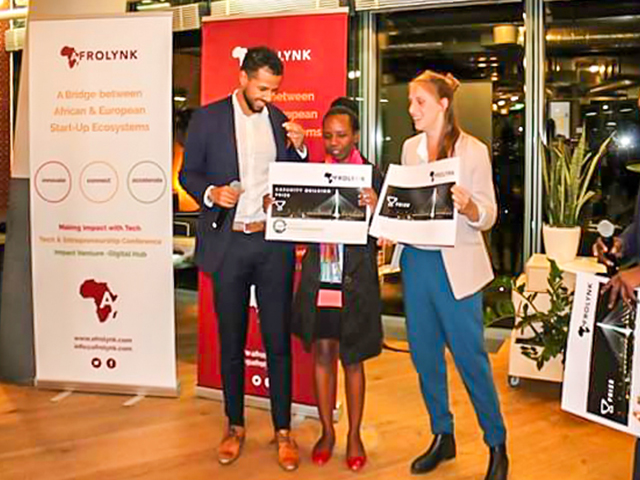 Uganda's eCommerce startup; Wena Hardware has been recognized as an outstanding innovation at Afrolynk in Berlin, Germany.
Ms. Vaolah Amumpaire; Wena Hardware CEO and Founder told PC Tech Magazine; they captivated the judges on Startup Pitch Night — winning 3 months capacity building prize from Green Tech Capital foundation Africa, a trip to Viva Tech in Paris and a Business trip to Berlin.
Afrolynk is an impact Venture that supports innovation, connects and accelerates, together with startups, entrepreneurs, investors, venture capitalists, SMEs, cooperation and organizations that are connected to the EU-African market.
Four startups from Uganda; MScan, Innovex Uganda LTD, Famunera, and Wena Hardware were part of the 14 startups that participated.
Amumpaire remarks on winning;
"I am confident about Wena as an innovation, but because of the equally amazing startups in the room, I wasn't expectant. This win gives us an opportunity to access resources in form capacity building to enable us to keep innovative and serve our clients better," Amumpaire told PC Tech Magazine.
Wena Hardware is a multi vendor eCommerce platform based in Uganda for buying construction materials. As Uganda's first online hardware store, Wena seeks to revolutionize buying of construction materials.
Amumpaire says even Ugandans abroad are able to buy all building materials and have them delivered to their construction site, saving them resources, time and money.
Other startups selected for Afrolynk include; Tofara Online & Elephant Leathers (Zimbabwe), Assutech (Gambia) & ANG Capital (Gambia), Cote divoire Drone (Cote d'Ivoire), Maisha (Ethiopia), Interfort, Abossey Okai Online, & Factory 24 (Ghana) and M2M SA (Tunisia).