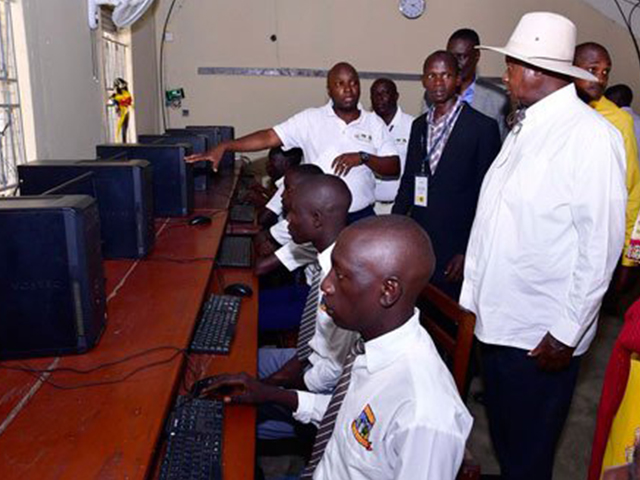 As we reported before, President Museveni over the weekend launched the Phase IV of the National Back bone infrastructure project (NBI). The project is spear-headed by the National Information and Technology Association of Uganda (NITA-U) funded by the World Bank.
The Project seeks to connect districts and towns across the country via an optical fibre cable network. This looks at reducing the cost of the internet, support delivery of secure e-Government services as well as enhance communications services in Uganda.
The districts to benefit from this phase iv include; Pakwach, Nebbi, Arua, Yumbe, Koboko, Adjumani, Katakwi and the boarder points of, Oraba, Vurra and Mpondwe. In
President Museveni said it was important for West Nile to have underground internet cables because the facility would make work faster, efficient and easier.
"These computers that work like human brains need to be connected by underground cables. We already did this in Kampala. We need to have the same done for West Nile. This is very important because it will help auditors and accountants get international jobs without moving to other countries," said Museveni.
The implementation of the internet underground cables will be done by Huawei. Huawei is no stranger when it comes to playing its role in the country's developmental growth.
The Minister of ICT and National Guidance, Hon. Frank Tumwebaze, thanked the World Bank and Huawei for extending the internet connectivity to West Nile and Karamoja. He noted that the project had not only brought about connectivity but also employment opportunities.
NITA Uganda spokesperson; Steven Kirenga applauded Huawei, saying; said "The contractor Huawei are a global contractor with extensive experience and expertise in such work."
Kirenga added that the Phase IV which ends in 20 months' time, will be done professionally and competently. Thus, believes Huawei will do a great job at this.
The connectivity will see 1100 new government locations connected by the end of the next financial year.
"We already have 414 government connections on the internet, including local governments and other government offices," said Kirenga.
In his concluding remarks, President Museveni said, "Connecting underground cables would make learning in schools easier and lessen the burden of parents buying books for their children since they would just connect and search from the computer."
Students will be introduced to e-Learning materials that they could use instead of parents incurring more expenses in buying reading materials, such as books.[related-posts]