Stanbic Bank on Thursday gave a shared seed fund worth UGX5 million to four finalists of the Stanbic National School Championship (SNSC). The fund is meant to help the students inject the money into their startups as they compete for the 2019 SNSC crown.
The four schools; St. Mary's College Aboke, Holy Cross View, St. Mary's College Kisubi, and Nyakasura School emerged finalists from the 72 schools selected to participate in the competition. They were unveiled at Gayaza High School, where all the 72 schools participated in a one-week run boot camp.
The boot camp equipped students with business planning, marketing and management skills — in order for them to develop and execute their business plans.
The finalists pitched their ideas to panel of judges, Amos Wekesa; Founder Great Lakes Safaris, Meralyn Muyanja; Technoserve Ltd, and Ronald Mukasa; Enterprise Uganda.
Their ideas were graded out of 40 with St. Mary's College Kisubi emerging winners in this phase with a score of 27.6/40. Holy Cross View came second with 25/40, Nyakasura school 23.4/40 and St. Mary's College Aboke 20/40.
The judges will visit the schools in June for the second phase to check on the projects where they will be graded.
The overall winner will be announced in July. The winner will have excelled in a combination of results from vocational tasks, business skills, project operation(s), and their final presentation.
Nyakasura School pitched a Coffee Yogurt project where the team is making its yogurt from coffee beans and milk. St. Mary's College Kisubi their project New Flame is charcoal from grass. Holy Cross View are spicing food with their own flavor made from Mustard Seed. St. Mary's College Aboke, making juice from different fruits and delivering them to surrounding schools and communities.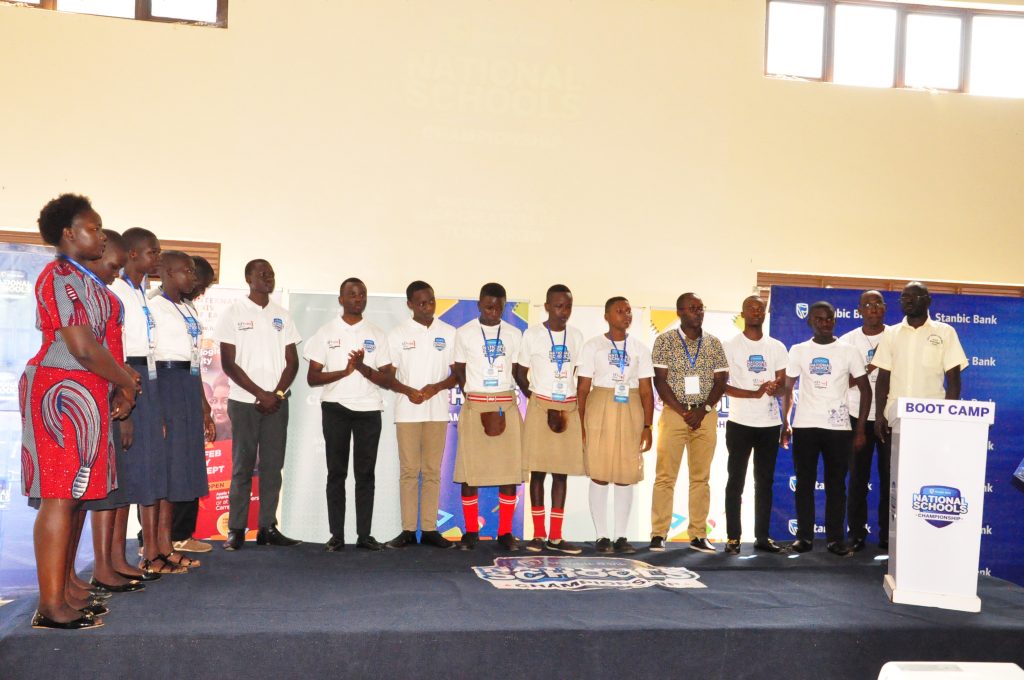 Each team headed and mentored by their teachers received a seed fund worth UGX1 million to inject in their projects.
Holy Cross View School

Nyakasura High School

St. Mary's College Kisubi

St. Mary's College Aboke
Prizes
The overall winning team gets a fully educational trip to South Africa. Other prizes include; cash, installed solar systems, installed water system, among others.
The Stanbic National Schools Championship has become a powerful platform empowering students and teachers to start their own businesses and become job creators.
Past winners include; Muni Girls Secondary School (2018) and MaryHill Girls School (2017).