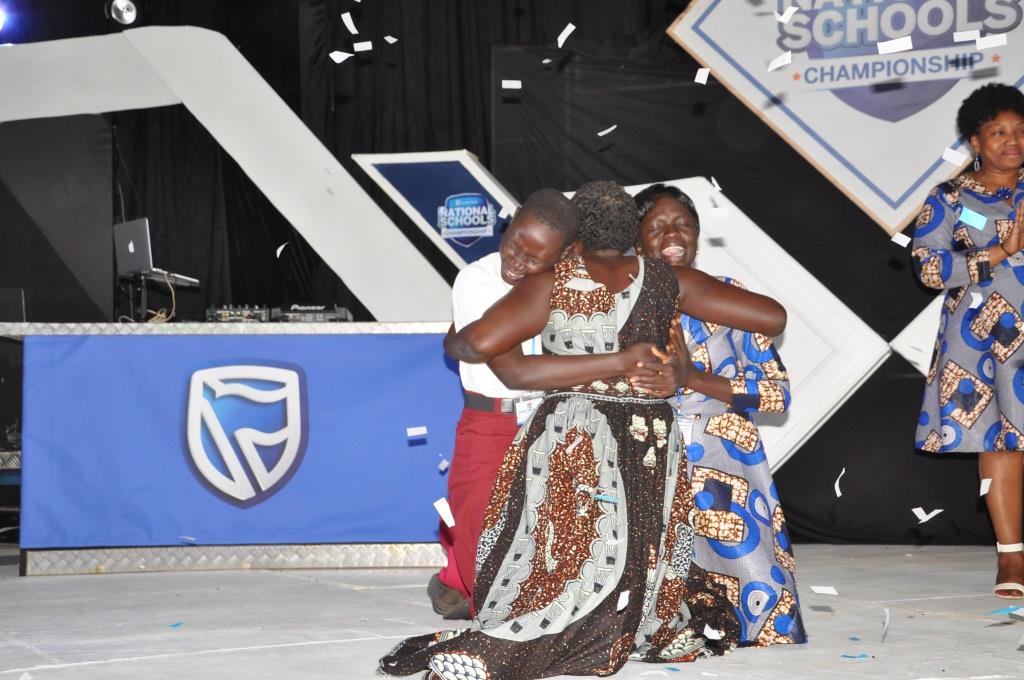 After nearly 4 months of participating in the challenge, Muni Girls Secondary School emerged victorious of the 2018 Stanbic National Schools Championship with an impressive final score of 77.6% from the judges – taking on its competitors Mengo Senior School (72% score), Bweranyangi Girls Senior Secondary School (58%), and Nakanyonyi Senior Secondary School (44.12%) who came in 2nd, 3rd, and 4th places respectively.
The finalists were tasked to create businesses, present their business plans and explain the sustainability of their business, after emerging as regional finalists.
While congratulating the winning team at the prize giving ceremony, Stanbic's Corporate Social Responsibility Manager, Barbara Kasekende said, "The team from Muni Girls has been outstanding throughout the competition. They beat more than ten schools to win in their region and have carried this form into the finals culminating in their victory. They are truly worthy winners and representative of exactly what we were looking for when we started this competition which necessitated innovative minds, teamwork and commitment."
Stanbic Bank's Chief Executive, Patrick Mweheire told the press that this year's National Schools Championships project under the theme, "empowering the job creators of tomorrow" was meant to stretch students to think outside the box beyond just job hunting after school.
"We can confidently say that after these five months, the students understand the importance of being innovative to create jobs," Patrick commented.
Launched in March this year at the Kampala Serena Hotel, 6,000 students from 60 schools across the country were chosen to take part in the competition challenging them from class room tests, oral quizzes, Essay competition, debate competition, and finally a presentation of their business plans all set around financial literacy, life skills, logic, business and entrepreneurship.
Prizes
NO.
School Position
Beneficiary
Prizes
Overall Winner

Muni Girls School

(Northern Uganda)

School
Fully installed solar system worth UGX20 million
Students
Fully paid 4-day educational trip to South Africa – Pocket money worthy USD$100 per day each

Latest IPad each

Patron teacher
Fully paid 4-day educational trip to South Africa – Pocket money worthy USD 100 per day

Cash Prize of UGX1.5 million

1st Runner Up

Mengo High School

(Central Uganda)

School
Fully installed water system worth UGX10 million
Students
Latest model lap top computer each
Patron teacher
Cash Prize of UGX1.2 million
2nd Runner Up

Bweranyangi Girls School

(Western Uganda)

School
Scholastic supplies worth UGX5 million
Students
Latest model Kindle each
Patron teacher
Cash Prize of UGX800,000
3rd Runner Up

Nakanyonyi Girls

(Eastern Region)

School
Scholastic supplies worth UGX2 million
Students
School fees bursary for one term and a smartphone each
Patron teacher
Cash Prize worth UGX500,000