Jaguzza App CEO, Ronald Katamba has been invited to attend the World Agric-Tech Innovation Summit in San Francisco from March 19th-20th. The summit is an international conference for agribusinesses — with a goal to accelerate the commercialization of advanced agricultural technologies.
Advancing agricultural technologies, Ronald Katamba and his team have developed a solution—to help farmers manage their livestock from their places of convenience. Their Jaguza-Tech includes; a Jaguza Livestock mobile application, and a Jaguza drone. Katamba will share and pitch his tech/idea to possible investors at the event.
The Jaguza Livestock App, is a remote app that is used to monitor the animal health including; the heart rate, respiratory rate, blood pressure and its whereabouts. The application is connected to chip that is embedded to an RFID tag that is attached to the cattle. The data extracted from the chip is sent to a farmers device that can either be a PC, a smartphone or feature phone. Upon receiving a notification, the farmer takes action as soon as possible.
On the other hand, the Jaguza drone, which is still under implementation, is one of Jaguza's latest tech. Katamba told this reporter that the drone will be so helpful to especially farmers with large herds of cattle. The drone has a chip that directly communicates with the microchip on the RFID tag of the cattle.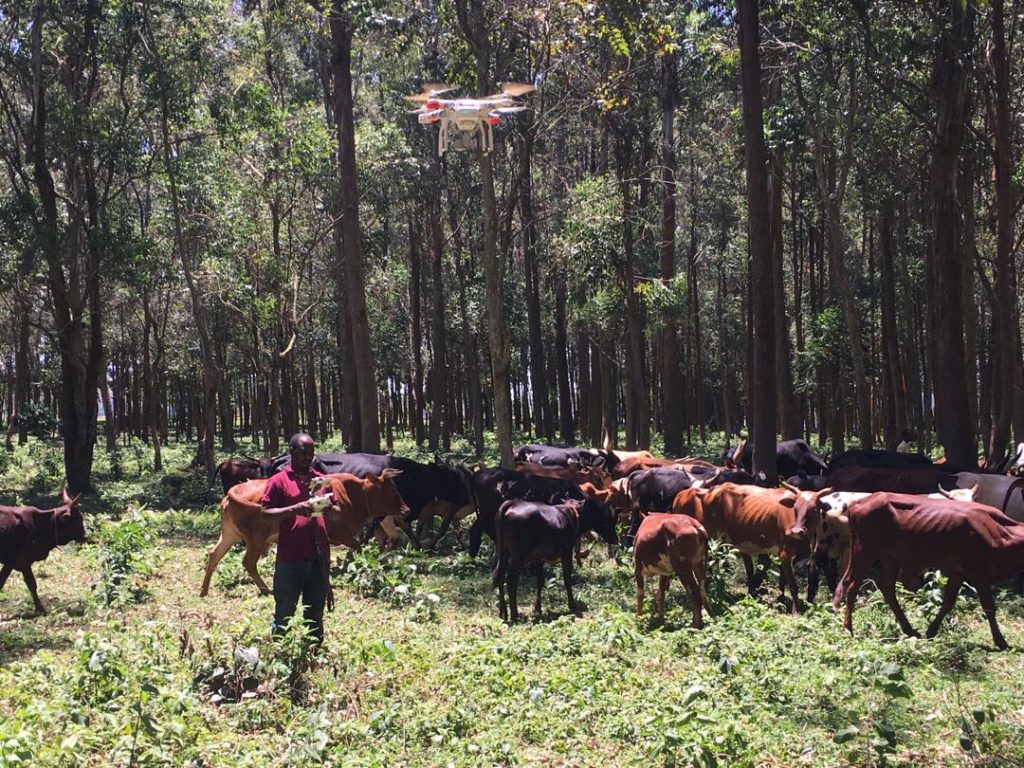 RFID is similar to barcodes — in that it's an automatic identification system used to track and capture information. Jaguza using this same technology, the RFID tags on the cattle continuously pushes data to an active RFID reader which is later sent to a connected device which can be a PC or Phone.
Unlike the application, with the drone, farmers are able to get visual data in form of pictures and videos. With the drone—when the temperature of a certain cattle rises beyond normal, the drone automatically takes a photo of the affected cow and sends the image to the farmer. On the other hand, it takes random photos for the farmer to assess what's going on within the farm. This helps in a way if there's danger for instance a predator around to fest on the cattle.
Thanks to artificial intelligence software, the drones can perceive their surroundings, which enables them to map areas, track cattle and provide analytical feedback to the farmer in real-time.
Because their technology uses artificial intelligence (AI), Katamba says they want to now embed machine learning (ML) as well.
The Jaguza drones haven't been put into supply as the company awaits approve from the government. According to Katamba, the drones are available however, he was stopped from bringing them into country till he gets approval.
"Our drone tracking technology is also expected to gain ground in the whole of Uganda and other countries where livestock is bred once the FAA establishes a clearer ground set of rules on unmanned aerial vehicles," writes in a tweet.