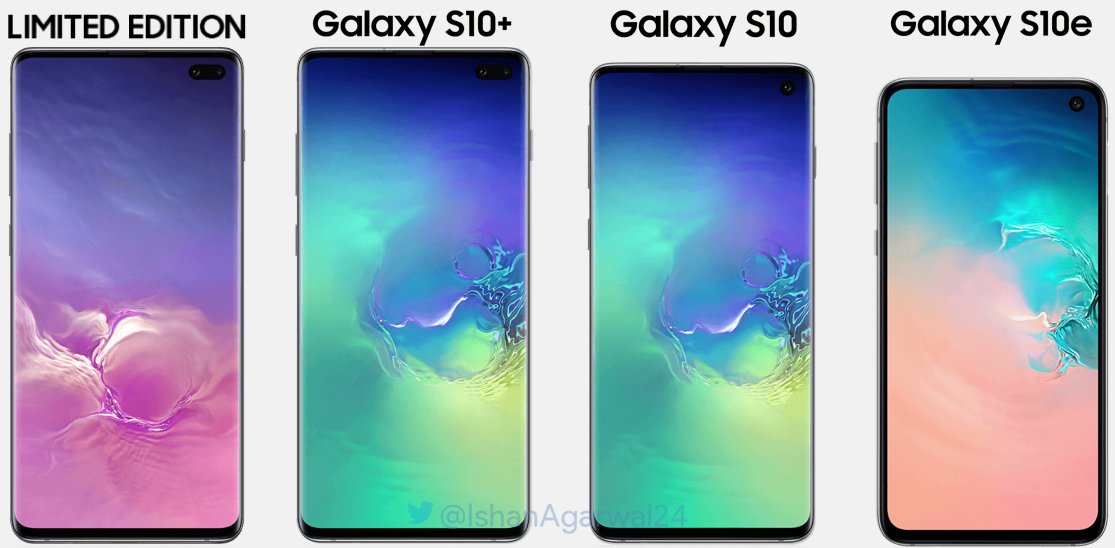 South Korean smartphone giant, Samsung Electronics is launching its next phones in the galaxy s-series on Feb. 20th at its unpacked event, five days to the Mobile World Congress (MWC).
Like multiple online leaks and renders, Samsung is reportedly said to unveil three handsets, including; The Samsung Galaxy S10, S10+, and S10E. Rumors have it that the S10+ is expected to be a 5G model, while the S10E will be the lite version of the two handsets, and will come at a cheaper price.
After officially unveiling the three handsets at its unpacked event, Samsung will showcase the phones at MWC in Barcelona. Meanwhile, with about five days left to the launch, we wrap up some of the rumored/leaked specs, features, colors, and availability.
Specs and Features
For one thing we might be sure of as multiple critics and reviewers have pointed, all the three variants are expected to feature Infinity-O Display panels with little to no bezels. The three phones will run on Android 9 Pie with One UI. Unlike the Galaxy S10+ that is rumored to come with a dual-front camera setup, the S10 and S10E will have a single shooter. At the back, unlike the S10E that will have a dual-rear shooters, the S10 and S10+ will come with triple-rear shooter setup. The cameras will feature the ability to shoot up to 4K footage.
The Samsung Galaxy S10E will come in 6GB/128GB options while the S10 and S10+ will come in 6GB/128GB and 8GB/512GB options. However, it's rumored that the S10+ will have a 12GB/1TB piece. Yes! it's rumored that at least one of the phones will have 1TB internal storage. All this will be coupled by either Snapdragon 855 or Exynos 9820 SoC.
While we mentioned before that all the three phones will come with Infinity-O Display, the S10 — will have 6.1-inch, S10+ — at 6.4-inch, and the S10E will spot 5.8-inch. The display will feature Full-HD+ and a resolution of 2280×1080 pixel.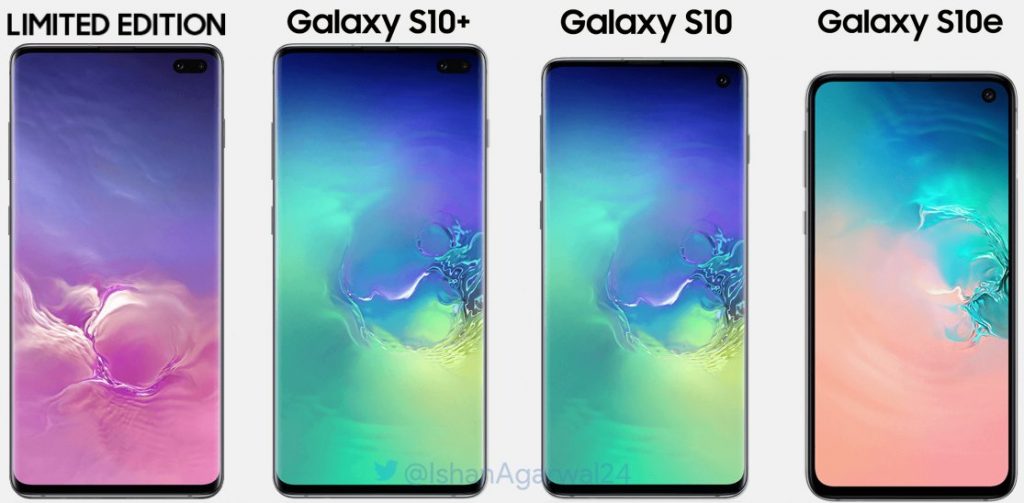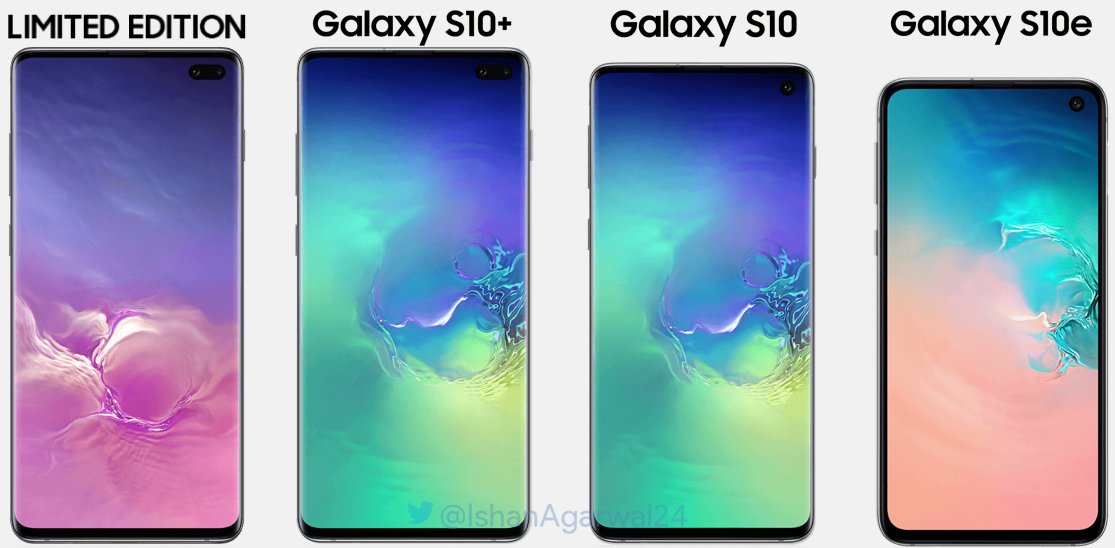 Price, Color, and Availability
Samsung premium smartphones never come cheap however much they introduce lite versions. The S10E is rumored to come in one storage option, 6GB/128GB priced at EUR749. The S10 will be priced EUR899 and EUR1,149 for the 6GB/128GB and 8GB/512GB options respectively. Finally, the S10+ is rumored to have a tag of EUR999 on the 6GB/128GB, and EUR1,249 for the
8GB/512GB. The 12GB/1TB if unveiled, is rumored to be tagged at EUR1,499.
In color options, all the three handsets might come in Prism Black, Ceramic Black, Green, White, Ceramic White, Pearl White, Blue options.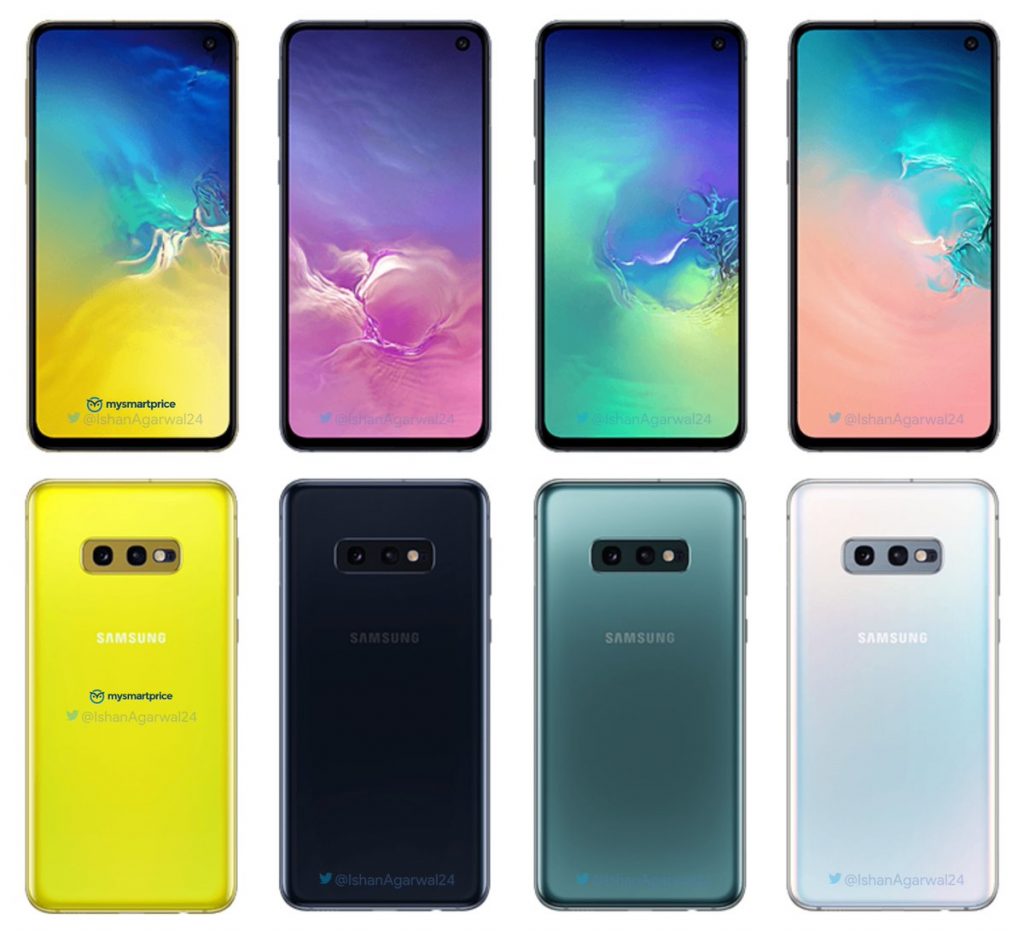 In terms of availability, all the models are rumored to start shipping March 8th. Pre-orders are expected to go live the very next day after the unveiling (February 20th). On the other hand, Samsung's U.S website has already started accepting reservations.