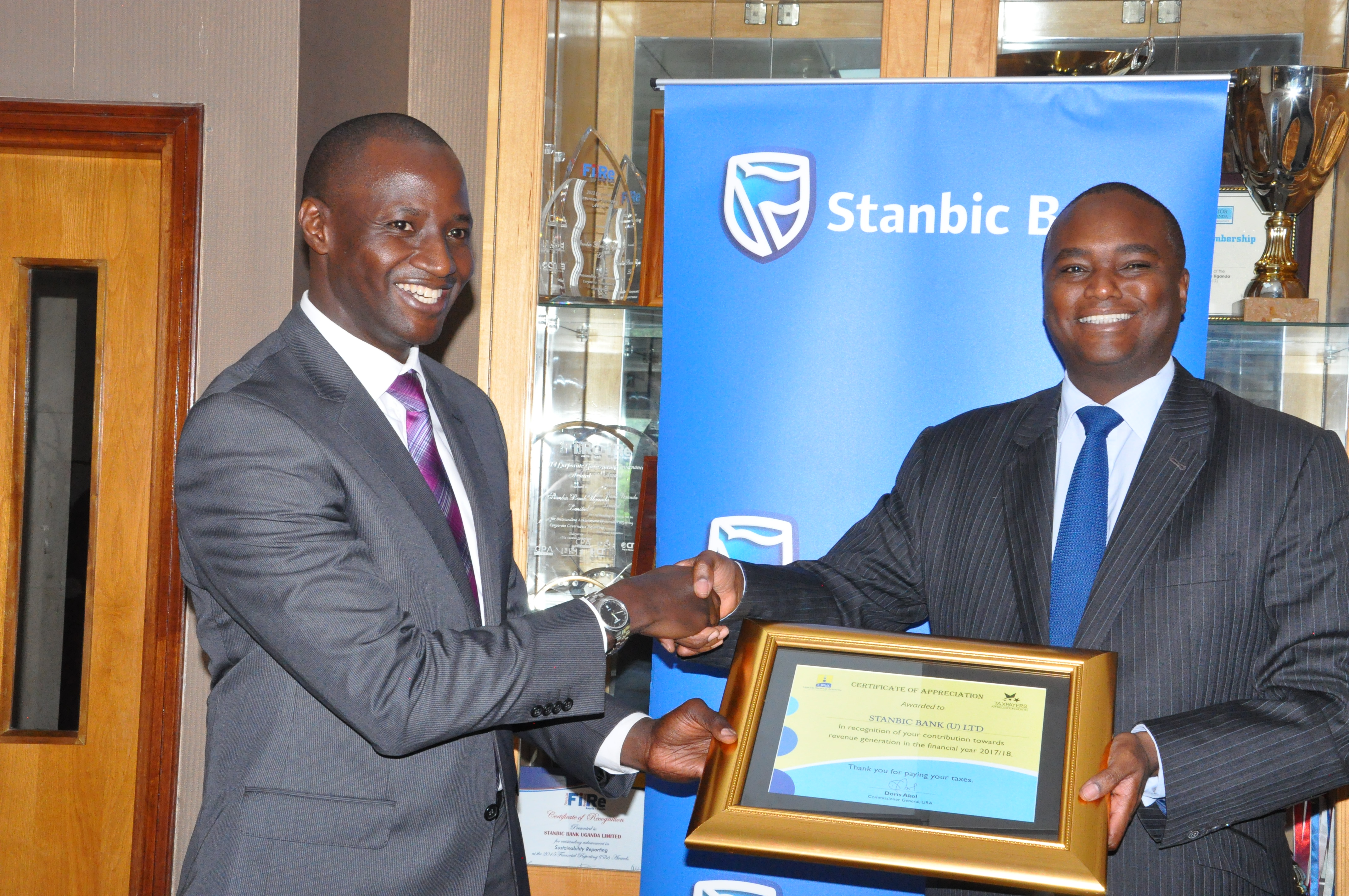 Government revenue collection agency; the Uganda Revenue Authority (URA) on Wednesday recognized Stanbic Bank for being among the top key tax payers in Uganda – ahead of the Authority's tax appreciation which aims at paying accolades to tax payers who pay their dues in time. The bank (stanbic) is currently the highest tax payer in Uganda's banking sector and fourth highest overall having paid up to UGX100 billion (roughly USD$260,910) in taxes for financial year 2017/18.
Speaking while making a courtesy call at the bank headquarters in Kampala, Patrick Mukiibi, Ag. Commissioner General Uganda Revenue Authority praised Stanbic for serving as a role model by making on time tax declarations and payment.
"Stanbic bank has proved its commitment to the growth of this country not only by being compliant but also by helping us in collections. Thus, we encourage all the other players in this economy to emulate Stanbic by coming forth, declaring and paying their taxes as we develop Uganda together," said Mukiibi.
While accepting the award, Stanbic Bank's Chief Executive Patrick Mweheire pointed out that the bank believes in playing their role in building a better tomorrow for the growth and development of Uganda's economy.
According to URA reports, in 2017 alone, Stanbic collected UGX3.8 Trillion (roughly USD$991,455,340) in taxes on behalf of URA. This represents approximately 30% of URA's total revenue collections.
Quoting Patrick, "As one of the Top 5 tax payers in Uganda, Stanbic Bank Uganda is proud to be in partnership with URA in the 2018 Tax Appreciation week as it marks a significant step in encouraging Ugandans to continue to contribute to the growth and development of our nation."
Notably, Stanbic Bank is also playing a key role in supporting the growth of various key sectors but most especially with a key focus on SME's who contribute greatly to the growth of the economy. The bank recently introduced a SME Business Incubator that aims to help businesses upscale and gain better operational skills.
The facility provides these businesses access to industry and sector specialists, regulators, subject matter experts who can advise them on key requirements including how to pay taxes and other business advisory.
Currently SMEs account for approximately 90% of the country's private sector. Ministry of trade data estimates the sector employs more than 2.5 million people, generates more than 80% of the country's manufactured output and contributes 18% to the country's Gross Domestic Product (GDP). By supporting the growth of SME's, Stanbic is contributing to Uganda's growth and their contribution to the country's tax base as whole.