Last night, Google unveiled a beta version of Android P, the next release of Android, fronting AI at the core of the operating system and focusing on intelligent and simple experiences.
From the announcement, Android P beta will offer developers a range of ways to take advantage of these new smarts, especially when it comes to increasing engagement with your apps.
Google boosts that Android P will make a smartphone smarter by helping it learn from and adapt to the user. Your apps can take advantage of the latest in machine intelligence to help you reach more users and offer new kinds of experiences.
Gesture-based navigation system
Google introduced a new system navigation in Android P that gives users easier access to Home, Overview, and the Assistant from a single button on every screen.
The new navigation simplifies multitasking and makes discovering related apps much easier. In the Overview, users have a much larger view of what they were doing when they left each app, making it much easier to see and resume the activity. The Overview also provides access to search, predicted apps, and App Actions, and takes users to All Apps with another swipe.
Adaptive Battery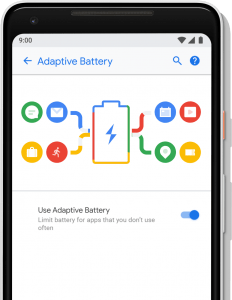 This is a new feature that uses on-device machine learning to keep your phone from wasting precious battery. Built in partnership with DeepMind AI, Adaptive Battery will limit battery consumption for apps that you rarely or never use. It's supposed to predict which apps you're going to launch next, which ones you won't launch for a few hours, or which apps you never open.
Google's David Burke said the company has seen a 30-percent reduction in CPU wake-up calls as a result of this new feature.
App Actions and Slices
These allow you to jump to specific sections of applications from different parts of the operating system. Actions use machine learning to surface just the right apps to users based on their context or recent interactions. For instance, if you frequently open the app drawer and call Fiona, Android P will likely start showing you a shortcut to call Fiona inside the app drawer.
Google says App Actions can even work in different scenarios too. If you frequently plug in headphones and launch Spotify, for instance, you might see a suggestion to start a Spotify playlist after plugging in your headphones.
Slices, on the other hand, offer up suggestions to perform certain tasks in different parts of the OS. They only appear in the Google Search bar, offering suggestions to perform certain functions inside apps based on what you're searching for. For instance, if you type "Hawaii" in Search, Android P might suggest you look at your Hawaii vacation photos in the Google Photos app.
Smart reply in notifications
The Smart Reply feature in Gmail and Inbox are excellent examples of how machine intelligence can positively transform an app experience. In Android P, Google has brought Smart Replies to Notifications with an API to let you provide this optimization to your users. An example is if you frequently dismiss a certain type of app notifications without acting on them, Android P will offer to stop showing you those notifications.
Android P beta is available for select Pixel devices at the moment and thanks to Project Treble, you can now get the beta on top devices from Google partners as well — Essential, Nokia, Oppo, Sony, Vivo, and Xiaomi, with others on the way. You can also get it by enrolling here.